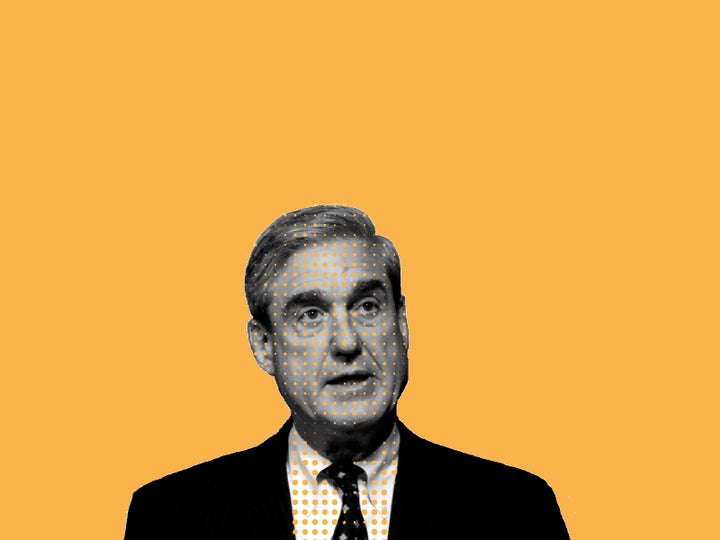 Yesterday, news hit stating Donald Trump was considering firing Robert Mueller, the former FBI director who was assigned as special counsel to lead the Russia investigation. Mueller was appointed by deputy attorney general Rod Rosenstein last month, following attorney general Jeff Sessions' recusal in March.
The appointment was met with praise from both sides of the aisle. It's beyond rare for Sen. Chuck Schumer (D-NY), Rep. Adam Schiff (D-CA), Rep. Paul Ryan (R-WI), Rep. Jason Chaffetz (R-UT), Rep. Mike Coffman (R-CO), and Sen. Orrin Hatch (R-UT) to agree on anything — but it happened. Mueller brought them together. How sweet. In terms of law enforcement credentials, it's hard to argue against this appointment.
Muller joined the Justice Department in 1989 and took over their criminal division the following year. After a short stint as deputy attorney general, George W. Bush appointed Muller as FBI director in July 2001. The Senate approved the appointment unanimously in a 98-0 vote. Muller would serve the full ten-year term and an additional two years, before passing the reigns to James Comey.
As reports came out that Trump was mulling over going full Nixon and Archibald Cox-ing Mueller, a few Republicans seemed to suddenly change their tune, attempting to rationalize a decision stitched to either brazen irrationality or fear.
As many noted, a few weeks prior he tweeted this:
Former Real World: San Francisco cast member and current congressman from Wisconsin Sean Duffy went on Fox News yesterday and called the investigation a "charade" saying "[it] seems like more of an investigation to prosecute Trump" before asking "what the hell are we investigating?"
Rep. Trent Franks (R-AZ) said, "[Mueller is] one of Mr. Comey's closest friends, and it looks like there's a deliberate orchestration to damage or undermine the president regardless of the basic facts."
It's worth noting that most lawmakers on both sides do not share the beliefs of these few stellar standouts. As Politico reported, Sen. John McCain (R-AZ), Rep. Peter King (R-NY), Sen. Lindsay Graham (R-SC), and Sen. Susan Collins (R-ME) still believe Mueller is the right man for the job.
Newt's FEC filings prompt is referring to donations made to Democratic party candidates by appointed members of Mueller's team. It's true that four members of the team have donated to several Democratic candidates in the past, while only donating to one Republican candidate. By the looks of it, the members of the team were chosen due to their experience in similar investigations. Deputy Solicitor General Michael Dreeben is known as one of the country's foremost experts on criminal law, Aaron Zebley was Mueller's Former chief of staff when he was F.B.I. director and James Quarles worked on the Watergate Special Prosecution Force.
If Trump decides he wants Mueller gone, it's not as if he can just tell him to hit the bricks and be done with it. The decision has to run through the justice department and the head of the justice department when it comes to all things Russia is Rod Rosenstein—the man who appointed Mueller in the first place. So if Trump sends the order down the pipeline be prepared for Rosenstein and potentially a slew of others to resign. This is exactly what happened when Nixon ordered the dismissal of special prosecutor Archibald Cox during the Watergate investigation. The attorney general and deputy attorney general both resigned instead of complying with the order.
Optically, it looked horrendous, and it was a turning point that eventually led to Nixon's resignation.
So why would Trump do this? Either he's remarkably dim, and petty beyond comprehension, or he's guilty. Not necessarily directly guilty of colluding with the Russians, but there may be enough information therein to prove obstruction of justice or to make a case that the administration has been compromised by their numerous and possibly nefarious connections to the Kremlin. Plus, there are Trump's business dealings. He never released his tax returns and does not plan to do so. It's certainly possible that there are payments and receipts that could be uncovered during the course of the investigation that Trump would like to keep buried. And, if evidence is found that Russia's hacking efforts potentially impacted the vote tally in any way, Trump's claim to the throne will be widely delegitimized.
He's scared. And if he's hiding something, he probably should be. Still, if history is any indication (and it nearly always is) he shouldn't fire Mueller.
But Donald Trump is not someone who takes stock in historical precedents, he is his own man: aggressively arrogant and obscenely obtuse. He flailed his way to the White House, maybe he'll flail his way out of this too.
Nevertheless, it's important to remember: Nixon wasn't forced to resign over the findings of the Watergate investigation regarding the break-in. He resigned over the findings that proved he worked to obstruct justice.
Sometimes efforts to cover up a crime become more damaging than the crime itself.
Calling all HuffPost superfans!
Sign up for membership to become a founding member and help shape HuffPost's next chapter
BEFORE YOU GO