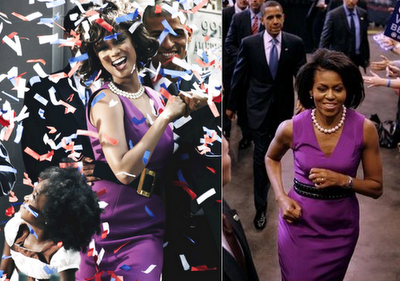 In the current issue of Harper's Bazaar, there's a full fashion editorial featuring Tyra Banks as Michelle Obama. You know, because they have so much in common. Like, they're black. They're both on TV a lot. And they're both...um...let's see...Michelle went to Princeton and Harvard Law School, while Tyra went to...Columbus University in the movie Higher Learning...and...uh...
Anyway, the preposterousness aside of, say, Tyra in a Harvard sweatshirt reading in bed while holding a pencil to her chin, arrested by her own profound thoughts, the concept is pretty clever, don't you think? Let's take a look at other powerful female political figures and their model doppelgangers:
1. Cindy McCain/Helmut Newton Icon Nadja Auermann
2. Condoleezza Rice/18 Year-Old Rising Star Chanel Iman
Common traits:
Chanel is one-quarter Korean
and blowing up in the biz, while Condi makes it her business to keep North Korea from
blowing up
the world; unusual first names that begin with "C"
3. Ruth Bader Ginsburg/Indie Darling Irina Lazareanu
Common traits: Lazareanu makes a living because of
her bangs
, Ginsburg bangs a gavel for a living
4. Nancy Pelosi/Last of the Supers Christy Turlington
Common traits: High cheekbones, dazzling white smiles, being the best in the business (and, frankly, knowing it)
Common traits: Being a bit dough-faced, sad-eyed, and like yesterday's news
Popular in the Community