In the growing wake of #HurricaneIrma, #HurricaneHarvey, the floods across #Bangladesh, #India, and #Nepal, and Friday's 8.2 magnitude #earthquake in Mexico hitting the country's poorest states of Oaxaca and Chiapas, there is a much bigger storm brewing. As global inequality skyrockets, the most marginalized among us in every country across the world, including the U.S., are being hit by a combined torrent of incessant crises including poverty, unemployment, economic collapse, drugs, violent crime, climate change and natural disasters. More often than not, these take place in the absence of any real political support for these communities, and the lack of adequate (or in some cases any) infrastructure to help them.
But I have a dream that our country and our world are big enough, strong enough, to put aside divisiveness and get to work solving all of the crises facing us the way I have seen people working together selflessly in Texas. The question is, why don't we?
I have been at the front lines of #HurricaneHarvey this week, with amazing people of every color, political stripe and age uniting to achieve the impossible. I know there is nothing we can't accomplish when we get beyond politics and just do the work we know needs doing. The courageous people I've worked with this week are proof that we could easily educate everyone, give health care and jobs to all, solve the opioid and drug epidemics, create social and economic equality, stop global warming and create a sustainable society, and grow our economies, all while embodying an image of justice that is the best foreign policy, bringing our countries and world together. If you don't believe me, you're not on the front lines working. It makes me wonder and have to ask: Why aren't we doing this every day, not just in response to disasters? That's what it's going to take to turn our world around.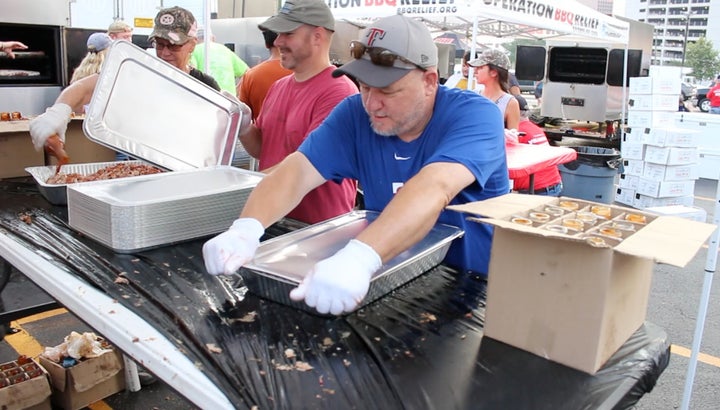 In an open air parking lot in downtown Houston I worked for three days with Operation BBQ Relief, a self-organized group of barbecue makers that started in response to the tornado that flattened Joplin, Missouri, in 2010. Spreading like wildfire through the salt-of-the-earth community that is the BBQ competition circuit, now dozens of these civil-minded pit masters come together from across the United States to cook meals in disaster zones. In Houston, people came from every walk. The scene was incredible ― somewhere near 20 giant privately owned smokers rolled in on trailers from across the country. Five semis filled with meats, vegetables and canned goods were lined up, with one or two more arriving and unloading each day. The sprawling makeshift canteen was supported by a constant flow of donations from across the nation, and 100 or more volunteers of every color and age arriving each morning who'd gotten word via social networks to jump in, get in an assembly line, package up trays of barbecue, beans, vegetables, bread, drinks and more, and get the job done. Over the three days I was there, this impromptu kitchen churned out 90,000 meals ― and 43,000 meals on ONE day alone. Over 11 days since the start of the deployment, 330,000 meals had been served by everyday people stepping up and not waiting for permission to do so.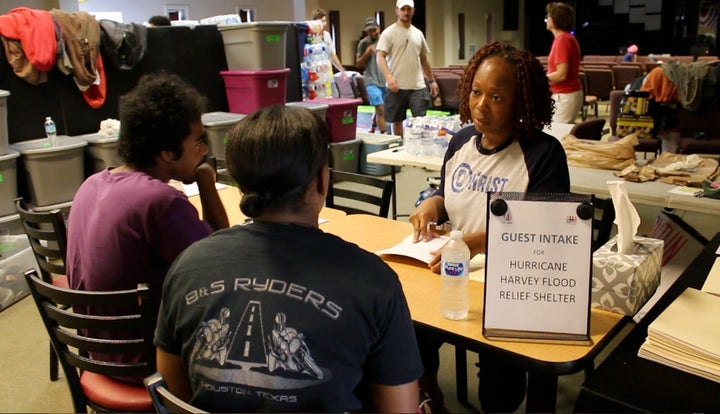 Across the Houston area, I saw people helping others carry out water-logged sheetrock and furniture from their homes. I watched trucks, cars and vans driven by compelled mothers, sisters, fathers, brothers from every relief center and rescue group in the area including police and emergency teams, from Houston to Rockport, Beaumont and Victoria. I saw inspiring individuals drop everything, travel for hours at risk of running out of gas amidst closed filling stations, coming in, picking up supplies and food to take them to inaccessible and hard hit areas. I saw Coast Guard Chinooks and Airlifts working together with people-powered movements to bring relief to those in need. To say this spontaneous collaboration, powered by smart phones and internet, was impressive would be an understatement. I saw the same greatness deep in Houston's hardest hit neighborhood, the Northeast. Here, in this flood plane bayou covered with single story wood frame homes, floodwaters raged to 12 feet in some places. Families waited on rooftops overnight for hours with their small children as dead bodies floated by until they could be rescued the next morning. I spoke with pastor Joshua Dillard at the Free Indeed Church on Homestead Road, which set up one of only two relief centers in the entire area, where I met dozens of courageous individuals giving everything they have to help those in need. You can see my conversation with Josh and get an idea of the harsh reality, as well as of these people's resilience, in this video. Here, poverty, unemployment, repeated disasters and violent crime combine in a storm far worse than #Irma or #Harvey. Police warned me not to come here for relief work saying it was too dangerous, informing me that residents had shot at police and Coast Guard rescue teams there just days before. But on my arrival at the church, I found the brightest, warmest people working feverishly ― I mean it felt like a swarm of love, laying out 100 or more beds, tending to displaced children and families, packaging up and delivering meals, offering counseling, helping with FEMA relief claims and more. One cannot be but humbled when faced with such sheer power of human determination and selflessness as I witnessed.
This is greatness. And this greatness could and should be applied every day, not only in response to disasters like #Harvey or #Irma, or the typhoons of the Indian Ocean or earthquakes and landslides in poverty stricken Central America. This attitude, this willingness and selflessness must be summoned to eradicate economic inequality, incarceration rates, to provide environmental sustainability, universal health care and employment not only in our countries but the whole world. We don't have time anymore to be fooled by false narratives that suggest we must choose between sustainability or economic growth, between immigration or jobs for citizens, between equal distribution of wealth and higher taxes. There is no scarcity to the American people's ability to achieve anything, and the same is true of the people of Iraq, Brazil, Bangladesh, South Africa. It is within our capacity to welcome refugees, children from foreign countries who grew up in our countries such as those threatened by the termination of #DACA, and far more. We can provide equal opportunity to all, update our infrastructure, distribute our wealth, provide universal education and health care, and grow our economy at the same time. This isn't a republican or democrat, conservative or progressive, Christian, Christian or Bhuddist agenda – this is a human agenda we all share and it's time to pull up our sleeves. The truth is, we can have and be the best of both worlds at the same time. There is no either or, there's no left or right here, there's simply a question of whether or not we're willing to get the job done we know needs doing.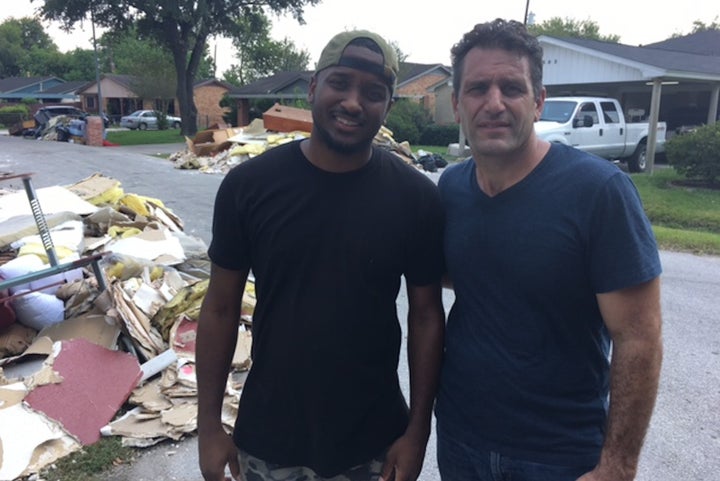 Everywhere I have been, there is one thing I have heard repeated ― one positive attitude and unspoken rule that united those at the front lines, whether at #OperationBBQRelief or deep in the hardest-hit areas of southeast Texas, Baghdad, Karachi or refugee camps. It is that politics, racism and divisiveness have no place here. It is a universal understanding that when we come together to help each other, there's no time for needless divisiveness. We're too busy getting the job done.
I already know where my politics stand. I have none. It's you and me, and this is our world, and we're either gonna get wet and do the work, or we're gonna stand on the sidelines senselessly arguing and wasting energy with fictitious sides and party agendas. For my part, I'm going to live at the front lines, and go across the world with my hands to help, my guitar and fiddle to lift spirits, and a new docu series I'm making as I go called "borderless," to tell the story of a world of heroes who are ready to make change like no generation before.