On March 18, UN Women held a Nordic panel entitled 'Fighting Sexism and Hate Speech' part of CSW60, the sixtieth session of the Commission on the Status of Women which took place at United Nations Headquarters March 14 to 24. NGOs, which are critical to the work of the CSW, organized a number of side events to foster a discussion on this year's themes.
Moderator and Finnish journalist Johanna Korhonen began the side event with a frightening statistic: ¾ of women who have been online have experienced hate speech. Members of the panel were all experts on the subject; Danish editor Emma Holten was a direct victim and survivor of non-consensual photography or 'revenge porn'. Finnish MP Nasima Razmyar experienced it twofold upon entering into politics in Finland, both as a woman and as a member of a minority group. Writer and journalist Thordis Elva has been providing youth who are victimized by hate speech and by sexism tools to become empowered and a community and family discussion on the subject. Johnny Lindqvist has been engaging youth in Europe on combatting discrimination as Project Manager of the Council of Europe No Hate Speech Movement-campaign. Anine Kierulf has been analyzing speech with a constitutional law lens as a lawyer for the at Norwegian Centre for Human Rights.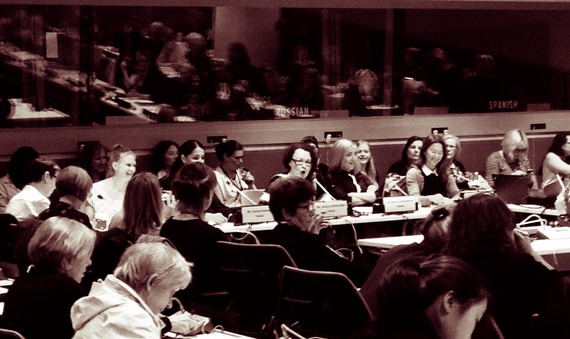 When Holten was first targeted, she had no idea who the perpetrator was and viewed it as an individual matter. With time, however, Holten began to see what occurred to her as a structural problem--an act that serves to silence women, creating a chilling effect where women are 'warned' when seeing other women victimized and thus find themselves unwilling to participate online. Rather than seeing the perpetrator as a troll figure, Holten called for us to rethink the stereotype. As, Korhonen highlighted, yes, perpetrators are overwhelmingly male, with lower levels of education, higher needs for appreciation, and greater financial problems, but, we shouldn't deny that these perpetrators are lashing out at structural issues by lashing out at women, specifically outspoken women or women in power and it is inequality breeding this hate. Hate speech is thus a way of exerting power over others.
Holten also placed the onus on society, which encourages 'toxic masculinity' by glorifying those who hold power over others, both male and female. While individuals feel a rush from the domineering of others, society encourages others to be more domineering. This also becomes profitable, despite non-consensual photography violating the values of many corporations. In engaging the tech industry in combatting hate speech and sexism, successes, like Google, are formed reminding corporations that though they may lose money in combatting non-consensual photography, they would be upholding their values, defending human rights, and fulfilling their responsibilities of not profiting from human suffering.
"If we do not have rights online, we do not have rights at all" stressed Holten at the UN. If the internet is an expression of ideas that are floating in our societies, we cannot eradicate the manifestation of those ideas online until we eradicate them in people. Elva remarked ignorance is something that we can tackle, whereas fear and anger are much more difficult. In this regard, she quoted John Oliver-- "if you don't think online harassment is a big deal, congratulations on your white penis". The online experience for women is much more chilling and potentially life threatening, translating into real life long-lasting consequences. However, the conversation can be shifted to language of equality, online and off. The fear that men's power may be taken away is manifested through anger directed at women wielding power, however language of equality can posit that no one should yield power over others based on their race, gender, religion, ethnic origin, or sexual preference.
Elva also asked why porn is not more regulated as a market, when so many young men learn intimacy through watching porn. Should misogynistic content be marketed to those first discovering their sexuality, especially when other content exists? Moreover, videos and photography are mediums for expressing sexuality. Sending photos to your lover can be an exploration of sexuality, and it is when the shift occurs from sharing consensually to sharing without consent that the content becomes a weapon.
A way that weapon can be disarmed according to Elva is by viewing sexuality as something natural. If society can acknowledge that we are all naked and that there is no shame in that, it could disarm the perpetrators employing this weapon for intimidation. It can also empower survivors. When wielding power to hire an individual, to promote an individual, to have an individual serve in a position of power, instead of taking away their chances due to a nude photo or a video of them that has been posted online, we can decide to not adversely affect this individual and their opportunities. We can also celebrate their strength, as one father who spoke to Elva eagerly expressed when he voiced admiration for survivors overcoming adversity.
Moreover, the response we should never employ is victim blaming. Our first assumption should be that an individual was a victim of a cyber attack. We must also make clear that asking a woman why she shared a nude photo of herself is akin to asking a rape victim why she wore a short skirt--completely unacceptable.
Furthermore, we can provide women in these circumstances with options, like the right to be forgotten, which was entered into practice in the EU as well as in Argentina and Japan. The option has become a lifesaver for many victims and an example for reform. Had it been available in 2011, Holten believes it would have drastically changed her life.
For Nasima Razmyar, government recognition is crucial to preventing hate speech. Razmyar, who came to Finland as refugee from Afghanistan and who has been celebrated for her community integration and language skills says that "hate speech is my everyday life since I became a politician". When Razmyar became the first refugee member of Parliament, residents began to question how she could make decisions on behalf of the Finnish, if she is an 'outsider'. As Kierulf expounded that when there are laws on the books in states, they need to be enforced for real human rights protections.
It is also in the fields of education and innovation where the changes will take shape--with the youth, communities, parents, educators, and those generally working with the youth. After all--youth are both the perpetrators and the victims and hope for change and action lies there. This will also mean engaging men as well as boys. As Holten cautioned, we have done otherwise for decades and cannot afford to stay on the same incomplete course.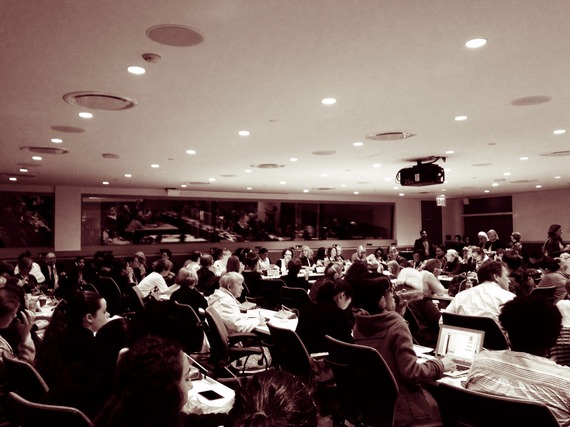 REAL LIFE. REAL NEWS. REAL VOICES.
Help us tell more of the stories that matter from voices that too often remain unheard.