We wake up to a blustery and cold November Sunday. My plans for the day include things like: stay in pajamas, drink tea, watch a movie, maybe clean up a bit. My husband decides we need to go fly kites. Although I can't muster enthusiasm for the idea, it's happening, so I just keep my mouth shut and dress in layers.
We head out. The wind buffets our car on the drive to the playground. "We're the only ones here!" the kids exclaim as we park. "Of course we are," I can't help but say.
As I take photos of my family, the disconnect between reality and the images is readily apparent. The images paint a picture of an ideal family outing, of happy children enjoying a windy day in maybe the most classically sweet way.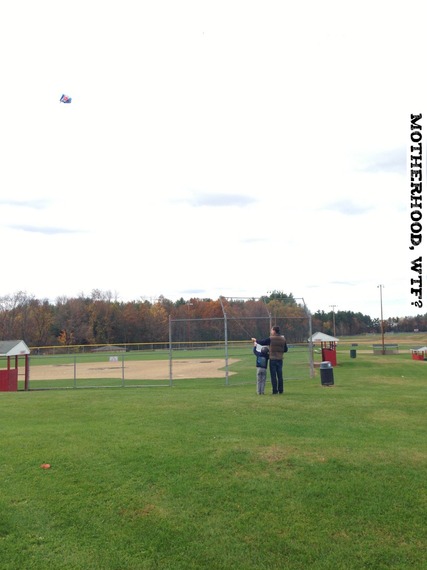 We look like a catalogue family.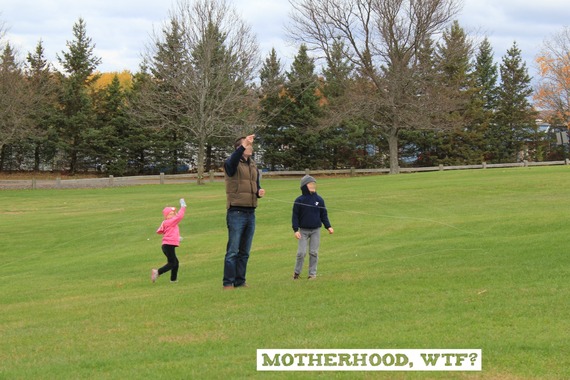 I see a potential Facebook spread, the kind my newsfeed is full of. And it's tempting. If I upload them right away, my friends would know that while they've hunkered down in their houses, I have been out in the weather, with my intrepid family doing fun, active, wholesome stuff.
Paired with just the right status update -- maybe "Perfect day to fly a kite!" -- my photos would imply that I am winning, that I am the better mom, and that I have the better family. People would see my husband and children, faces flushed and smiling, while their own husband naps and their own children bicker or complain of boredom. Comparisons would be made, and my family would win.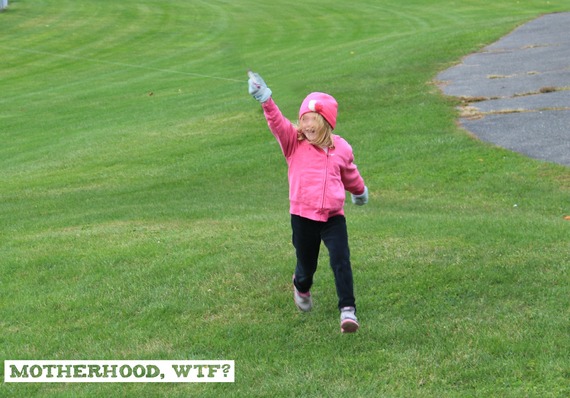 When we post our selective moments of familial happiness and togetherness we send a message: This is our life. We are happy, active, and spend time together as a family. We vacation and go to pumpkin patches; we have ice cream cones and visit the aquarium; we spend windy autumn days flying kites.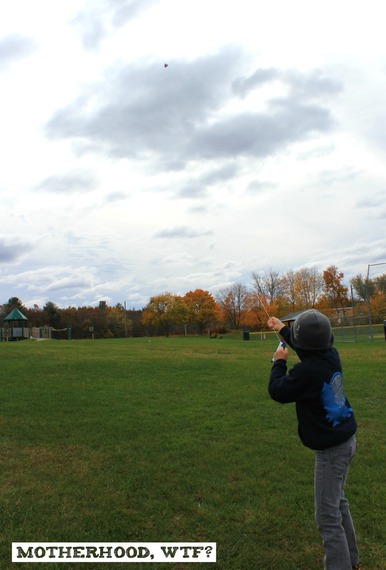 No one's life is just pumpkin patches and happy outings, but there's no mention of the mediocrity -- the exasperated expression we give our spouse when we're stressed and tired and he forgot to do the one thing we asked of him, the countless children's fights broken up, complaints whined, the orders shouted. We don't post status updates about our kids' failures or struggles, only trophies and achievements. We don't post about the times we don't get to the gym, don't prepare a Pinterest-worthy dinner, don't feel up for a family outing.
We fail to mention that we snapped at the kids in the pumpkin patch because all we wanted was one good picture and that shouldn't be too much to ask for; that we spent most of the time at the aquarium in a desperate search for a bathroom, first for one kid and then the other because she didn't think she had to go when we were just in there; or that shortly before we went out for ice cream cones our kids asked if we are getting divorced because they overheard us arguing.
I'm not suggesting that we all must either stop posting happy photos or start posting about some of our lesser moments. Of course we want to share the cute apple picking shots and our trip to Disney. But, as we rely more and more on platforms like Facebook to maintain our friendships, and less and less on phone calls and actual get-togethers, we are only seeing a narrow view of our friends' lives. Without ever seeing the full picture, soon we wonder: everyone else is so happy all the time, why aren't I? What am I doing wrong?
Posting my photos to Facebook with a caption like "Perfect day to fly a kite!" would be lying. Not only was it definitely not a perfect day to fly a kite, but the pictures do not capture anything like the real story.
The truth: It was too windy for the kids' crappy kites. In fact, three kites broke. The kids were easily frustrated and too cold for patience. Since I never wanted to go in the first place, I just hung back with my camera (and bad attitude) and let my husband deal with all the kite/kid problems. With the exception of about five minutes of one kite's success, kite flying was a complete bust.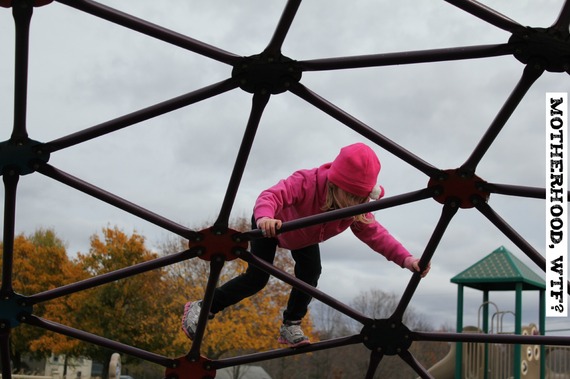 So we moved onto the playground. In this photo, it looks like Sally is happily climbing, but she was already starting to cry and I had to "rescue" her off of the climbing structure moments after taking it. As I selfishly trained my camera on her, determined to capture a moment that simply didn't exist, she began shrieking that her hands hurt, and refused to move from that spot.
The constant, whipping wind made my ears ache so I hid in the relative shelter behind a climbing wall, completely checked out from my family outing, until I eventually decided to sit in the warm car instead. My husband and the kids did have some genuine fun as he ran around chasing them for a while. When it was time to go, Luke threw a fit and told us that he hates us. Perfect ending.
Oh well, we at least tried, right? Certain that we had killed a large portion of the freezing, miserable day, we weren't at all happy to see that it was only 10:45 a.m. as we drove home from the park. So.much.more.day.ahead.of.us.
I did post my pictures to Facebook, but not with the implied message of superiority. I described the actual outing. And I'm posting it here. Just doing my part to let you know that it's not all sunshine and rainbows or beaches and birthdays in anyone's household. And if you ever get that nagging feeling that it is, and that you're somehow missing out, call your friend instead of checking in online. Over the phone you'll hear her tired voice, her toddler screaming, and her story about how her husband is on yet another business trip leaving her to deal with the homefront alone.
A picture may be worth a thousand words, but no one said anything about those words being true.