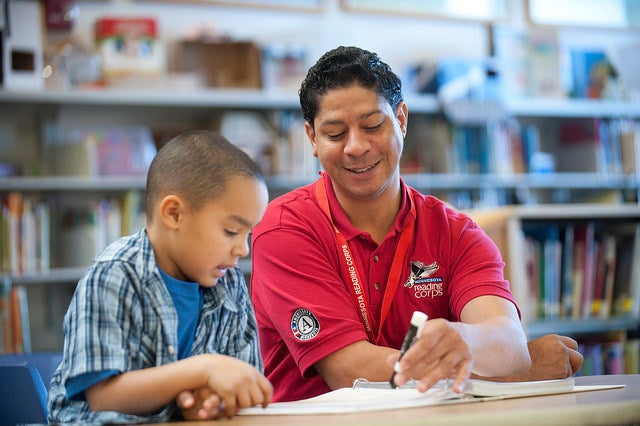 Like most Americans my age, I remember exactly what I was doing when the World Trade Centers went down on 9/11. I was just beginning my senior year at the University of Illinois, and had been procrastinating post-graduation planning. Upon seeing the horrific images on television, I was inspired to action. What could I do? How could I serve? While I admired those who enlisted in the military, I quickly became interested in a different kind of service – I was moved by the stories of Americans all across the nation recommitting to their neighborhoods, schools, civic organizations, and nonprofits. That, to me, has always been what makes America great – citizens participating in their community.
After considerable research, I signed on for two years of national service in AmeriCorps National Civilian Community Corps, a residential, team-based program. On a personal level, this experience was extremely transformative. But, this experience also helped me to realize the tremendous power that national service can have on many of the most pressing issues facing our nation. AmeriCorps impacts the communities where young people serve, creates jobs, and serves as pipeline to employment. And perhaps most importantly, it can also strengthen our democracy by restoring a sense of common duty and purpose among Americans.
Last month, President Trump released his budget proposal, calling for the elimination of AmeriCorps, which is overseen by a small independent federal agency called the Corporation for National and Community Service (CNCS). Terminating CNCS and AmeriCorps would deny tens of thousands of Americans the opportunity to serve in the their communities through national service every year.
The CNCS budget accounts for a mere 0.03 percent of spending, but provides nearly 80,000 individuals the opportunity to serve their country every year. These corps members are often working with local government agencies, nonprofits, or faith-based organizations on the front lines of America's most intractable problems. Since 1993, over 1 million Americans have served in an AmeriCorps program, creating tremendous impact.
Every year, tens of thousands of AmeriCorps members are placed in underperforming schools where they work under teacher supervision to provide extra tutoring to struggling students, as well as provide support for extracurricular activities. Research examining the impact of one AmeriCorps literacy program in Minnesota shows that kindergarteners who were tutored by an AmeriCorps member performed twice as well as those who did not receive the tutoring. Other faith-based and nonprofit organizations such as American Red Cross, Habitat for Humanity, and Catholic Charities rely heavily on AmeriCorps members to recruit and train volunteers. Cutting AmeriCorps programs would have devastating effects on these programs and the vulnerable communities they serve.
AmeriCorps also serves as a pipeline to employment for participants. During their term of service, corps members develop both hard and soft skills that make them more attractive, hirable job candidates. A year of service can also strengthen personal social networks, an important factor for finding a job. Over 40% of AmeriCorps alums report that they found their first post-AmeriCorps job through relationships created during their term of service. If President Trump is serious about putting Americans back to work, particularly young people, then he should consider expanding, not eliminating programs that are proven pathways to employment.
Lastly, AmeriCorps has enjoyed overwhelming bipartisan support for nearly 25 years. It is a cost-effective tool that utilizes public-private partnerships and provides critical support to some of America's most vulnerable communities. A recent cost-benefit analysis conducted at Columbia University found that every dollar invested in AmeriCorps generates a 400 percent return, largely by leveraging private and philanthropic dollars.
During my two service years with AmeriCorps, I had the opportunity to live and work in 10 different communities. My service took me to rural North Dakota, Minneapolis, rural Texas, Denver, and the exurbs of Chicago, among other places. One of the most personally powerful aspects of my service was going into communities and meeting other Americans who were different from me. I relished learning about the beliefs and values of different communities, and this experience provided me a better understanding how the American social fabric was woven together in different parts of the country. My service year helped me to appreciate these different perspectives and listen more carefully. It made me realize that Americans really do have more commonalities than differences.
In an era defined by divisiveness and polarization, we should be creating ways for Americans to find common ground and develop shared purpose through shared experiences. If we save AmeriCorps from elimination, it might just end up saving us.
Kevin D. Ward is an AmeriCorps NCCC alum and is now Assistant Professor in the Institute of Public Service at Seattle University.
Calling all HuffPost superfans!
Sign up for membership to become a founding member and help shape HuffPost's next chapter