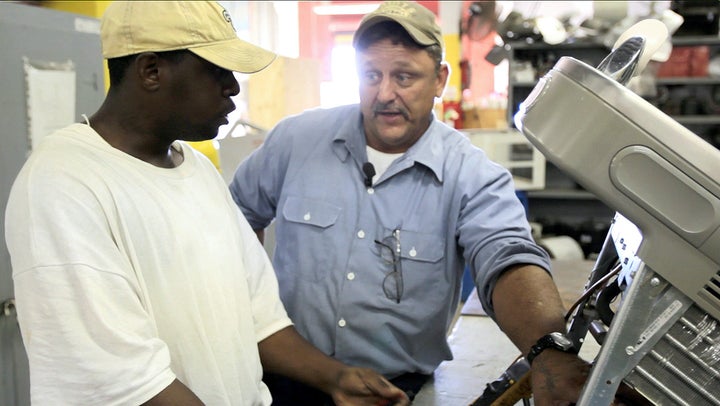 For some prisoners, especially those that have spent years or decades of their lives locked up, getting out comes with a mixture of overwhelming joy and anxiety.
They often want to start over, but don't know how to achieve that. They need somewhere to live, to work. They need counseling, but have limited resources. Some prisoners are released with only the clothes on their back, $10 to $200 and a bus ticket to the state line. Life on the outside can be a huge challenge -- so hard that many prisoners fail at it and end up back behind bars before long.
"Even the most commonplace kind of transactions can be anxiety-provoking," Ann Jacobs, director of the Prisoner Reentry Institute at the John Jay College of Criminal Justice, told The Huffington Post. Basic tasks like not knowing how to use a metro card instead of tokens to ride the subway, or making a phone call on a smartphone instead of a pay phone can seem insurmountable.
That's why programs that help inmates re-enter society are critical. From state to state, re-entry programs vary. Not all states have them. And different branches of the criminal justice system have different ways of addressing re-entry, frequently leaving former inmates with few lifelines to help the rehabilitation process. But programs like these are trying to make a difference, starting from when an inmate is first incarcerated and following through to those initial hours when an ex-inmate is released and to the months that follow as they work to get their lives back on track.
In Louisiana, the state's Re-Entry Court program allows the state's younger inmates who qualify to learn a trade -- from plumbing to welding to culinary arts. It also provides them with hours of classes on anger management and communication. The state has also launched regional re-entry programs offering similar services to inmates in local prisons.
Louisiana has the highest incarceration rate in the U.S. While officials say they have seen a decline in the prison population in the last few years, it's not clear just how much the re-entry programs in particular have contributed to that lower rate. Incarceration rates are affected by a myriad of laws, people, social issues and programs. But officials are still hopeful that they're making a difference.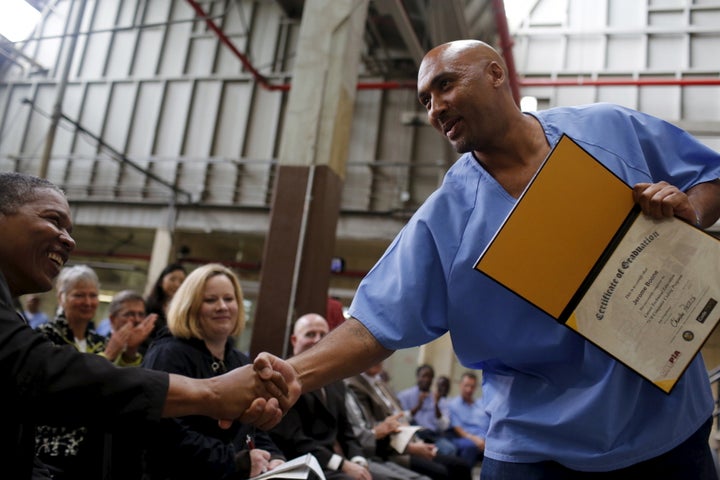 In California, San Quentin Prison -- one of the largest prisons in the country -- is offering college-level education to inmates through the Prison University Project, the largest in-prison college program in the California prison system.
Indeed, a 2013 study from the National Criminal Justice Reference Service found that in-prison college education programs did effectively lower recidivism rates. It also found that inmates who completed a college-based education program while incarcerated stayed crime-free longer than those who did not participate in the program.
Opponents say that such higher education programs in prison are not a proper use of taxpayer dollars. But advocates like Jacobs say the programs are "transformative" for inmates when they are released.
"People who get a college education when they are inside or when they come out have almost non-existent recidivism," Jacobs said.
A National Research Council brief prepared from The Growth of Incarceration in the United States, a 2014 report studying trends in mass incarceration in the U.S, details the difficulties that prisoners face upon re-entry -- lower earnings, denial of jobs or work licenses, an inability to vote, and ineligibility for public housing, student loans, food stamps and more. Once released, the ex-offender is in dire need of support and encouragement.
Former inmates in Washington state have found that support at Pioneer Human Services, which provides a full suite of programs to thousands of ex-offenders annually. This includes treatment for substance use disorders, housing, job training, job interview training, apprenticeships, employment and, where appropriate, help getting their driver's licenses and voting rights back.
"Our case managers work around the clock to help people with all of their needs, as most of our staff has been incarcerated in their past life," Nanette Sorich, a spokesperson for Pioneer, told The Huffington Post. "After they get hired by any employer -- including Pioneer -- we have a case manager and job developer who works with them on their career path the first 12 months after they are hired to ensure their success."
Jacobs says a person's successful re-entry into society can be viewed through how adequately they are able to meet six basic life needs: livelihood, residence, family, health, criminal justice compliance and social connections. Those needs manifest differently, depending on the phase an inmate is in when they're released. Jacobs breaks these phases down into three categories: Survival, stabilization and self sufficiency. All these categories make up what she describes as the "Success in the Community" matrix:
But sometimes successful re-entry can begin with something as simple as giving a former inmate a ride.
Take the "Ride Home Program" from the Anti-Recidivism Coalition in California, which was recently profiled in The New York Times Magazine. It employs former inmates to pick up ex-prisoners on the day they are released to help guide them through the changed world.
ARC's drivers spend all day with the newly released prisoners -- they buy them food and some clothing, give them advice on finding work and getting a haircut, as well as help with calling family on smartphones or showing photos of family members on Facebook. In other words, they start to reintroduce them to the culture -- and being former inmates themselves, they can deliver that message in a uniquely empathetic way.
''The first day is everything,'' Carlos Cervantes, one of the ex-offenders who picks up newly released inmates, said about those sometimes frightening and overwhelming first 24 hours.
"It's a low-tech, commonsense human exchange that is good for all parties involved," Jacobs said about the ARC ride program. "In re-entry, you see people whose lives are raggedy and rough and desperate, and that's certainly part of it, but that doesn't mean that's who they are or what they are limited to."
While more research needs to be done on the long-term effects re-entry programs have on recidivism reduction, it appears that not all re-entry programs are equal in their efficacy, according to a 2008 examination of re-entry programs by Doris Layton MacKenzie, a professor of criminology at Pennsylvania State University and director of the school's Justice Center for Research.
MacKenzie found programs at the time covering a wide array of subjects -- from vocational education to electronic monitoring -- and found no "single explanation" for programs that weren't effective. But she speculated it could be due to something as simple as poor implementation. It also could be because the programs are focused on "punishment, deterrence, or control" or don't do enough to change the individual's thought process during the program course work.
Ex-offenders frequently just need more "compassion and understanding" from the criminal justice system, Jacobs said.
"It doesn't mean you excuse negative behavior," Jacobs explained. "Rather, it means you take people where they are in life and try to help equip them with the skills to make them more effective in their life."
Good re-entry programs will deliver new ways of thinking for the former inmate, Jacobs says, and frequently, simple, commonsense programs with a "human touch" make all the difference.
Are you an ex-convict who re-entered society successfully? Did you find help through an organization, a person, a program or something else? Write to matt.ferner@huffingtonpost.com and tell your story.
Popular in the Community