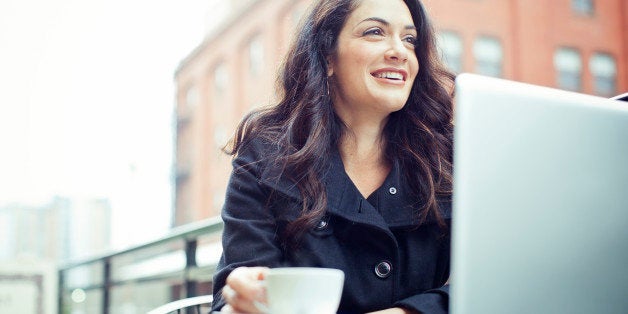 "Lean up to the table. And you can't whisper."
The advice comes straight out of Sheryl Sandberg's playbook, but it wasn't the COO of Facebook who was uttering the phrase.
It was Annette Wilkus, and she was telling me a story about one of her employees, a young female who recently began working at Wilkus' company, SiteWorks LLC.
"She won't speak up at meetings and I'm encouraging her to speak more," Wilkus told me. "As an example, yesterday we had a meeting, and the night before I said, 'I'm going to toss it to you, and you have to speak very strong.' Because she talks softly, I said, 'You've got to bring it out.'"
"She held it really well," she said. "But I would never have had to say that to a guy."
Wilkus knows something about working with guys. As the founding principal of SiteWorks, a landscape architecture firm, she works in a testosterone-dominated field. She often walks into meetings of 20 people, she says, and is the only female present.
That dynamic made her feel uncomfortable when she kick started her career -- a lot like her employee feels now.
"As a woman starting out, I was always afraid to ask questions because I didn't want to look dumb," she said.
It's a common refrain heard from lots of working women -- even Sheryl Sandberg had her self-doubts, as she eloquently described in Lean In -- but it's also one that I believe propels us to work even harder. Consider Annette Wilkus Exhibit A.
With three decades of experience under her tool belt, Wilkus has helped create over the last several years some of New York City's most innovative parks, including the much vaunted High Line and Battery Park City's Teardrop Park (move over, Olmstead).
She is also LEED accredited, and her expertise on creating eco-friendly environments has led her to projects such as the Trust for Public Land's New York City Playground Program. This program, initially developed by her business partner Melissa Potter, transforms underused playgrounds and turns them into dynamic play spaces that incorporate rain gardens, native plantings and other green measures.
But while she is a designer by training, her real love -- and skill -- is in what's been a typically male dominated field: construction management. It's what led her to found SiteWorks in 2005. Unlike other landscape architecture firms, SiteWorks is 95 percent construction management as opposed to design. Wilkus' background as both designer and manager enables her to stay true to a designer's vision, while also being sensitive to the needs -- often budget-related -- of the property owner.
"We have such a unique bent in that we're landscape architects who understand design, but who also know the language of contractors and CMs (construction managers). So we can translate between the two," she says. "We've become known as a sort of niche, the thing that can bind these big projects together."
According to Fabric Architecture, Wilkus has become one of New York City's most recognized consultants for constructability, quality assurance and quality control. Her firm handles every aspect of a project, from site analysis and cost estimation to supervision and post-construction services. Her knowledge is such that she's become a go-to person for other landscape architects -- a good 60 percent of them male -- who seek her expertise and even sometimes ask if she'll work with their teams.
"It's really symbiotic," she says. "Because they understand that they can't be onsite every day, but we can. So if they know that they've got a likeminded person or team on their construction site, they know that that's going to be better."
Her own team has doubled since last spring, from six employees to twelve. Unlike most women-run firms, she has slightly more male employees (seven) than female (five). Again, chalk that up to the number of men working in construction management -- some of whom find themselves dumbstruck when a female enters the site.
"I'll walk onsite and the contractors' [demeanor] changes," she says. "It's like they're just not accustomed to a woman doing what I do."
She relates the story of a former female employee whose father runs a construction firm. She could operate the equipment "and the whole thing" but because she was a "tiny little blonde," the men assumed she didn't know much. Before long, the men realized they were wrong.
"They just started calling her The General on sites because her attitude said, 'I'm not taking that from him!'" Wilkus said.
She looks for that kind of chutzpah when she's hiring women, though some have it more than others. That's why she places great emphasis on the importance of asking questions -- a reminder of her fear of doing the same when she first began working.
"I just want the firm to be a friendly place where you can ask questions, without being afraid to ask questions," she tells me. "I really encourage people to be able to discuss if they think something should be done in a different way or just to engage in a conversation."
Heed this remarkable woman's advice: Lean up to the table. And don't whisper.
REAL LIFE. REAL NEWS. REAL VOICES.
Help us tell more of the stories that matter from voices that too often remain unheard.