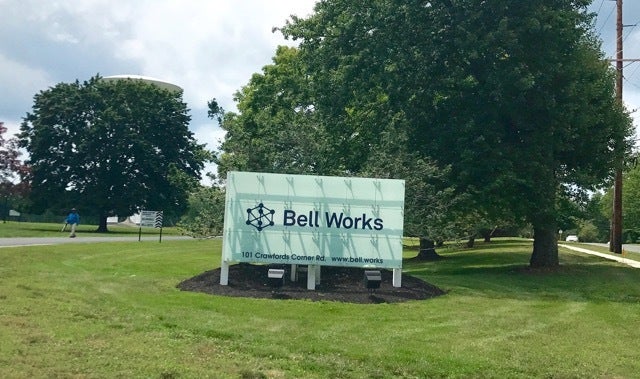 According to Wikipedia, coworking "is a style of work that involves a shared working environment, often an office, and independent activity. Unlike in a typical office environment, those coworking are usually not employed by the same organization." Further, "coworking is also the social gathering of a group of people who are still working independently, but who share values, and who are interested in the synergy that can happen from working with people who value working in the same place alongside each other."
Ok, now that we have a definition of what coworking is -- beyond the obvious -- let's address the reality. Questions that often surface like, "What the hell do we do with all this office space we thought we needed from decades past?" are often the foundation of its existence. Remember the time when a bank branch was believed to be required on every corner and a local bookstore was expected to be in every town? It seems like Home Depot and Amazon solved this problem, and eventually, Amazon will be the cure for everything we need.
It is interesting to note that the valuation of WeWork has topped $20 billion, thanks to a recent series G investment round of $760,000,000. It is the fifth-most-valuable start-up according to Bloomberg. It is also larger than a bunch of companies combined including Twitter and Blue Apron.
Wow! Coworking is big business.
Near where I live in central New Jersey is an iconic landmark building called Bell Labs, in Holmdel. This is where the transistor was invented, along with a host of other technologies that have become the brains and guts of all the things we deem essential, including the cell phone. Innovations credited to having been formed there are also linked to the USA winning WW2 and eight Nobel Prize-winning discoveries. It is two million square feet of space that some thought would be torn down after the demise of AT&T, but scientists and others with a passion for the history of innovation said, "No, we won't stand for it." The story around here goes something like this.
The new urbanism movement became an attractive topic to developer Ralph Zucker and his firm, Somerset Development. His interest in using communities that could contain businesses and neighborhoods within walking distance was grabbing hold. After AT&T dissolved and its spinoff Lucent crumbled, they acquired the Bell Labs property.
Over time he convinced residents that they needed to replace the taxes paid by Bell Labs or risk raising them for people in town. Holmdel is an area where the average home sells for almost $1 million. The promise of having space that could be shared by companies, entrepreneurs, and freelancers alike in a non-curated atmosphere sounded attractive to many, and it would all be within walking distance of their homes. Thus, Bell Works was born and coworking in our county. Note: Most people in this area commute to jobs in New York City and elsewhere throughout the state. Two-hour journeys each way are not uncommon.
There is a big miss in my mind, though. Two million square feet is a lot of space to fill. Even with common areas and retail, there are only so many entrepreneurs and freelancers to go around. This leaves me to wondering, "Who will be paying the lion's share of the bill so the investors and Bell Works can make money?"
So I ask the question, "Where will the high-paying jobs come from?"
I did a Google search on Bell Works for available jobs, and the top response was Indeed.com. "Hmmm," I thought. So I went to the Bell Works building and asked the pleasant young woman at the front desk, "Where do you find out who is hiring here?" She told me to go to Indeed.com and put in the location as Holmdel, NJ. So I did that, too.
Here are the top results.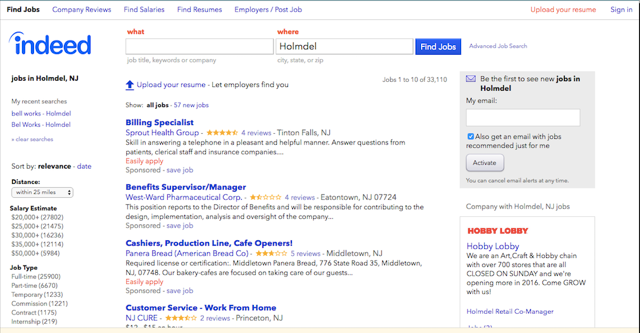 Ok, it doesn't seem to me that inventors of anything are on this list.
Reality check: Across the street from Bell Works are two developments from Toll Brothers.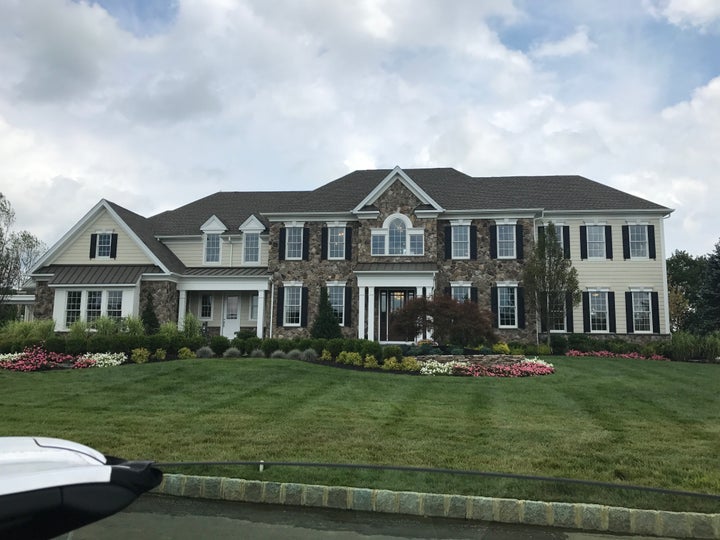 There is no way that the salaries of those available jobs at Bell Works will even pay for the schooling for the kids who will fill those homes. So where will those tax dollars to support the town come from? The fear of raising taxes drove the decision to build. Sufficient jobs with real incomes to bolster spending just might do it. But where are they?
I like to think I represent the pilgrimage of the older worker here. Men and woman who have built companies, created jobs, tried, failed and tried again are all over this area. But how do we find the jobs at Bell Works? There is no central repository of senior-level opportunities. I think the developer has both an opportunity and an obligation to ensure that the new tenants have access to the best talent in the area, the ones who can afford the home within walking distance of Bell Works.
This makes me reflect on a scene in the movie Field of Dreams, where the character of Shoeless Joe Jackson, played by Ray Liotta, says to Ray Kinsella, played by Kevin Costner, "There are others, you know." And that is so true of the talent base here in central Jersey, which can feed Bell Works. There are many of us; we just need to be shown where to go.
Like an Iowa cornfield and its promise for a ball field to bring back players from time past, Bell Works has a unique opportunity, one that just might provide the answer to the question asked in Field of Dreams, "Is this heaven?"
Maybe not, but it sure could be for the many talented commuters and the companies they can help to build.
Related
Popular in the Community