This is a problem that I never thought about until I was 25 years old. While my family had financial struggles, I never lacked the items most women take for granted -- pads and tampons. At 25, I met Shirley, who gently educated me on the impact of poverty on our womanly ways. I learned that women and girls who could not afford these products used rags. And because they did not have a lot of resources for laundry, they either burned or buried the rags.
Several years later, I learned how women who are homeless in urban environments also used rags or simply bled through their clothing until they could throw those items away and get new (donated) clothing. Beyond lacking actual products, they often have no access to a sanitary bathroom or any facility with the privacy to take care of this biological need.
And I learned that this continues to be a problem. That young girls skip school every month because they don't have access to pads. A program called "On The Spot" collects products to distribute in the Pittsburgh Public Schools.
I have also begun to educate myself about the impact these issues has on trans men and genderqueer people. This is where the stigma of being outside the gender binary coupled with the stigma of poverty creates a need for groups like LGBTQ Community Centers to step in with solutions.
These are the quintessential wasted days -- days when girls and women are not in school or at work or not productive or not able to get to appointments or so forth. And not because their periods make them ill, but because they don't have supplies.
When I've shared this information in the past, some people don't believe me. They don't believe that there are thousands of families in Pittsburgh where people don't have an extra $10 to spend on supplies. That there are families for whom reusable products are not viable or sanitary. That people who are exhausted from living in poverty while working can't figure out a workaround.
The hygiene-product shortage amounts to far more than an annoying inconvenience. Women described to me the discomfort and smell, especially in the summer, of living in close quarters with other women who are often menstruating simultaneously.

Since the advent of the recession, budget cuts at prisons often hit women-specific services first, and "fringe" benefits like feminine hygiene products are some of the first to go.

"Tampons are $5.00 and pads are around $3.20," Vicki Rosepiler, a prisoner at Danbury Federal Medium Security Prison, told me. "You can get five free pads per week and three rolls of toilet paper, but that is the extent of help with hygiene. This was not the case 10 years ago."
That's bad enough. But when you are released from prison? Your employment options are limited, but you certainly need to maintain a level of hygiene to find and keep employment.
You can't buy these items with SNAP (food stamps). You can sometimes find a sale or a coupon, but you need a bunch of cash on hand to stock up for say six months. Some girls and women have very heavy flows and may use twice as much products as others. Reducing periods because you are poor is not a good reason to take oral contraceptives, which are also not always covered either.
How about the fact that lesbian households (20% of us are on food stamps) means twice as many tampons and pads? And what about trans men or genderqueer individuals who face additional stigma?
The systemic solution is to change economic structures that put individuals who needs these products in poverty. Better jobs, better pay, better benefits.
The practical solution is to donate these items to be distributed in a manner that is respectful and dignified. I'm working with a project in Pittsburgh called "Cathy's Closet" which strives to raise awareness about LGBTQ poverty and distribute resources in a dignified manner through our LGBTQ Community Center. We named this initiative after a now-deceased activist in our community who quite often gave the shirt off her back to others and when she passed, had very little resources of her own.
We are working to raise $5,000 to launch the project and partnering with community groups to organize product collections on a year-round basis for sustainability. Several communities of faith have made a commitment as well as our PFLAG chapter, a LGBTQ youth performing arts group, TransPride Pgh, OUTrageous Bingo and many others. This past weekend, a local gay bar added a collection to a weekly karaoke night. They collected hundreds of items, including tampons, pads and similar products.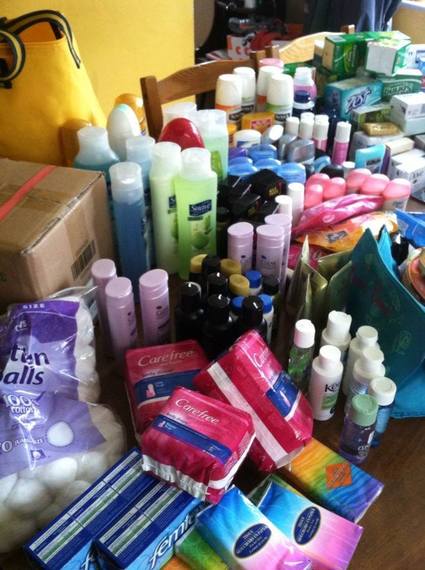 Of course, they'll be collecting more than tampons and pads, but I hope that we can fold this specific need into the collections and ensure we have enough supplies on hand. But even as product donations are rolling in to the GLCC, we must raise the $5,000 for renovations and to purchase the base items we need -- such as jumbo-sized scent-free products and other fundamentals.
Find out more here. If you are not located in Pittsburgh, you might want to talk with a local organization about organizing a collection. Approach a food pantry, a homeless shelter even your public schools. Ask if this is a need and then find your allies who will help you meet it. If there isn't a safe space in your community where your neighbors can access these items, maybe you can start one.
The stigma of menstruation compounded by the stigma of poverty shouldn't leave our neighbors without the items they need for their basic health and welfare.
Calling all HuffPost superfans!
Sign up for membership to become a founding member and help shape HuffPost's next chapter