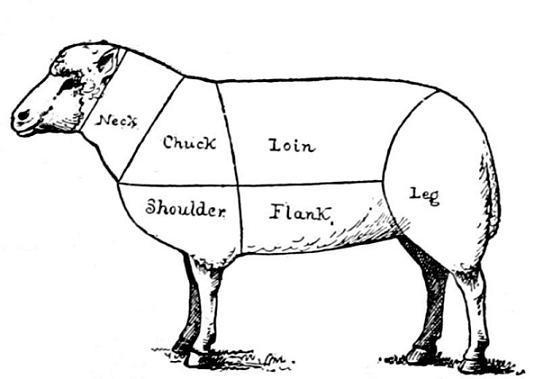 I was a vegetarian for nearly a decade, something I decided to do in college when I became aware of the mistreatment and cruelty in industrial agriculture. But I decided to come home to eating meat earlier this year and am glad I did. My reasons are personal but I will share them here. I'll start out this post by saying that these are my opinions and conclusions, and mine alone. Every person has the right to eat however they wish, but I have endless respect for anyone who thinks about what they eat. But this is why I am a shepherd, and why the first meat to pass these lips in 9 long years was lamb.
Quite frankly, there's a lot of meat around here. I live in an agricultural Mecca known as Washington County. My region of Southwestern Vermont and Northeastern New York (which I lovingly refer to as Veryork) is thriving with small-scale, ethical, sustainable farms producing (within fifteen miles of my front door) beef, pork, turkey, chicken, rabbit, lamb, mutton, deer, emus, and spit-ready goats. There are trout-rich rivers, venison in the fields, pheasants-and-ducks-a-plenty, and even the occasional bear or squirrel stew. Protein sources like these, raised by my neighbors, friends, and coworkers are plentiful. When I found out I was surrounded by so much grass-fed meat and wild game it seemed ridiculous to keep eating tofu shipped in diesel rigs from California. Since my reasons for being a vegetarian were entirely about avoiding factory-farmed meat: I decided it was time to start supporting the farmers who were raising animals the way I wanted them raised. It took a couple years to take that first bite, but now I am a proud and happy carnivore. I support local meat farmers, I raise my own animals for food, and I hunt wild game as well.
I Eat Meat Because I am an Animal
Some people like to consider human beings something else. I do not. I suppose we are in the sense that our advanced evolutionary status, intelligence, and abilities, surpass others but at the end of the day: I am an animal. Being an animal on this planet means I have to abide by certain unquestionable truths to live here. The first and foremost being that the only way I can remain alive is if I eat other living things. There is nothing a human being consumes that wasn't at one point alive, and even the purest Vegan diet still contains living plants. A life was ended. Just because the plant wasn't as advanced a species as a rabbit or a deer, doesn't mean a life was not taken to sustain you. I am not comparing plants to complex animals, just making the simple point that the alive must eat the living. This is how our world works. If I died in the woods and a pack of coyotes came across me, they wouldn't trot past thinking "Oh, we can't eat that. It's not food! It's a person!" Hell no. They'd go buffet on my ass.
Can I survive off plants alone? Of course I can. So can a bear, a rat, a crow, a raccoon, and countless other omnivores. Yet no other animal who has the choice to avoid meat in its diet, does. This is because flesh is a power-packed, vitamin-rich, and calorie-dense source of sustenance. It keeps them going, keeps them alive. Energy in its purest form.
The natural state of this world, I'm sorry to say, isn't peaceful and kind. As compassionate beings, people with beautiful hearts and minds go above and beyond their abilities to stop the taking of lives. Yet, this is not how nature works, and we all know that. If every carnivore stopped eating its prey there would be nothing short of chaos and destruction to the entire system. This is a system that has been working for quite some time. You would never ask the wolf to stop eating rabbits, so why should you ask the humans in the same eco-system to do so? I am constantly told that our ability to choose means that we should opt away from eating animals. I say it is our ability to choose that proves that we are animals, and should eat accordingly. Our choice should not be "what" we eat, but "how" we eat.
Pasture-raised meats in moderation is a wonderful thing.
Eating meat also reminds me that I am a dying animal. I am something that is here for a short time, a part of the world for a few decades and then gone forever. When you are farmer producing meat you are constantly aware of your own mortality, it is impossible not to be. I hold no illusions about this, and so it is with every bite of a bird I raised that I am aware of the world he left behind. It makes me talk softer, listen more, and never ever do I get worked up about the things the way I used to. Growing food this way has forced me to live every day like it might be my last. If I love someone: I tell them. If I can give money, or time, or energy to make someone else's life easier: I do. It has made me more compassionate in ways I could never imagine.
When I decided to become a livestock farmer, I went with my gut and focused on sheep. The more involved with the animals I became, the more I realized they are the perfect small farmer's animal. They not only produce meat but milk, wool, cheese, shearling, leather, and lanolin. They are easy to manage, respect fences, and small enough that if you get attacked by one you probably won't die. I can also manage a large number with the very green energy that is my sheepdog. The idea that I can get all this, and work beside my border collie, is why I raise these animals. On a bitter winter night I can cover up in a wool hat, sweater, and sheepskin gloves on a full stomach of lamb chops and feed my sheep with just a few flakes of hay. As a single woman I can manage an entire flock with the help of a good dog, which would not be the case with pigs or cows. I ask you, what other animal gives us so much and asks for so little in return. And does it without jumping fences or making a fuss?
If You Care About Farm Animals Eat Them
If you really care about the humane treatment of livestock then I strongly suggest you eat them. I mean that with all my heart. Purchase, prepare, devour, evangelize, and support the small farmers raising animals on pasture. Show this modern world that you don't want your money going towards feedlot beasts, that you are going out of your way to avoid them. Every dollar that goes into clean meat shows the folks making decisions about animal welfare in agri-business that people are appalled and distressed at the factory farm model. That we will no longer stand for assembly-line death and bacteria-filled carcasses. Until they notice their wallets getting thinner--and the organic meat sections growing larger in Wal-Mart--millions of animals will continue to suffer.
And I am not interested in hearing that a pasture-raised animal killed for food is also suffering. Why is all suffering bad? Why should all suffering be avoided? Of course an animal killed for food suffers. It dies to feed us. But food is the reason they are here in the first place, so I am not concerned about their lives coming to a close. I want their lives to end since that is what sustains me. What I am concerned about is what leads up to that final day. I want the majority of animals I eat to know what sunlight feels like. I want them to know how to run, know what it feels like to move every damn muscle in their body. I want them to be healthy, happy, and alive as their wild kin. I feel no guilt in harvesting them any more than I feel guilt slicing a head of broccoli off the stock.
I am grateful for both though, you just can't know how much.
All Meat is Not Created Equal
Some is certainly better, for us and for the beasts. Some people say that free-range meat is overpriced and an elitist option. Nothing could be farther from the truth. You may pay a few more dollars but what you aren't paying for is corn-fed, diabetes-inducing, fat-lined cuts from an illegal-immigrant powered slaughterhouse. If you bulk at the price after that, than why not eat healthier meat less often? Certainly, meat isn't something anyone needs to eat everyday. Most of my meals remain vegetarian with a few heartier ones on the weeknights. That all said, I am not perfect. I do grab the occasional deli meal on the go, but I do so less and less. It is now impossible for me to get any meat while sitting in my truck. Drive-thrus are part of my past. Good riddance.
As a meat farmer myself, I feel as if I am on the front lines of factory-farm liberation. I am providing people with an option of local, grass-fed, healthy animals they can visit and see in person any time they wish instead of some factory-slaughter, diesel-shipped, airline loaded piece of frozen mutton from New Zealand.
A vegetarian's money does support sustainable agricultural and sends a big message to the Conventional Vegetable and soybean business, but keeping your money out of the hands of small meat farmers isn't making a dent in the treatment of those factory farm animals you are protesting. If everyone who agreed on the principal that factory farmed meat was unkind spent their money eating one pasture-raised meat meal a week the industry would be forced to change, and change quick. When there is no good left business in cheap, dirty, meat the factories will go away. As a member of the future of my region's rich agricultural heart: I hope for this above all things.
I raise meat because I love animals.
Calling all HuffPost superfans!
Sign up for membership to become a founding member and help shape HuffPost's next chapter