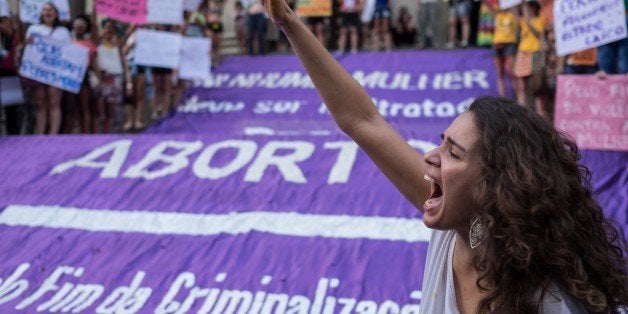 The World Health Organization estimates that 211 million pregnancies occur each year. Approximately 87 million of these pregnancies occur unintentionally. Of the total number of pregnancies a year, around 46 million end in abortion. Around 40 percent of these are carried out under unsafe conditions; 47,000 women die as a result of unsafe abortions each year. Surely, this is not what we want for our women.
Abortion is not about opinion. Legalizing abortion is not a question of beliefs, taboos or religion-- all that should not even be part of the conversation. Abortion is a question of public health, and it must be dealt with as such.
Don't like the idea of abortion? Don't get one.

Your opinion will not change the fact that women who do not want children get abortions every day. Religious women, mothers, adolescents, poor women, rich women, married women, single women, working women and unemployed women get abortions on a daily basis. Women of all types abort, and nobody's opinion is going to change that.
The only difference is whether or not they have the right and access to a safe abortion. And this is what concerns us most. Every year, around 47,000 women die and millions suffer from irreversible physical and mental trauma due to complications of unsafe abortions.

Abortion is a question of public health, and it must be dealt with as such.

One of the institutions that deals with this right to choose is How to use the Abortion Pill, which provides reliable information on how to use pills and directs interested women to institutions such as safe2choose.
Countries that have legalized the procedure are already seeing low mortality rates. Uruguay, for example, has recorded no deaths due to abortion since the procedure was legalized at the end of 2012. In many of these countries, legal and safe abortion is no longer disputed. The right to choose is respected and each person's reproductive rights are upheld.
Europeans are much more advanced in this matter. Italy, for example, allows the procedure to take place within the first 24 weeks of pregnancy. Sweden allows abortions within the first 18 weeks, and Portugal within the first 10 weeks. In these countries, abortions take place every day -- safely.
The African continent still has a long way to go, but some African nations are making headways. In South Africa, abortion was legalized in 1996. The procedure is free for pregnant women who cannot afford it. The South African constitution recognizes the right to choose and control over one's body. As a result, since the country started its democratization process in 1994, any woman was allowed to get an abortion if she was up to 20 weeks pregnant, in specialized centers linked to the Department of Health and in authorized private hospitals. Mozambique recently decriminalized abortion, joining a group of countries (Cape Verde, South Africa, Tunisia and Zambia) that recognize and respect women's reproductive rights.

The discussion is and must be about preserving the health and lives of women.

Unlike in Africa, Latin America is home to some of the world's strictest legislations concerning abortion. Uruguayans and Mexicans are pioneers in the region and are supporting a healthy debate, and Chile is showing similar signs. In Mexico City, abortion is available upon request to any woman who is 12 weeks pregnant or less. However, abortion is still prohibited in 19 of the country's 31 federal states. This may not be the ideal situation, but it cannot be compared to countries such as El Salvador, Guatemala, Nicaragua and Honduras, where abortion is criminalized, even when the woman's life is at risk.
The discussion is and must be about preserving the health and lives of women.
This post first appeared on HuffPost Brazil. It has been translated into English and edited for clarity.
Support HuffPost
Every Voice Matters
Popular in the Community