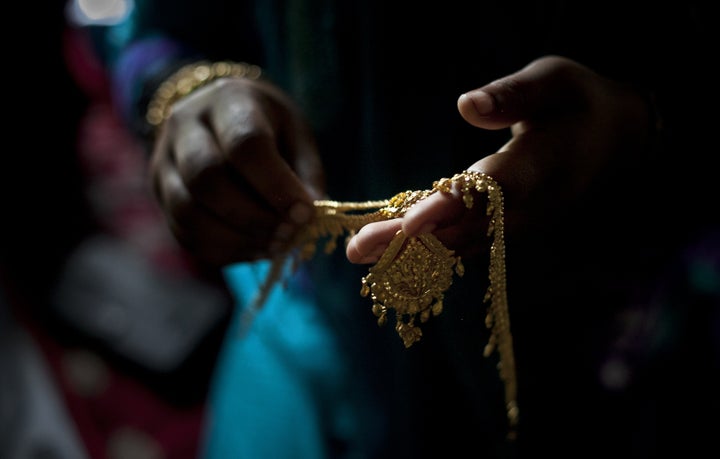 "But child marriage is legal in the UK--so why shouldn't it be allowed here?"
Those were the words of a Bangladesh government official who I met to discuss the terrible harm child marriage causes in Bangladesh, like depriving girls of education, exposing them and their babies to serious health risks from early pregnancy, sinking their families deeper into poverty, and raising the risk that they will face domestic violence. In Bangladesh, half of all girls marry as children, 18 percent of them before age 15.
As I sat in his office, I struggled to answer to his question. Bangladesh has signed up to two international human rights conventions--on women's rights and children's rights—which define child marriage as being wed before the age of 18, and demand that the country end the practice. But then so has the UK—and that hasn't stopped it violating these same commitments either.
The minimum age of marriage is 18 in England, Wales and Northern Ireland, but children age 16 and 17 can marry with their parents' permission. In Scotland, the minimum age of marriage is 16, with no parental permission required.
But international law is very specific about who should be allowed to marry. If a country wants to permit exceptions to the minimum marriage age of 18, "mature, capable" children are allowed to marry only "in exceptional circumstances" at age 16 or older, when "such decisions are made by a judge based on legitimate exceptional grounds defined by law" and "without deference to culture and tradition." So by allowing 16-year-olds to marry without consent from a judge, the UK is breaking international law. But that hasn't stopped the UK from telling other countries to follow the same rules that it's flouting.
In Bangladesh, we see the direct consequence of the UK's double standards on this issue. For over two years, the Bangladesh Prime Minister Sheikh Hasina has sought to lower the age of marriage for girls from the current age, which is 18 with no exceptions. Citing UK laws again and again, she has nearly succeeded in this effort. A law is now pending in the Bangladesh parliament that would allow judges to authorize marriage of girls at any age in "special cases." Activists in Bangladesh are devastated by this move, which they believe will dramatically undermine efforts to end child marriage in a country where it is endemic.
Last spring, a private members bill was introduced in the House of Lords that would set the minimum age of marriage in England and Wales at 18, with no exceptions. But the government objected to the bill, saying that forced marriage—a key factor with child marriage—is sufficiently addressed through current legislation, and that the numbers of children marrying annually—reportedly "only" in the hundreds—does not require this response.
These are both bad arguments. First, current laws in the UK leave children vulnerable to forced marriage. Parental permission is not an effective safeguard against child marriage; many child marriages are arranged or forced by parents, so parental consent requirements often merely facilitate coercion.
Second, any abuse that harms hundreds of British children each year deserves parliament's attention. We know that child marriage is harmful no matter where it happens. For example, research has found that child marriage in the US is associated with leaving education, poverty, serious physical and mental health problems, and development difficulties for the children born to young mothers.
And that's not even considering the many millions of child brides around the world whose governments look to the UK for guidance, and conclude that child marriage must be okay because the UK allows it. This concern should prompt the Secretary of State for International Development, Priti Patel, to work with her colleagues within the government to help them understand why this reform is so urgently needed.
The UK is seriously out of step with other western countries on this issue. Sweden, the Netherlands and Spain recently reformed their laws on child marriage, as did the US state of Virginia. Similar laws are pending in four more US states.
So if the bill passes in Bangladesh—and all evidence suggests it will—resulting in an abrupt halt to childhood for many girls, the British government's tolerance of child marriage at home will have been a significant excuse for such a step backwards. Child marriage is always wrong, regardless of whether a parent approves of it. If the British government doesn't want to see child brides in Bangladesh, it should not accept them here in Britain either.
Popular in the Community