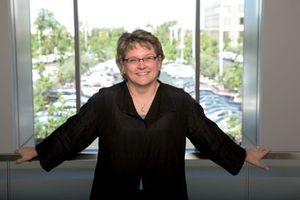 For a company to be successful, the employees must first be happy and be inspired. Broadcom Executive Vice President of Global Human Resources and leadership rock star, Terri Timberman and I recently had a chance to talk about what creates successful employees. Responsible for the large job of managing and leading Broadcom's international HR and administration functions, Timberman has advice all leaders should take to heart when it comes to how you treat your employees:
1.Celebrate the behavior you seek among employees. You can tell a lot about a company by who its heroes are. Make a conscious effort to reward the top employees that embody innovation.
2.Hire talent for more than technical skills. Look for employees that have a good balance of technical capabilities and leadership skills. The best employees can build great relationships with customers as well as brainstorm and innovate with colleagues around the world.
3.Corporate culture does not come in a box. Establish a few critical cultural values that you hold consistently throughout your organization but leave room for offices to be fluid and create their own personality.
4.A good HR team should spend a lot of time on airplanes. Visit offices and get to know your employees around the world. Also connect your teams via online channels including internal blogs, video roundtables and virtual meetings.
5.In evaluating job candidates, consider what they have done in the past. Rather than having prospective employees describe hypothetical situations, ask them about a problem they've solved, an interesting or unusual project they've worked on, or a community effort they've supported. Look for people who have been active outside of a narrow work sphere and who describe rewarding experiences working as part of a team.
6.Do not take a one-size-fits-all approach to retention. Treat employees as individuals and reward high-performers in a way that makes sense for them. Consider if compensation is the right tool or if a different strategy would be better, like a stretch project or development opportunity, a team / department change, recognition in a staff meeting, or, simply, a break.
7.Create an environment where employees can drive their own internal initiatives. Companies should be open to new ideas and supportive of employee-led programs.
8.Understand your employee population. Keep up with your workforce and regularly gauge sentiment. Most importantly, use those findings to inform and shape internal initiatives. That will lead to stronger employee engagement.
9.Build a respected organization and demonstrate a commitment to being a responsible corporate citizen. A solid reputation and an active, positive role in the community will attract and inspire employees.
10.Train employees in short bursts, and provide food. Traditional training and development sessions are long, sometimes lasting multiple days; it can be a challenge for employees to skip a day's work to attend. Instead, I recommend organizing focused and short trainings (2-4 hours) over lunch, breakfast or cookies. "If you feed them, they'll come."
Great leaders know that great companies start on the front lines. Strong companies have loyal and passionate customers. Those customers come from loyal and passionate employees. When is the last time you reviewed how your management team is treating employees? And, when is the last time you fed your employees?
Dayna Steele spent 20+ years working with the greatest rock stars in the world and knows what put them at the top. Now, she searches the globe for business rock stars. Do you know of a Leadership Rock Star Dayna should profile, someone who is driving success in interesting ways? Or an amazing employee on the front lines? Contact Dayna with the information. Please keep it brief and she will be in touch.
Related
Popular in the Community