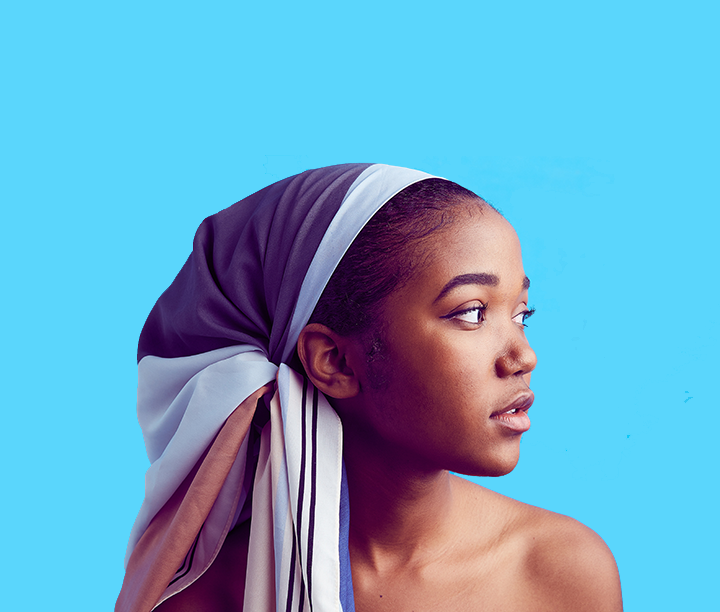 I hate the name of my disorder.
Generalized Anxiety Disorder (GAD).
Ain't nothing general about it. It affects 3.1% of the U.S. population, makes me unique amongst my nonchalant best friends, and allows unfamiliar folks to pluck words from the phrase.
I nod, unsure if people are trying to wrap their mind around the word or do the other thing that most folks do.
This: "I mean...EVERYONE gets anxious sometimes."
It's as if I didn't just say the words, sequentially. It's as if I didn't make a sound.
I try not to let it get under my skin. I imagine they are my Caribbean grandmother, loving and ignorant, rubbing 150% proof rum under my ears and on my chest when I have the flu. I tell her that I need to go and get antibiotics. She says, "Rest your head, baby. You just need sleep."
It is the slumber that I imagine we're all in. Listicles describe my worries by number, tell people what they need to love and tolerate me.
"10 Ways To Love A Girl With Anxiety"
"5 Things You Can Do To Deal With Someone Who Has Anxiety"
"20 Things To Say To Your Anxious Bestie"
You've got to be asleep to fathom that I can be unraveled in numeration.
Mid panic attack I consult Google. The headlines sink into me: tell me that I'm hard to adore, hard to hold, hard up. I reread the things I've seen before, over and over again. I am trying to find pieces of myself in the words. I am scattered here and there.
Do they understand me? Can they hear me? Do I make a sound?
Profiles and narratives sit in between. Some girl has pitched a watered down version of my sickness for $150, a slideshow with things you shouldn't say to an anxious person is etched on to sh*tty stock photos, and some commenter relays an anecdote about once being worried all the time & how he's cured himself.
He says it ain't no thang, "All you need is a man, girl. Stop all that noise."
I've heard something similar, before. Still, instead of dismissing this, I let it thwart me.
My anxiety makes me feel invisible.
Typical onset for GAD is in your late teens and twenties. I remember my first trigger like it was yesterday. (Actually, I'm pretty sure I was triggered yesterday.) I was in the fetal position, in the perch of my bedroom, I was rocking back and forth, and my heart felt like it was going to leave my chest. The man that I was going to spend the rest of my life with had just moved out, per my request, and I chalked it up to that. But the truth is, it was much bigger than that. Time slipped away, hours turned into days, and I'd been in that corner for an entire weekend. My best friend, hip to the fact that it was unlike me to disappear for 3 days, made her way to my home, used her extra key, and crawled up next to me when she found me there. I hadn't made a sound. I was quiet as could be, but she made a beeline straight to me. She knew exactly where I was.
She'd brought her man with her. I could hear the sound of his Timberlands, pacing my hallway. There was a sound of a door creaking and I heard her say, "Stay outside. I got her."
How did she have me when I was floating outside of my body? I was watching the superhero I'd shaped myself to be, crumble. I knew the steps. I'd practiced them a million times. I was screaming them at the shell of myself.
Nothing worked. I was paralyzed. My body was riddled with questions about my future. Each inquiry was a weight, straddled on another, pushing me further into the ground. I'd never felt anything like it.
My best friend showered me, got me dressed, put her arms underneath mine and lifted me to my feet. She walked me to the living room, her palm in mine. Her boyfriend sat across from us on the sectional. She told me truths I needed to hear, "You take too much on. You need to find balance. I see how worried and stressed you've been lately. You need to see a therapist."
"Yeah, I have been excessively anxious."
Her boyfriend sighed as we spoke. The only thing he'd seen was my friend bring me into the living room. He'd half-listened to my ramblings about everything that was in my mind. I must've sounded jumbled, considering I've always struggled with pinpointing the central issue.
My body relaxed into the suede of the sofa, as she spoke her validation became my remedy. His snickers interrupted the tempo of our conversation. The snicker turned into resounding laughter.
Her boo pointed his arms forward to emphasize his point, "Anxiety? Therapist? Girl, you just need some D. You need to get laid. Cut all that noise."
He is an extreme example, but he is one of many.
We all have our hidden crosses to bare. But you make a sound. You need to hear that. Listen.
Almost every moment that I've disclosed my disorder to anyone, with the exception of my parents, close friends, and my therapist, has felt like this one. I have been made to feel as if I'm imagining my panic attacks, by people I once held near. I've been told that I need more church, more sleep, more things to "do."
My anxiety makes me feel noiseless to others like I don't rattle or shake for reason or no reason at all. It makes me feel invisible, as folks point their fingers and strikethrough my words.
It has brought me to the cliche question: If I have an anxiety attack and no one is around to see it? Do I make a sound?
I know I can't be the only one that feels this way. I want to tell you what I've needed to hear, all this time: You make a sound.
You make a sound, even when you're silent and all alone. Avoidance has you calling yourself lazy, when you're only this way in spurts, instead of recognizing it as a coping mechanism. You're downing yourself because your texts, emails, and calls have gone unanswered. Subject lines read like negativity, inquiries turn to accusations, and intentions are misconstrued. You know it's best to keep your distance when you're this way. You don't want to lash out, insult or offend anyone. Still, they will be displeased with you. You'll end up apologizing for protecting the ones you love.
You make a sound when general inquiry turns into an overused word: clingy. You haven't heard from your significant other in a day and you're worried. He replies, "It's only been a few hours. Calm down. You're clingy." You tell him that it takes nothing but a text for him to let you know he's okay. He immediately brings up your "anxiety." You can imagine his hands emphasizing his air quotes, even through the phone. He says it isn't fair that he has to sacrifice his comfort, his way of doing things, for your illness.
He does not realize that you are in a perpetual cycle of offering. You lay on a bed of triggers, every day. Someone has carved "life must go on" into its headboard. You sink into doubt, fear, and physical discomfort. Everything new is a provocation. Change is inevitable, but it is an unexpected monsoon for you. In the middle of a simple task, a slight notion sends jolts through your body. You know what is coming next and yet you cannot prevent it.
The mere thought of liking someone is a sacrifice. You will have to learn all of their intricacies. You will analyze them deeper than most. They will set you off at the beginning and you will pray that the person who has decided to get to know you will understand your behavior. You will pray that you don't sabotage it to survive.
Most times they will leave, quiet and ghosting. You will still make a sound.
You make a sound, the pacing of laden feet, as you try to muster the courage to walk into a social event. Your friends have gone ahead of you. Some of them were frustrated with your antics and went in, in a hurry. Others just left, after touching your back and trying to motivate you to go in, despite you telling them that you're not ready yet. You encourage them to go in without you. Eventually, they do. You watch their laughter swirl atop a barstool, from the glass window. Through the transparent divider, one that's been there all along, you feel like an inconvenience. It starts to drizzle and everyone disperses into the sanctuaries of the cities. You are still outside, in only the hum of taxis and underground trains, and you still make a sound.
Someone says simply, "We need to talk."
You make a sound with pleading, "Just tell me now."
You make a sound with an inquiry, "Is it bad? Should I be worried?"
They will not comply. It doesn't matter if it will be a surprise or something insurmountable. Your mind has carried the conversation to every negative outcome you can fathom. You are wrought with trepidation. They tell you something small, inconsequential to your fate, after several hours of waiting in agony, "I'm thinking about switching jobs."
Your entire body lets something dark and abounding go. You make a sound.
You tell someone that you are depressed. They ask you why. You have no answer.
Your therapist will look just like you. You are afraid of her judgment, even if she is trained not to. This is your anxiety. She asks you about yourself. You like, because you don't want her to think less of you. It's like looking in a mirror. You lie to yourself, every day. You say that you're okay, when you're not. What's the difference?
She nods and says, "I understand if you're not ready yet."
You can't concentrate. You yearn to hear the tick on your task list, with the stroke of a pencil. Eight hours later it hasn't happened. You are too worried about something someone said in passing last night. The comment is sitting at the bottom of a rabbit hole with you. It is still down there.
We hide the biggest components our disorders. You will not find folks admitting to this in articles. You will find it in the deep recesses of a mental health forum.
Some people leave home when an attack is on the rise, hoping to keep their other self away from their lovers and children. They writhe, sweat, and crumble alone. It is evident that they are not well. You can see their broken on their sleeve.
We all have our hidden crosses to bare. We fold our laundry neatly and tuck them away. We try not to make a sound.
_______________________________________________________________________
REAL LIFE. REAL NEWS. REAL VOICES.
Help us tell more of the stories that matter from voices that too often remain unheard.