Over the past several months, former Alaska governor and Fox News commentator Sarah Palin has been making a variety of references to "crony capitalism," which she has defined, rather loosely, as "the growing collaboration between big business, big finance, big government and big union bosses." Later on she characterized it as a system "favoring the politically connected."
She first invoked the term "corporate crony capitalism" during a speech at a Tea Party gathering last September in Iowa, where many had assumed she would announce her candidacy for president. While the announcement never came -- Palin clearly lacked the organizational structure to participate in the GOP sweepstakes -- Palin has continued with the mantra.
Just last month, in an appearance with her resident sycophant at Fox News, Greta Van Susteren, Palin charged President Obama with conducting "crony capitalism on steroids" for his administration's execution of provisions mandated by the Affordable Care Act.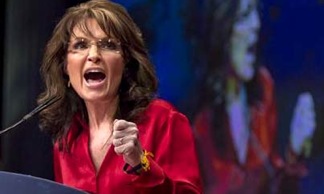 Palin has long been adept at launching simple catch phrases and symbols like "death panels," "common sense conservativism," "drill, baby, drill," "blood libels," and "mama grizzlies" -- I call them her memes du jour -- all of which routinely generate Palin rounds of media attention, only to be discarded by her when the next, brighter one comes along.
As with many of these Palin catch phrases, there's often more alliteration than substance attached to her rhetoric. In the case of Palin's cries of "crony capitalism," there is also no small amount of hypocrisy. The fact of the matter is that Sarah Palin engaged in "crony capitalism" for much of her political career in Alaska, as both mayor and governor.
Never was this more true than when she pushed through the Alaska Gasline Inducement Act (AGIA), a piece of legislation that she has repeatedly touted (and distorted) ever since she was selected by John McCain as the Republican vice-presidential nominee in the summer of 2008. If there ever was a work of "crony capitalism," Palin's "signature" work of legislation certainly fits the bill.
AGIA provided Palin with the authority to issue a state license for the construction of a 1,715-mile, $40 billion gas pipeline from Prudhoe Bay to a distribution hub in western Canada, replete with a fat $500 million subsidy from the State of Alaska. Talk about fiscal steroids.
In fact, Palin and her administration slanted the selection process for building the pipeline so that only one company -- TransCanada Corp. -- had their bid accepted on the project. Four others were deemed "noncompliant."
TransCanada had direct ties to her administration. The head of Palin's so-called Pipeline Team -- Marty Rutherford -- had previously served as a lobbyist for Foothills Pipe Line Alaska, Inc., a subsidiary of TransCanada. Rutherford's former partner at her Jade North lobbying firm, Patricia Bielawski, served as TransCanada's lead lobbyist in securing the deal. A former TransCanada executive, Patrick Anderson, also served as an outside consultant for the Palin pipeline team.
Moreover, according to an investigation conducted by the Associated Press in October of 2008, "Despite promises and legal guidance not to talk directly with potential bidders, Palin had meetings or phone calls with nearly every major candidate, including TransCanada."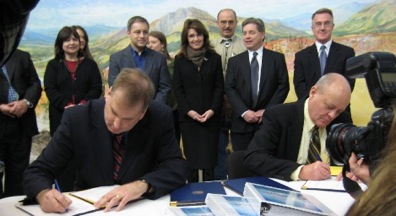 When a large batch of Palin emails was released last year, the mainstream media essentially gave Palin a free pass on their content. It was a case of journalistic malfeasance. Not only were significant portions of the Palin email cache shamefully withheld or redacted, reporters unfamiliar with the details and nuances of Palin's career didn't understand the complex references and political contexts of many of her communications.
One of my favorite Palin email threads involves Palin's courting of TransCanada in June of 2008, less than three months before she signed an agreement with the Canadian company. The thread reveals Palin trying to assemble a group numbering nearly two-dozen of her advisors, legislators and TransCanada officials for an under-the-radar feast featuring a prized Alaskan salmon.
While some of the thread was redacted over claims of "privileged" or "personal" content, the communications nonetheless reveal Palin's particular brand of cronyism vis-a-vis TransCanada.
Nearly all of the key players on Palin's pipeline team -- including Rutherford -- along with her controversial spokesperson Meg Stapleton and her so-called "hatchet man," Frank Bailey, were included in the thread. With the subject line "Copper River King Arrived," Palin's administrative assistant Janice Mason announced that: "The Copper River King 30 lbs. just arrived at the house (fresh). They have put it in the refrigerator."
This was big news in the Alaska State House. Little more than ten minutes later, Palin responded:
Cool. We should cook it for whomever needs to have that get-together/reception opportunity tonight, tomorrow, or Wednesday. I'll let AGIA folks know the fish is a good opportunity to have folks over for informal gasline chat.
State lawyers, according to the AP, had advised members of the Palin administration "to keep their distance" from potential bidders, while bidders were advised "to submit questions on a public website." That didn't stop Palin. After a few emails from staff indicating the "sooner the better" for the salmon feast, Palin responded again:
Tonight's great for Todd and me -- now these type of events can be quite informal and still be successful. There's a Costco in Juneau, if you know what I mean. And my family is quite capable of setting out food and cleaning up afterwards.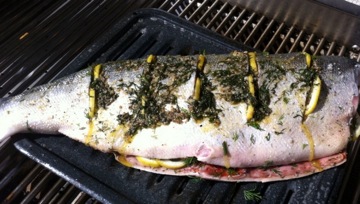 The verbiage was classic Palin, and so was the overt cronyism. Palin had filled her administration with longtime friends, campaign workers, lobbyists and business associates. And in spite of legal advice to the contrary, Palin continued to engage in "informal" discussions with TransCanada. She actually signed the agreement with them on August 29, 2008 -- just before flying off to her first meet-and-greet with McCain at his family compound in Arizona, where he first offered Palin the second spot on the GOP ticket.
During her debut acceptance speech at the Republican National Convention the following month, Palin claimed that TransCanada was already "building" the pipeline, while in her widely-watched debate with Joe Biden, she declared that "we began" to build the pipeline, in both instances implying that it was already under construction.
It was not--and the simple fact of the matter is that four years later, construction of the pipeline has yet to commence. It will likely never be built, and certainly not in the configuration proposed by Palin and her cohorts. But TransCanada will still receive its $500 million subsidy.
Corporate cronyism on steroids? More like corporate cronyism on Wasilla meth.

Calling all HuffPost superfans!
Sign up for membership to become a founding member and help shape HuffPost's next chapter