One way to really understand someone is to look at the books on their bookshelf. Here's a picture of mine and it's a picture of my soul: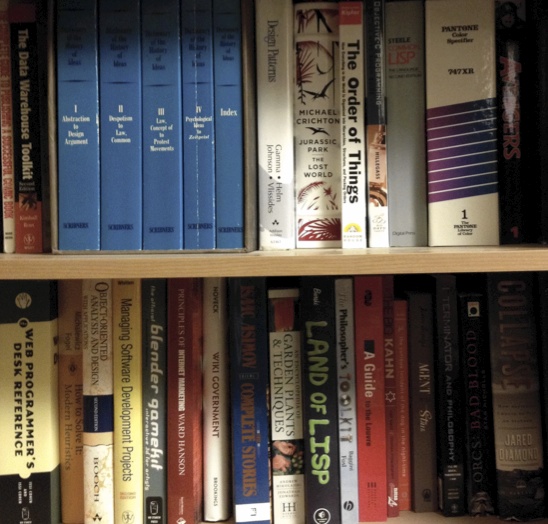 It's disorganized with technical books mixed in with science fiction, non-fiction, philosophy and art. Like many book lovers I tend to dive deep into an author and immerse myself in a subject in a way that social media and search results can't provide. After decades of this behavior I realize it's an addiction and respite from the trials and tribulations of everyday life.
But there is something missing. I don't keep a record of what I've read and the worlds I've explored. I take notes but I don't keep them in one place or summarize my discoveries. I don't share. I keep these treasures all to myself.
I do have accounts on Amazon and Goodreads. Sometimes I write Amazon reviews but they look and feel like comments, not analysis. Sometimes I go to Amazon for recommendations but my disjointed genre-bending tastes break every recommendation engine known to human or machine. I don't know about you, but the best way for me to discover a book to read about is to read a blog post by one of my favorite authors. When I got tired of waiting for George RR Martin to finish his epic A Game of Thrones (A Song of Ice and Fire) series I went to Martin's blog and started reading the fantasy books that had inspired him.
I thought I was walking alone on this path and then I ran into BookLikes -- for the second time.
The first time I ran into BookLikes was in 2011 when I spoke with the participants at Seedcamp in NYC. Seedcamp is a startup incubator and BookLikes was one of the startups that interested me. They were building a book recommendation engine and discovery service. I met the founder Dawid Piaskowski and we had a great talk about books and his home country of Poland. I was at Spotify at the time so naturally we talked about a "Spotify of Books" which would be a subscription service that would give a reader access to all the worlds texts at a low monthly subscription rate. One day when the Internet of Things is complete there will be a Spotify of Things and a HuffPost of Things and I will never leave the house.
I lost track of BookLikes for awhile. But one day in January of 2012 I got an email from BookLikes with the subject, "BookLikes is back!" Where did they go? I still have the email and here's a bit of it:
What happened? We entrusted our data to Xxxxxxxxx, one of the biggest US server hosting companies. Unfortunately, our data and all backups were damaged. So we changed our server host and after few very long days and nights we managed to recover everything that was lost. And now we believe that BookLikes is much better protected from hardware failures.
It would not be until later this year that I spoke to Dawid Piaskowski and learned the whole story. BookLikes would have gone to startup heaven had it not been for a devastating server crash, a dedicated and tenacious team, and a very supportive venture funding community.
BookLikes was started as a book recommendation engine and social network before Goodreads became that very thing. But Goodreads acquired their own recommendation technology and BookLikes was falling behind. It was time to pivot and pivot big, but the signals were confusing. Dawid and his co-founder Joanna Grzelak-Piaskowski discovered that the key component of BookLikes, its excellent recommendation engine, in which they had invested so much, was not important to their users:
... users weren't using our recommendation engine. Nobody noticed when we'd switched it off for two days...
That's pretty scary news for a technology startup! And then came the server crash of 2012:
Our servers were shut down for two weeks and all of our data (and backups) were lost...

... one of founders, our CTO, resigned from the project.

[Our] company bank account was nearly empty, we had to dismiss employees.

We thought about finishing up and shutting down the company.

The future looked bleak for BookLikes. The world already had Amazon and Goodreads! Did it need yet another book discovery service?
This is the part of the story that I find most exciting. Dawid and Joanna had really good reasons to pack up the business and find something else to do -- I know founders who have given up on their ideas for less devastating reasons -- but they didn't. They hung on and something wonderful happened.
BookLikes won an award as the most innovative small business in Greater Poland. The recognition gave them the courage to let go of what was holding BookLikes back and really listen to their customers. They used everything that they learned from before the server crash and re-imagined BookLikes as a home base for book lovers in the way that Tumblr is a home base for edgy teens. This time around they build an MVP (a minimum viable product) and tested it with an enthusiastic community. BookLikes isn't a catalog of books anymore, it is a place where you can create your own blog, follow authors and bloggers, earn money from your blog posts through book sales, and get free or discounted books.
Inspired by Tumblr, we created service for book lovers but much more personalized than our previous trial. Instead of typical book-social site we came out with the idea of blog platform designed for book lovers.
I think it will fill a void that I didn't know I had. A place where I can record my book discoveries and share them with the world.
Dawid and Joanna have big plans for BookLikes, user-driven plans, that you're not going to find on Amazon and Goodreads or anywhere else. You can check out Dawid's blog to learn more about BookLikes.
The BookLikes story has quite a few universal lessons in it. Startups that succeed are the startups that are not afraid of change, that listen to their communities, that learn from their mistakes, and that find a unique itch and scratch it. Most importantly startups that succeed are startups that don't give up. I'm pretty sure you can substitute "people" for the word "startups" in each of those sentences.
Related
Popular in the Community