I have always loved maps; maps unfolded at trail heads before hikes, maps spread out on the hoods of pickup trucks to plan the day's field work and maps used to plot road trips. They hold a promise of discovery, not just because they help us plan our course, but because the names on the maps hold a promise of their own -- who wouldn't want to visit Elk Meadows or Lizard Head Pass? And each place name holds the promise of discovering its story -- how did Telluride get its name?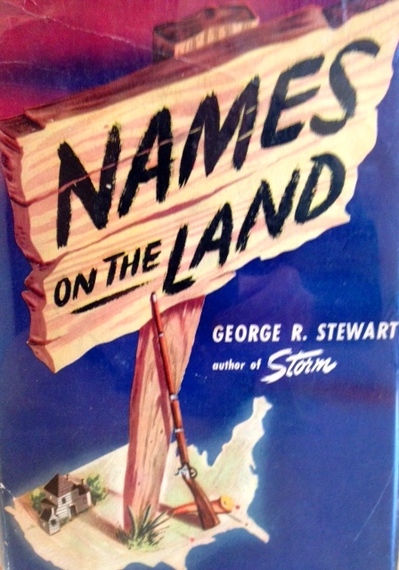 If you have the same fascination, two things are clear. You are not alone, and you need to dig up a copy of George R. Stewart's Names on the Land: A Historical Account of Place-Naming in the United States. I first learned of Stewart while reading Wallace Stegner's Where the Bluebird Sings to the Lemonade Springs, a collection of essays. In one essay, Stegner describes Names on the Land, and points out that Steward didn't just address the names of states and towns, but also generic nomenclature. "What in New England became known as a brook was in Pennsylvania known as a run, in New York as a kill, in the Southeast as a branch, out West as a creek." That is when I knew I had to track down that book!
First published 70 years ago, I had to scour used book stores to find my first copy but the book is now easy to find due to its reissue in 2008, which has introduced George Stewart and his book to a whole new audience, and there are many who find the book enchanting.
The book chronicles how our states, counties, cities, rivers and mountain ranges came to be named, and how those names became an important part of place and culture. Stewart traces our history and the naming of places back to both our country's Native American roots and the European exploration that began when Ponce de Leon named Florida back in 1513. A great deal of our national identity is tied to Native American words, or at least our interpretation and bastardization of them. Stewart notes that: "Our heritage of Indian names is rich and treasured -- twenty six states, eighteen of the greatest cities, most of the larger lakes and longer rivers, a few of the highest mountains, and thousands of smaller towns and natural features."
Stewart identifies categories of naming conventions, such as names in New England reflecting names from England (Essex, Norfolk or Suffolk) or after royalty such as Cape Elizabeth, Cape Anne and the Charles River. As such, many place names have a provenance that can be easily surmised, but understanding others requires both research and imagination. In telling the history of how Seneca Lake in New York got its name, you get a very good feeling for both the research and storytelling skills that Stewart employed.
First of all, a western tribe of the Iroquois called themselves 'people of the standing stone', which Champlain first wrote down as Ouentouronon. This name passed to the Mohegans. They translated it roughly into their own language and the Dutch took over this translation. The Dutch wrote it down as Sinneken, and in various other forms, and then passed it to the English.

The English spelled it in many ways, and such a form as Sinnegar or Sennicky (always the frontiersman's pronunciation) would naturally have been the final result. Apparently, however, some classically schooled Englishman spelled it like the name of the Roman philosopher, and that un-English form was established. Seneca thus illustrates all three ways in which a name can be passed from language to language -- by transference, translation, and false etymology.
Early explorers obviously named many places, but Stewart helps us realize that it was also important to recognize at what point on their journey they dispatched the names. He tells us that in 1791, Captain George Vancouver and his crew sailed from England for America's northwest coast, stopping by Australia (then called New Holland) on the way. Stewart notes that the stop was "Not without importance in our naming, for he there relieved himself of a few names which he would otherwise have felt obliged to bestow elsewhere."
Stewart culled through scholarly works, diaries of expeditions, local histories, maps, railway guides and government documents to trace how Americans placed names on the land. But it is his insight and ability to comment on our culture that pulls all of this data into a story that we can learn from. For example, in telling about the western migration of the 1840s, he gives this insight "Massacre Rocks and Battle Mountain tell their stories to him who knows the language -- that where Indians killed whites, it was a massacre; but where whites killed Indians, it was a battle."
Many of the unofficial new names we are now exposed to are on billboards advertising new developments, ironically many with names of the places they destroyed like Quail Run, Fox Glen, or Meadow Park. This practice is not new; advertising was a common motive for naming towns in the hopes of attracting residents and investors with names such as Garden City, Eden or Paradise.
In our name-saturated society, I can sometimes find solace on remote hilltops looking out at peaks and valleys, knowing that not all of them have names. Although that doesn't mean they won't eventually all be named. The U.S. Board on Geographic Names has a process for entertaining new names on federal public lands and most states have a similar body. As Stegner noted in his essay eulogizing Steward:
After millennia of occupation by Indian tribes, after the surges of European exploration and imperial wars. After the rise of the mongrel American republic which took over most of what the empires had quarreled over, that blankness was filled.
REAL LIFE. REAL NEWS. REAL VOICES.
Help us tell more of the stories that matter from voices that too often remain unheard.