July 14, 2016: Bridgman|Packer Dance: "Remembering What Never Happened" and "Voyeur" at the Sheen Center.
As a rule, critics don't review friends any more than Justices of the Supreme Court attack presidential candidates, but sometimes circumstances demand exceptions and, unlike Ruth Bader Ginsburg, I make no apology for telling you to make haste to the Sheen Center for the two more chances you have to see "Remembering What Never Happened," a comparatively new work (this is its New York premiere, as is the companion piece, "Voyeur"), and a spectacular one, by Bridgman | Packer Dance. I'll just lay my cards on the table: I've known half of Bridgman | Packer for 48 years and the other half almost since they began working together a decade later. They danced at my wedding. (Well, everyone danced at my wedding, but they danced.)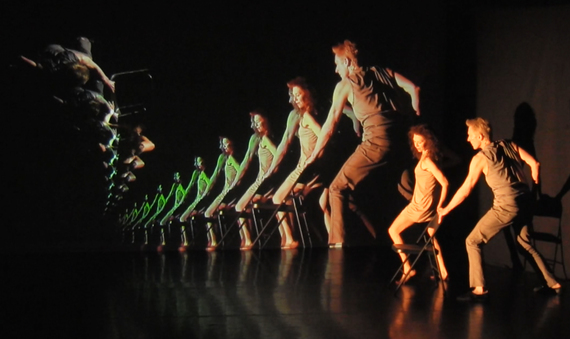 Art Bridgman and Myrna Packer are firmly situated at the intersection of modern dance and technology. Not as intellectual exercise or geeky artistic challenge, but in an effort, I think, to update the one and humanize the other. In "Remembering What Never Happened," they dance and talk about their relationship through the fracturing prism of memory, represented not only by conflicting tales, but with projections, filmed scenes and live video overlaid with an exquisite soundscape that flits stylistically from jazz to classical to pop -- you know, like life.
So, on the one hand, you have an obsession as familiar as Maurice Chevalier and Hermione Gingold in Gigi singing "I Remember It Well" ("That dazzling April moon!" "There was none that night / And the month was June") and as fresh as Beyoncé's "Lemonade." Like those two disparate arguments, "Remembering What Never Happened" ultimately is about the miracle of desire -- about how enduring passion pretty much trumps everything. Throughout the piece, the dancers dance with multiple, often cascading images of themselves, alone and together, entwined and apart, in two dimensions and three. Some of it was filmed on a rock wall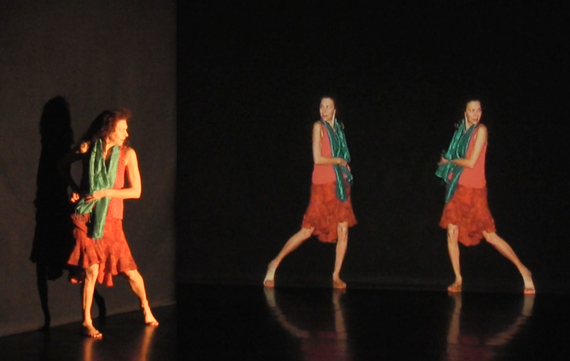 in the Mojave Desert. Some is as intimate as your bedroom.
Afterward, I thought of a favorite Harold Pinter one-act, "Night," in which two people, long married, recall the first time they made love. After some fairly hilarious back-and-forth, they agree to disagree on the details. But the scene closes with them in agreement on their last words to one another that distant night, repeating to each other: "Saying I will adore you always."
In his Nobel speech, Pinter said, "There are not hard distinctions between what is real and what is unreal, nor between what is true and what is false; it can be both true and false." "Remembering What Never Happened" is gorgeous, and deeply moving.
I ought to give as much space to the second work on the program, "Voyeur." Bridgman | Packer's equally ambitious piece is a sweeping, sometimes dizzying reflection on, and response to, the work of Edward Hopper (it was partly commissioned by the Edward Hopper House Art Center, in Nyack, NY). Instead, just go. The Sheen Center is on Bleecker Street in NoHo, there are tons of great places to eat, and there are two more performances, tonight and Saturday, both at 7:30 PM. See sheencenter.org/shows/bridgmanpacker-dance