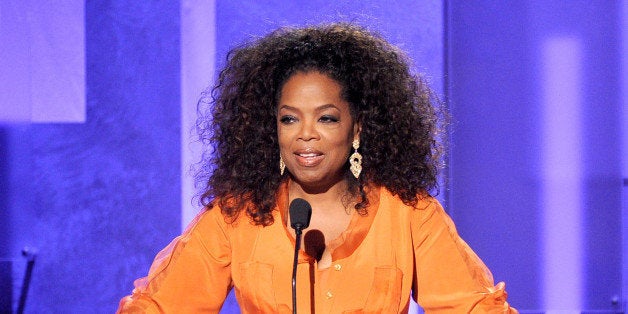 "I think mentors are important and I don't think anybody makes it in the world without some form of mentorship. Nobody makes it alone. Nobody has made it alone." -- Oprah Winfrey


Role models inspire us and give us a vision for what is possible. That vision usually leads us to think bigger and fearlessly take on goals that we once thought were impossible. Unfortunately however, when it comes to finding someone who can guide and support us in achieving those goals, we fall shamefully short.
Successful women are fully aware of the importance of having someone who recognizes their potential, who cares about their career and who guides them through the twists, turns and pitfalls that come with reaching great heights.
Take Oprah Winfrey, for instance. Recently, she delivered a moving eulogy to her mentor Maya Angelou who died on May 28, 2014. I recommend that you listen to the eulogy. As you listen, you can't help but feel the immense influence Maya had on Oprah's career. If a powerful woman like Oprah attributes so much to her mentor, shouldn't we check in with ourselves and make note on how many mentors we are currently working with to achieve our goals?
Want to succeed? Get a Mentor.
It is not surprising that Oprah is one of many acknowledging the importance of having mentors. Business leaders and CEOs like Indra Nooyi, Ursula Burns and numerous others agree that being mentored gave their career a huge boost. And it is not just a popular opinion, research shows the same findings. Take a Harvard Business Review study which finds that employees who are mentored make more money than those who are not. Another study finds that mentees are more satisfied with their jobs, more committed to their careers and more willing to mentor others.
Unfortunately, women have a harder time than men when it comes to finding a mentor. A 2012 survey showed that 63 percent of women have never had a formal mentor. The reason? Most women feel uncomfortable asking for mentorship. Women represent 52% of college students, but we are not asking for the guidance which is vital to our career growth!
When looking for a mentor, it is important that you seek a woman. According to Dr. Lucia Gilbert, Professor of Psychology at Santa Clara University, women benefit immensely from being mentored by other women. When mentored by men, rather than feeling confident and empowered, most women tend to feel intimidated because they see men as authority figures. Women mentors, on the other hand, are able to relate to and are better equipped to guide women through their particular challenges. Besides, women mentors also make great role models and provide much needed inspiration to aim high and set bigger and bolder goals.
Don't wait; find your Mentor
Below are some tips on finding and getting the most out of your mentoring experience.
1. Determine what skills you need to develop, harness and utilize
When you think about your goals, ask yourself, "What skills do I need to develop in order to reach my goals?" Then go out and find a mentor who has those skills. Also, make sure that she holds a place of power in her industry. This way, she has the skill, experience and experiential blueprint that can more rapidly translate into you achieving the same heights.
2. Expand your network
Keep in mind that you may have to look outside of your current connections and job for your mentor. Participate in activities and events that allow you to meet new people. Join Meetup groups, events, associations and organizations whose members are in your profession and/or have the skills and know-how you seek.

3. Approach women with mentoring requests
Once you find someone whom you would like to be mentored by, ask! Don't be shy! Most women are happy to be mentors. They are just waiting to be asked. Besides, what is the worst that can happen? Get in the habit of asking. Start off by asking to schedule a time when you can get advice. And when the meeting or phone call is over, ask to schedule another time. Simple!
4. Be humble
It is important that your mentor is aware of your talents and capabilities. However, learn to set them aside. Instead, spend your time listening and learning. If she gives you negative feedback, take it in stride, and look at it as an opportunity for you to get better. No question, you will grow fastest this way. You can either spend your time talking about your strengths and the circumstances that are holding you back (bad idea!) or you can spend your time equipping yourself with the knowledge and the skills that will have you achieve your goals. You can't have both!
5. Have fun
The relationship doesn't always have to be formal and business-like. Learn to have fun, and establish a real, open and trusting relationship. This will make it more rewarding for your mentor, as well as yourself, and will help build a more life-long relationship.
Your first mentor may not be your ideal mentor. Let each mentor lead you to a more experienced and more accomplished mentor. Remember, a good mentor is genuinely interested in your professional and personal growth. She will advise and guide you, and act as a sounding board for your ideas.
And don't forget to pay it forward! Become a mentor yourself!
How about you?
What qualities are you looking for in a mentor? How did you establish a relationship with your mentor? Have you been a mentor? If so what advice do you have? Your insights are important, please share.
Looking to become a leader in your industry?
Download Women Leadership 2.0, Forty Powerful Insights, Steps and Strategies here.
Related
Popular in the Community