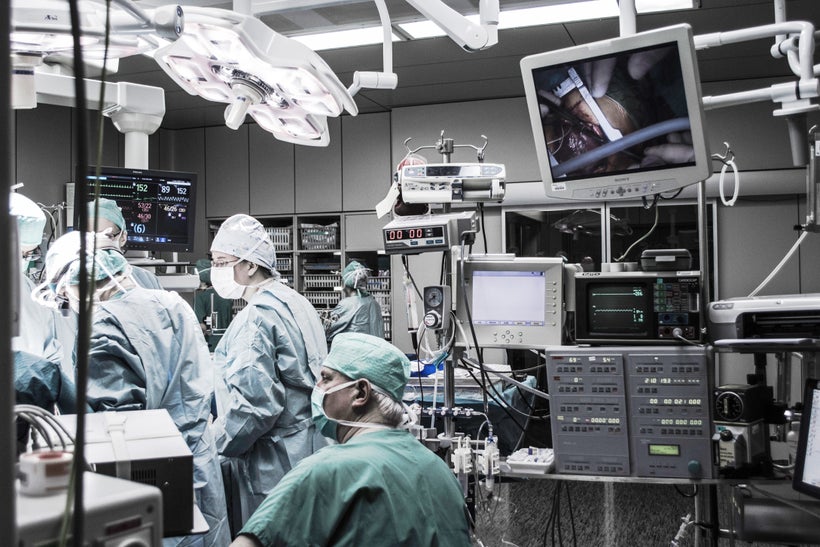 Long before Congress passed the Affordable Care Act (ACA) in 2010, San Francisco offered affordable healthcare to all residents. The Healthy San Francisco program costs substantially less than private health insurance plans.
Tse Dong Chow, a typical user, is waiting to see a doctor at North East Medical Services, a large community clinic in San Francisco's Chinatown. He's a trim and energetic 60-year-old wearing a pressed brown corduroy jacket, a Polo shirt, and jeans. Chow works part-time as a Chinese language instructor, but could never afford a private health plan. So, he signed up for San Francisco's public health plan, Healthy San Francisco. Based on his income, he pays a premium of $50 a month and in return receives comprehensive medical care. In the past when he was ill, he would read medical books, then ask his relatives from China to help buy some medication and send it over for him. Now Chow sees a primary care doctor. He's been diagnosed with severe hypertension and for the first time is on medication to control it. His physician, Dr. Ted Li, says Tse Dong Chow is typical of the patients he treats under San Francisco's health plan.
Let's take a look at the affordable healthcare, education, college saving funds, and jobs are available to all San Francisco residents through special San Francisco city/county legislation, and shows how these benefits improve the lives of those they serve as well as the community at large.
Success of the ordinance is due in part in partnership with the Affordable Care Act, which closes several gaps.
According to the U.S. Census' 2016 American Community Survey, 96.7 percent of San Franciscans now have health care coverage, well over the statewide average of 92.7 percent while the national average for 2016 is 91.2 percent. Adding in the City Option, a program created by the ordinance that provides limited health care services for 13,500 uninsured residents and manages medical reimbursement accounts for 186, 000 others.
Healthy San Francisco is a program launched in 2007 to subsidize medical care for uninsured residents of San Francisco, California. The program's stated objective is to bring universal health care to the city and the program website states that insurance "is always a better choice." The program is open to city residents, ages 18 and up, whose incomes and net worth are low but who do not qualify for other public coverage, and who have had no insurance for at least 90 days. Eligibility is not conditional on citizenship, immigration, employment or health status. The program covers a range of services, but only pays providers within San Francisco.
"Healthy San Francisco receives funding from the city, the federal government, patient [co-payments] and fees imposed on San Francisco businesses that do not provide health coverage for their workers." The Health Care Security Ordinance included a requirement that employers with more than 20 workers spend at least a minimum amount towards employee health coverage.
Healthy San Francisco is a health care access program designed to make health care services available and affordable to uninsured San Francisco residents. Healthy San Francisco Participants access primary and preventive care through their Medical Home. The program also provides access to specialty care, urgent and emergency care, laboratory services, inpatient hospitalization, radiology, and pharmaceuticals.
An Employee may qualify for Healthy San Francisco if the Employee meets ALL of the following requirements:
• San Francisco resident;
• Uninsured for at least 90 days;
• Not eligible for public insurance programs, such as Medi-Cal
Discount on Healthy San Francisco Participant Fees
The Employer's payment on behalf of the Employee may be applied towards a discount on Healthy San Francisco participant fees if the employee qualifies for and enrolls in Healthy San Francisco. The discount is available for six months after the Employer's payment.
Instituted by Mayor Gavin Newsom and based on a plan initially proposed by Supervisor Tom Ammiano, Healthy San Francisco is a universal health care initiative based around preventative medicine that has treated over 100,000 city residents otherwise ineligible to for Medicare or Medi-Cal, regardless of factors like pre-existing conditions or parents' immigration status. Anyone with an annual income under 500 percent of the poverty line can access the program. It currently serves 55,000 San Franciscans—about two-thirds of all uninsured residents.
A recent survey of participants found 94 percent were satisfied with the treatment they received though Healthy San Francisco.
Some parts of the program have risks which is an aspect of the City Option, and that is a growing pool of money that employers have put into a medical reimbursement account, or MRA's. This money is for workers to help to cover what insurance does not. The funds are managed by the city's Department of Public Health, which to date amounts to $160 million. This does not include another $17 million as of 2017, in more than 28,000 account that are inactive and recently closed for lack of use.
There is much discussion about why the accounts have not been used. One discussion is that employers are not educating their employees about accessing the funds set aside and how the accounts will be managed in the future.
To compare health care costs across the country, Damon Bird 39, and his partner, Lauren Loiselle, test and suggest beers, something like a sommelier. They moved to San Francisco from Dallas Texas several years ago. They found restaurants jobs in San Francisco came with health care insurance and plus a medical reimbursement account, which paid for Bird to have much needed hernia surgery he had put off for years.
In Texas he was paying more than $300 a month for an insurance plan with a $6,000 deductible. It was impossible for him to save enough money.
However, in San Francisco, Loiselle's job as the manager of a Mission bar and restaurant offer her and Bird together health insurance with a much lower deductible. Bird asked his employer to contribute his own health care funds to an MRA. Last year, his account had accrued enough money for Bird to have the operation. His final out-of-pocket cost was $500.
As the only industrialized country in the world without universal healthcare for it's citizens, it brings into question whether we are the best country in the world if we refuse to take care of each other.
Calling all HuffPost superfans!
Sign up for membership to become a founding member and help shape HuffPost's next chapter
This post was published on the now-closed HuffPost Contributor platform. Contributors control their own work and posted freely to our site. If you need to flag this entry as abusive,
send us an email
.