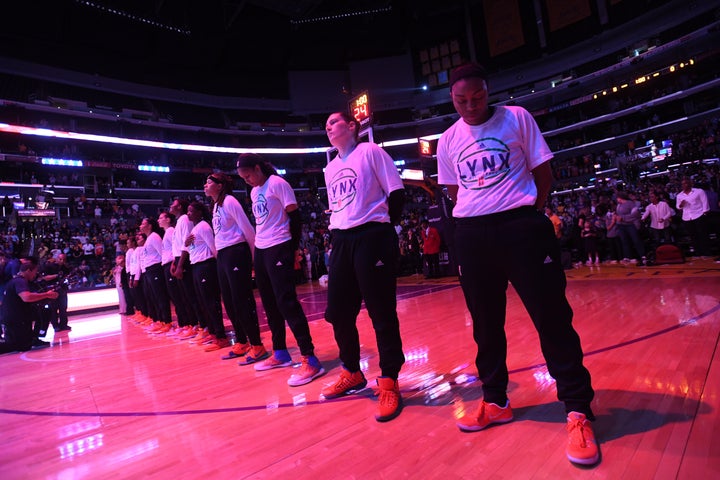 This Wednesday, the Los Angeles Sparks face the Minnesota Lynx in Game 5 of the WNBA Finals. This is a great opportunity for some of the best athletes in the game to showcase their talent as they compete for the 2017 WNBA title. Wednesday night's championship game will also provide us with an opportunity to send a clear and powerful message of support for athletes who stand up for social justice.
Since the NFL player protests started, there has been a lot of speculation about the impact of these protests and the tactics. Critics claim the NFL player protests are damaging the NFL, especially after President Trump called for a boycott. Supporters of the protesters have also "tuned out," boycotting the NFL until the league does more to acknowledge and address racial discrimination.
With proponents and opponents using the same tactic ― boycotting ― it's hard to tell which side is "winning," whose demands should be met, and where this country really stands on athlete activism.
This is not enough to address the underlying and ongoing struggle for athlete autonomy, especially in the social justice space.
Professional athletes have typically shied away from making political statements. This is not because athletes don't care about social justice issues, but rather it's a byproduct of professional sports culture. Teams and leagues discourage athletes from speaking out on "controversial" issues because they feel it's better for their bottom line for athletes to appear apolitical, and therefore more palatable to fans. Players are told that activism hurts their personal brand, marketability, and team chemistry. Players who operate outside of these rules risk being branded as "distractions" to the sport ― which is essentially the first step to being blacklisted.
The bottom line is that it is only acceptable for an athlete to be an athlete, and "stick to sports." Things immediately become tense when athletes exercise their autonomy and speak out against social injustices that impact them, their family, and/or their community. This is especially true when it comes to speaking about racial justice and LGBTQ equality.
This pervasive narrative ― that athlete activism is toxic to the sports brand ― is still dominant. Ultimately, boycotting the NFL to support Kaepernick and those who kneel with him isn't enough to disrupt this narrative. In fact, it might even reinforce it.
To change these dynamics, we have to do more than simply tune out. We have to tune in.
Those of us who want to stand with athletes who take a knee for social justice should do so by rewarding them with our viewership. We should tune in to watch leagues and teams that choose to embrace using their platforms for making a difference, in addition to a profit.
This Wednesday, we'll have the opportunity to do just this as the Sparks take on the Lynx in the WNBA finals.
The WNBA as a league has increasingly embraced social justice as a part of its rebranding efforts, and part of the league's collective identity. WNBA athletes have been incredibly active in speaking out against racial injustice and standing up for LGBTQ inclusion. Even before Kaepernick, several teams, including a WNBA Finals team (the Lynx), even staged a pre-game protest to support racial justice last year. The Lynx and the Sparks also staged protests before the opening game on Sunday. The Sparks skipped the National Anthem while the Lynx locked arms in solidarity.
Imagine the message we all could send by pushing the ratings for the WNBA finals through the roof this week?
This is how we support our athlete activists and change the narrative. This is how we eliminate any doubt about the benefits of standing firm with those who choose to take a knee. We tune-in to support the women athletes who have consistently stood up for racial justice.