One, two, three; I mentally counted each wooden, rectangular plank I tread upon and shifted the heavy backpack on my shoulders as my local friend Amran Athas and I followed train tracks through the tea plantations of Nuwara Eliya; Sri Lanka's fabled hill country steeped in colonial history and home to one of the world's most reputable tea industries.
While planning my trip, I had stumbled upon Hiking Sri Lanka and that's how I met Amran and Pazi; adventure junkies who, in their spare time, explore all corners of the island nation. They started HSL in 2014 as a digital commonplace for young Sri Lankans to share their passion for the outdoors and to promote hiking and camping in a country where backpacking isn't popular among locals, although it very well should be. Sri Lanka is a treasure trove for nature lovers and backpackers just begging to be explored.
I was new to the concept of traversing from village to village in a foreign country by foot, let alone by following railway tracks as a guide instead of carefully cleared trails. But for Amran, it's the way to see Sri Lanka, and not just see it, but to look between the pages of hip beach resorts, backpacker towns and internet-ranked exotic destinations to find the real wilderness and traditional Sinhalese village life within.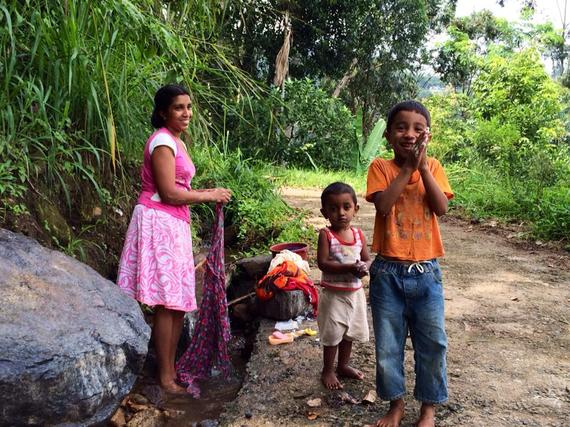 We wove around tall mounds of rich earth studded with fragrant tea bushes through a land trapped in a sort of time warp; where sarong clad Sinhalese villagers intermingle with the remnants of colonial British influence. A nameless waterfall gushed around a steep hillside corner where the worn tracks passed over a babbling stream of cool mountain water. Plantation workers washed the day's dirt from their mahogany skin and a smiling Buddhist statue basked on a nearby rock. Shacks clustered in certain areas along the tracks and children frolicked with stray pups among the yellow wildflowers that sprouted between rails and ties.
It's Sri Lankan village life untouched by the ticklings of a rapidly-growing tourist industry. There are plenty of well-known treks you can organize with a guide that will take you on planned trips through some of the most beautiful parts of the country, but following the railways opened my eyes to travel experiences and pristine sights I never expected.
I witnessed the locals who use the railway system not just to catch a ride, but who work or even live in harmony alongside it. The scenery surrounding the tracks is untouched, giving a hidden glimpse of Sri Lanka where westerners wouldn't think to look. It also provided some of the most unbelievable views of Sri Lanka travel famed sites and access to waterfalls that were devoid of people with the rare exception of children bathing in the cascades or a mother scrubbing her family's clothes in a small pool.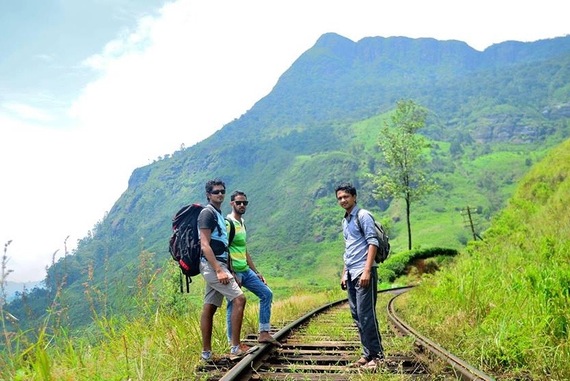 Photo Credit: Hiking Sri Lanka
Planning a trip to Sri Lanka and want to do some trekking? Amran shares his insight on exploring by railway, the culture surrounding Sri Lanka's railway lines and some of his favorite places to follow the tracks and discover Sri Lanka from a different perspective.
Why do you like to trek by the tracks?
SCENIC!!! That would be my answer. Beginners who get into trekking do a lot of railway trekking because you just have to follow the railroad and you don't get lost. Plus the railway track flows through thick jungles, tea estates, remote villages and across beautiful streams and alongside many waterfalls.
How important are the railroad track systems in Sri Lanka?
Rail was introduced in Sri Lanka in 1864 to transport coffee from plantations in the hill country district of Kandy to the port city of Colombo on its way to Europe and the world market. The railway tracks are important as much as the roadways. Though the bus is quicker for long distances when compared with the train, people prefer the train because you don't have to sit in one place for the whole journey. You can move around and sit on the foot-board as well which is usually enjoyed by locals and tourists as well. Also, traveling by train is cheaper and more scenic than the bus.
Is this the way the locals do it when they travel daily?
Railway tracks were used by villagers when the public transport was not established a couple of years ago and when the roadways were too far to walk. For example, If a villager wanted to travel from Idalgashinna to Haputale, they had to walk a few kms to the road where public transport is available and then travel by bus. But, if they walk via the railway track it is shorter and quicker.
Are there many known hiking trails in Sri Lanka? Or is it mainly the railroad tracks that establish trails?

There are pretty decent trails for trekking most of the mountain peaks. But railway trekking is just a part of it and is good for beginners. Experienced trekkers also do long segments of railway trekking. For example thru-hiking from Badulla to Kandy covering approximately 184 kms.
What are some amazing sights you've witnessed by trekking on the tracks?

One time I found the carcass of a sambar deer- just the remnants of the bones. I realized it had been attacked by a leopard. Most wildlife is nocturnal though, so besides monkeys it's rare to see bigger animals. There are plenty of amazing scenic viewpoints though. You can see Elgin Falls between Ambewela and Nanu Oya, Adams Peak from Great Western Railway Station, Devon Falls and St. Clair Falls near Talawakele and the tea estates in Hatton.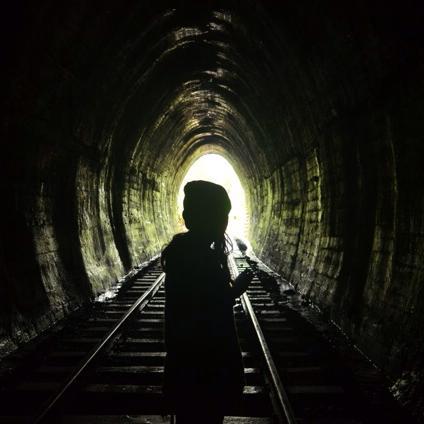 What are your top Sri Lanka railroad trek recommendations?

- Ohiya to Pattipola - 7kms - Base of Horton Plains. The best thing is that this trek is within Horton Plains limits through dense forests.
- Ambewela to Nanu Oya - 15kms - Nuwara Eliya district. The Horton Plains border is close to Nanu Oya, so you would still walk within Horton Plains limits on this trek as well.
- Hatton to Inguru Oya - 28kms - Nuwara Eliya district. This trek gives you stunning views of lush green hills and walks you alongside many cascades.
- Ohiya to Idalgashinna - 9kms - Badulla district. A high number of awesome railway tunnels to venture through!
**However, you should keep in mind that railway trekking is banned due to illegal activities nowadays, such as cutting trees. So you have to get prior permission or inform the station master before doing it or you can end up in jail.