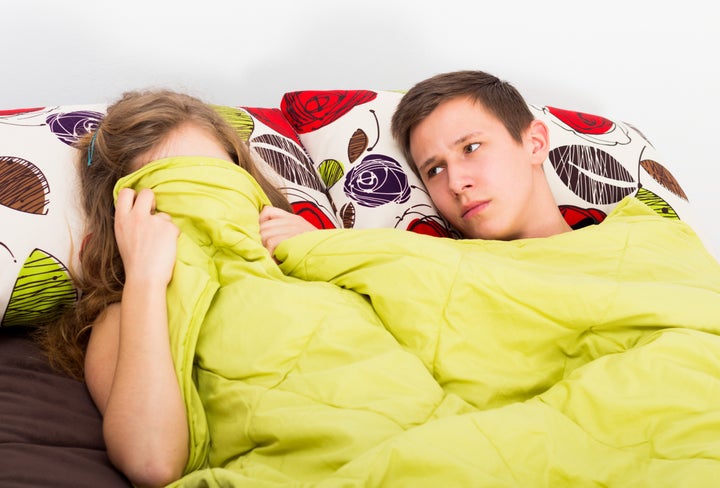 A Christian relationship blogger is defending a blog post in which he says that a husband should just avoid looking at his wife's face during sex if she's not into it.
Larry Solomon, the writer behind BiblicalGenderRoles.com, wrote some advice earlier this month for a man whose wife was apparently having sex with him "grudgingly":
Focus your eyes on her body, not her face. Focus on the visual pleasure you receive from looking at her body and physical pleasure you receive from being inside your wife.

I know you love your wife, most of us as men love our wives. You want to connect with her physically AND emotionally during sex. But your wife is the one refusing to connect with you emotionally, so you have to concentrate 100% on the physical side.
Solomon, who writes under a pen name, alleges that it's a wife's duty is to provide her husband with sex, and refusing to do so cheerfully is a sin. "Sin is ugly," he writes. "Your beautiful bride's face becomes ugly during this sinful time that she is grudgingly giving you sex as she grimaces wanting you to 'just hurry up and get it over with.'"
The only times a woman can "legitimately" request a sex raincheck, he argues, is in cases of illness, pain, family deaths "and other reasons like these." Plain old not being in the mood, according to this guy, just doesn't cut it.
But Solomon told The Huffington Post that the reason he's gotten backlash is not because his advice is patently horrible, but because it's "struck a nerve" with the American people.
"In the last century, we have destroyed the foundation of what sex and marriage were built upon -- duty and commitment," he said in an email. "We have now replaced that solid foundation with marriages and sexual relationships that are built purely on emotion."
He also said he wants to be "crystal clear" that he is not advocating for rape.
"I am not talking about a man forcing himself on his wife," he told HuffPost. "Over and over on my blog I tell men that husbands should never force themselves upon their wives." His post was meant to address a situation involving "clear consent," in which a woman consents to sex, but makes it clear she's not really enjoying it much.
He also noted that he would give women whose husbands were "grudgingly" sleeping with them the same advice if the roles were reversed.
It's true that Solomon has previously written that men have a duty to have sex with their wives. But looking at his writing, it seems that the blogger doesn't see men and women on equal footing sexually. In a September post directed at wives facing sexual rejection, Solomon wrote that "you must always be respectful of your husband's position and his authority over you when you bring your grievances before him."
No such disclaimer appears in a May post directed at husbands who want more sex.
Popular in the Community