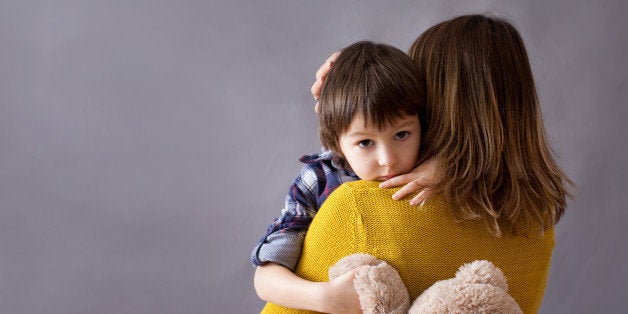 The evening of February 1st 2014 started like any other regular night. We came home, had dinner, played for a while and then decided to snuggle up on our bed in the master bedroom and watch a movie. Maddy was around two and a half years old and like most toddlers that age, very active. While she would sit for extended amounts of time to watch a movie, she also had the tendency to want to get up to move around. What toddler wouldn't? I've yet to meet a two and a half year old who can sit still for an hour and a half long movie. If you have, contact Guinness Book of World Records.
As we were watching the movie, Maddy began to get restless. At first she started to roll around. Then rolling around turned into a little light playing around then before I knew it, she started jumping and just like that, she fell off the bed. Our bed is a four-poster queen size bed that sits high off the ground. When I say my daughter fell off the bed, she literally took a dive and when she did, she landed on her wrist which broke. I was hysterical with fear coupled with an immense amount of heartbreak. How could this have happened and so quickly? I was right there. I was watching her. I had my full attention on my child yet, she still got injured.
I am Matt and Melissa Graves.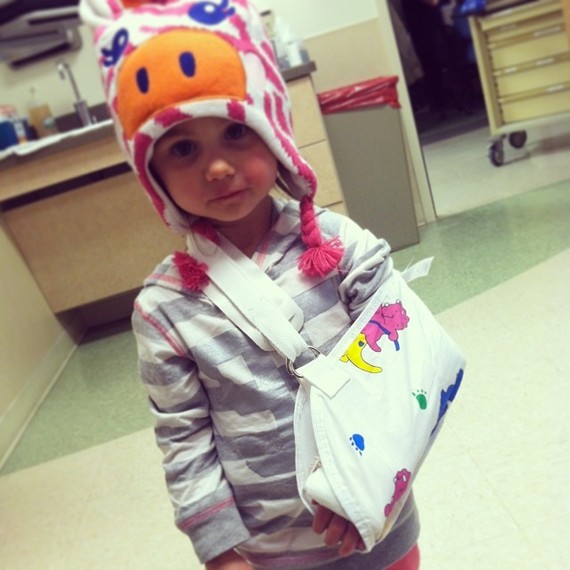 When accidents like this happen, whether they be big or small, it is just that -- an accident. Children, specifically toddlers, are not an exact science. They are not robots, they are gazelles; they are quick, cunning, curious and reactive. To a toddler, the world is their playground to be explored and conquered. In their own minds, they are limitless, free and open yet, you always have the pitchfork parents who will say, "How was this allowed to happen?" Or "Who was watching the child?" Or my personal favorite, "What stupidity! This would never happen to my child."
If you're a parent asking any of these questions, my answers to you is this:

"How could the parents have allowed this to happen?"
Easily.
"Who was watching the child?"
Me. Yet, it still happened.
"This would never happen to my child."
Wrong. If you are a parent, you are Matt and Melissa Graves.
As parents, we take every precaution possible to ensure the safety and well-being of our children. As parents, we are on-call 24/7. We are constantly thinking about the "What if's" and the potential for danger. We take the CPR and first aid classes. We teach our kids about the dangers of talking to strangers. We go to extremes to baby proof our homes to ensure safety for those learning how to walk. We talk to them extensively about checking and triple checking for cars before they cross the road. We teach them about car safety and wearing seat belts. When they are young, we do our best to avoid choking hazards and stay glued to the side of the tub to make sure they don't drown. As our children learn to walk, we walk with them every step of the way to ensure their safety and yet...
If you are a parent, you are Matt and Melissa Graves. You too have the potential for accidents to happen. You are not a perfect parent. At any time without notice, you have the potential to make a mistake or have your life changed in an instant. Just because you hide behind an air of perfection does not mean your life and your parenting will be the same. You are imperfect. You are human which means you are flawed and prone to mishap. At some point in time in your parenting, your eyes may drift away from your child. Like me, you could actually be with your child and still have misfortune happen. At some point in time in your parenting, you will turn your back. At some point in time in your parenting, you will be with your child when they fall down, get hurt or have an accident.
At some point in time in your parenting, you will be Matt and Melissa Graves.
Accidents are not a reflection of one's ability to be a parent. Sometimes bad things happen to good people specifically, good parents. Sometimes things happen and there is just no explanation and no fault to be had. Sometimes the cards we're dealt in life are just plain shitty, nothing more, nothing less but let me be clear: if you go running into the water to wrestle an alligator to attempt to save your child's life that makes you a hero, not a bad parent.
We should all be supporting this family instead of tearing them to shreds and questioning their parenting ability. Until any of us can walk on water, none of us have room to question or point fingers. This tragedy could happen to any of us. We are all Matt and Melissa Graves.