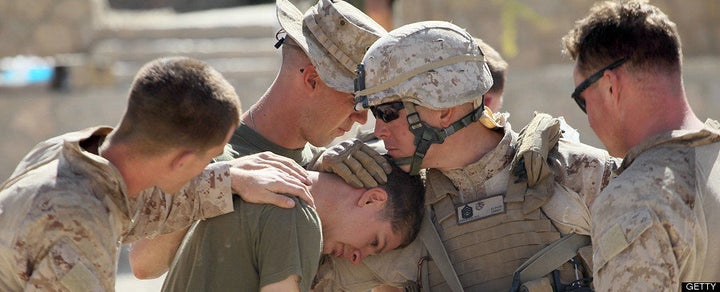 Last week I shared my sadness at the phone calls I receive, day and night, from traumatized soldiers. They're wounded, shell-shocked and desperately in need of disability benefits and medical care. The Army has pushed them out; the Department of Veterans Affairs has turned them down. In crisis with no idea where to turn, they seek help from an investigative reporter.
Worse still, though I had been covering veterans' issues for four years, I had no idea where to send them.
I set out to answer that all-important question: where can a veteran in need turn for help? I compiled a list of organizations and published it last Tuesday. Soon I was flooded with emails naming quality organizations I had overlooked. I examined each of them and am now releasing this revised and expanded list of veterans' assistance groups.
Some of these organizations help with disability claims, discharge disputes, VA guidance and legal conflicts. Some provide job training, continued education and connections to employers. Others offer medical care, psychological treatment, crisis counseling and emotional healing.
Notable additions include:
USA Together

USA Together is a wonderful way to connect veterans in need with civilians interested in helping them. Think of it like a Craigslist for soldiers: military families go to USATogether.org and post a note about something they need. Then civilians visit the site and fill the need.
Reading from posts currently on the site: one wounded veteran needs help with his electric bill, another needs to purchase a printer for his new business, and the mother of a deceased Marine needs help moving across the country to be with her surviving son. The organization's founder, Dave Mahler, says that in the years his site has been up, virtually every request has been filled.

Wounded Warrior Project

The Wounded Warrior Project offers a wide range of assistance, from help collecting disability benefits, to help in healing PTSD wounds, to continuing education for a post-military life. WWP can connect you with benefits counselors who can guide you through the VA maze. And their programs include Project Odyssey, a retreat with fellow vets that involves hiking, kayaking and whitewater rafting. With the WWP's Track program, vets receive a scholarship to attend college.

National Veterans Foundation

NVF will help you if you're in crisis, need legal assistance or help with a disability claim, are having trouble finding a job, need treatment for PTSD or Traumatic Brain Injury, or simply want to connect with other vets. The organization also helps military families who are having a hard time affording groceries.


NextGenVets

NextGenVets is a job placement organization. Go to their contact page, fill out their form and answer questions about your education and military rank. You'll be placing your profile in the organization's database. A case worker at NextGenVets will then contact you and reach out to companies that are hiring, so they can match the right vet with the right company.

Farmer-Veteran Coalition

The FVC offers veterans training in becoming farmers. For many vets, training on the organization's Sacramento Valley farm is a pathway to a new career in agriculture. For others who just need some peace after the chaos of war, the organization's weekend retreats offer some much needed calm. The coalition has partnered with Air Compassion to fly any Iraq/Afghanistan vet to the farm for free.

Combat Paper Project

The Combat Paper Project conducts hands-on workshops across the country where veterans take their uniforms, cut them up, process them into pulp, and use that pulp to create art. While molding their old uniforms into something new, veterans get a chance to talk about their battlefield experiences with other vets who have been there and understand.

For many soldiers, these workshops have been transformative experiences, helping them process the pain lingering from their war-time tours while reshaping their identity: from warrior to artist.
If you're a veteran, click here and download this list of organizations offering you assistance. If you know a military family, forward the list to them. Let's make sure every military family in America has a copy of this list. Together we can make sure that awful question—where do I turn for help?—never plagues another soldier again.
Support HuffPost
The Stakes Have Never Been Higher
Popular in the Community