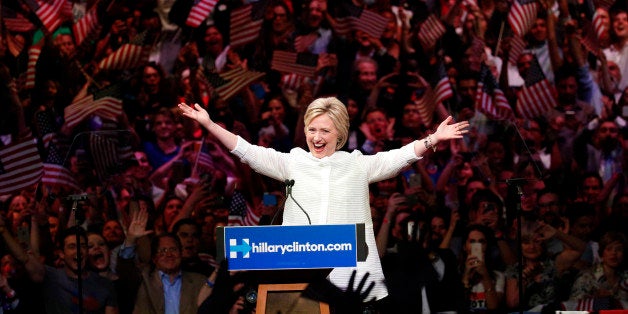 Yes, I said it. If you're a woman, you should vote for Hillary Clinton for president.
Our options are bleak. The two presidential nominees have the lowest approval ratings of any presidential nominees to date, but one of them is a woman, and that matters. It is the first candidate that could potentially hold office who will stand with both feet forward for women's rights. This isn't about a claim or policy. There is no debate that Hillary Clinton is a woman, and therefore she is compelled have women in mind.
You don't have to like Hillary to know that she understands women the way no other president ever could, and certainly not Donald Trump. This piece isn't to bash Trump, but to justify the option of voting for Clinton on the basis that she represents women. Because a woman in office offers American women the protection that no other candidate has ever offered.
In Sheryl Sanberg's Lean In, she references a time when she spoke at Harvard Business School in 2011 and said to the audience:
"If current trends continue, fifteen years from now, about two-thirds of the women in this audience will be working full-time and almost all of you will be working for the guy you are sitting next to... If you want the outcome to be different, you will have to do something about it."
If you haven't figured out what you're going to do about it, do this, vote for the first woman president.
When I hear young women say they are going to vote for Donald Trump simply because they're a Republican or because he won't raise their taxes, I die a little inside. First of all, as a young professional, your taxes are hardly going to affect either side's taxation policies. Second of all, while it's great to care about your income, it's another to choose a tax break over equal rights, your equality.
You might not agree with Hillary Clinton, but you understand that she knows what it's like to be a woman living, working, and raising a family in America. She was not born into politics. She did not marry into politics. Her path in life was not handed to her with a million-dollar loan from her parents. In fact, one of her first jobs was working at a salmon cannery in Alaska. She knows what it's like to fight her way to the top of the corporate ladder in a male-dominated field. And she's relatable to American wives everywhere (re: Lenny Letter) when she describes how difficult it was to put her husband's career before her own. But now, it's her turn. No other presidential candidate, and certainly not one who makes bigotry and discrimination the cornerstone of his campaign, can relate to that.
Now, it's women's turn. It's our turn to bring attention to the hypocrisy and double standards that exist in today's America. To take a stand for federal policy on maternity leave; to say, "it's your choice" on abortion rights; to walk into work feeling like an equal and having the American government on your side. It only takes one, and the rest is a domino effect. A female president means more seats in the Cabinet for women, more seats in the Senate and the House for women -- hell, it designates a seat at any table for women to represent.
When I was a young girl, my response to what I wanted to be when I grew up was always "the first woman president." When you're that young, you have no real perception that there's a world out there filled with discrimination, bigotry and sexism. As I grew up, I still held that dream close, but I learned that it was a much bigger feat than I had ignorantly anticipated. There was a reason that there hadn't been a woman president, and not because there were never any viable woman candidates. Because the foundation of American established that "all men were created equal." And some men running our governments made sure that there was no evolution to that statement. While I no longer want to be the first woman president, I do want to be a woman who is fairly treated in society and the workforce. I want my accomplishments and my salary to be ranked on an even playing field with those of my male counterparts.
I don't necessarily hope to change anyone's mind on which candidate they vote for. But if you are a woman living in America, and you truly dislike both options you have for president, your option is not to not vote. You don't have to love everything about Hillary Clinton to be inspired watching history be made. Your option is the woman. It's ok for your option to be the woman. You side with your side. You side with the notion that young girls will grow up saying they want to be the next woman president.
Now let's make it happen.
Related
Popular in the Community