The Culture Map: Breaking Through the Invisible Boundaries of Global Business by INSEAD professor Erin Meyer, that is. Whether you're a corporate or traditional diplomat, global traveler, government official, or passionate world citizen, this is the one book you should not miss. Chock-full of real-world examples and a simple framework that can be utilized in any cross-cultural context, Meyer's work is characterized by a fresh and relevant voice, distilling down the essentials of communicating, persuading and working effectively around the globe. It is rare that I pick up a cross-cultural book and can't put it down. The Culture Map provides tools to better address cross-cultural communication challenges that extend far beyond the global business environment.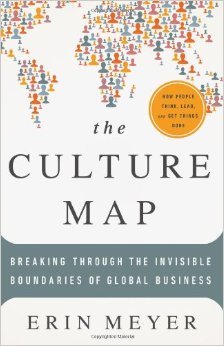 Better Understand Cultures, Better Understand Yourself
For the better part of my career, I have been passionate about helping people, and Americans in particular, become better world citizens. Like Meyer, much of my work globally has centered around advising executives on how to work most effectively across cultures, particularly in a new country that's foreign to their upbringing. In my executive sessions as well as in the classroom with global Hult M.B.A. candidates, I always advise that my students adhere to what I've termed "The Three-Rs Rule": respect, relationships, and reaction. No matter where I am in the world, it is imperative that I consistently show respect and focus on building and nurturing relationships before business. The key, though, is in the final "R." To build trust, I need to be deeply aware of my reactions in any given setting, especially those that arise when under extreme stress. I have long believed that understanding other cultures begins with a better understanding of oneself and one's own "cultural lens," a phrase coined by legendary cross-cultural scholar and Global Mindset pioneer Dr. Mansour Javidan at Thunderbird. As Meyer advises, "It is only when you start to identify what makes your culture different from others that you can begin to open a dialogue of sharing, learning, and ultimately understanding." Building off this theme, Meyer developed an excellent self-assessment tool that is available on the Harvard Business Review website to help us better understand our own cultural context and those of others around us. In addition to building self-awareness, this diagnostic is an exceptional and illuminating team-building exercise.
Some further takeaways from the book worth noting:
Listen first; lead second. "You have two eyes, two ears, but only one mouth. You should use them accordingly": a life lesson from Erin's mother that is worth repeating and reinforcing in every generation.
Cultural context matters. "You need to have an appreciation for cultural differences as well as respect for individual differences," advises Meyer. "Both are essential."
Why vs. how. Meyer argues that "the ways in which you seek to persuade others ... are deeply rooted in your culture's philosophical, religious, and educational assumptions and attitudes. The Art of Persuasion is one that is profoundly culture based."
Read the book, take the self-assessment tool, then go forth and make a real difference in the world.
Calling all HuffPost superfans!
Sign up for membership to become a founding member and help shape HuffPost's next chapter