All month long we're giving you behind-the-scenes access to the country's top pitmasters, hog farmers, sauce makers, smoke experts and meat connoisseurs and capturing it all live across Zagat and HuffPost social channels. Tune in every day to ask questions, learn BBQ tips and keep tabs on the action.
Have a favorite 'cue joint of your own? Instagram it with hashtag #ZagatBBQNation and at the end of our trip we'll declare a People's Choice Winner.
Martin's specializes in whole hog barbecue, a classic southern approach that owner Pat Martin learned all about in Henderson, TN, before moving over to Nolensville (just outside of Nashville) to put his years of training into practice.
The restaurant is a truly from-scratch operation — Martin obsesses over every detail, down the barbecue sauce, so you know that when you are getting a plate of his pork, each component has been carefully and thoughtfully crafted. The Redneck tacos are a local favorite — it's a dish of barbecue and slaw stacked atop a cornbread hoecake (it's a loose interpretation of a taco).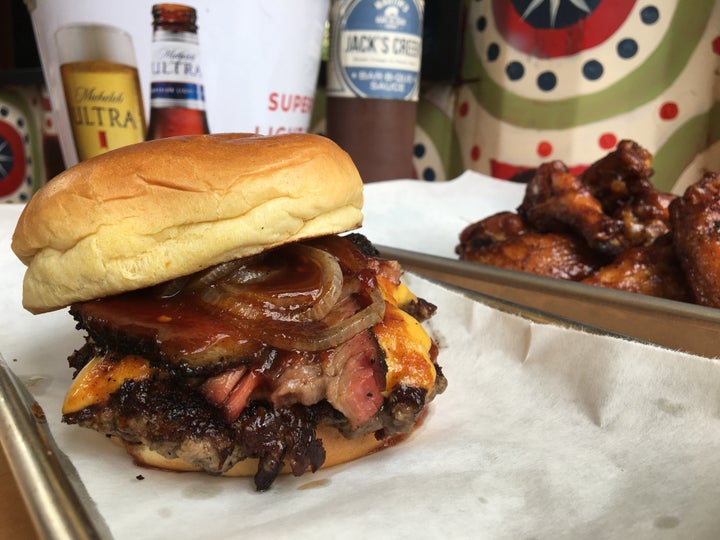 Martin recently expanded his operation with a few more locations in Tennessee, plus another in West Virginia — all with the same lively atmosphere and vintage, colorful memorabilia plastered to the walls (like a shark with a toy pig in its mouth). He's also brought a social mission to the restaurant as a member of the Fatback Collective, an organization devoted to investing in and supporting southern foodways.