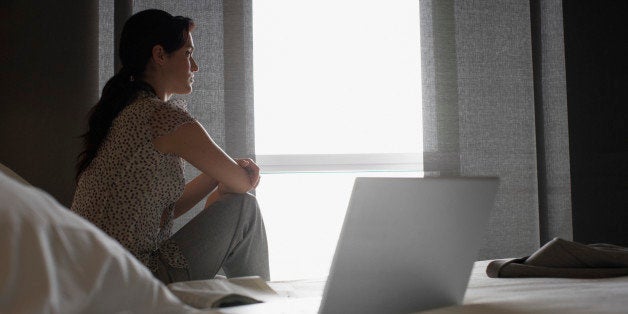 Here's something I'm noticing in alarming frequency: there's a lot of blame happening, especially and overwhelmingly on the internet. And the blame I'm seeing is this pointing-of-fingers on who is ruining our humanity, which honestly seems like a tall order to throw onto ANYONE. I'm not really talking about politics or social justice issues or anything that high level, although that is certainly part of the finger-pointing.
I'm talking about blame in terms of the substance of culture, the quality of our celebrity idols, and ultimately the decline of kind acts and compassionate people. Almost every day I see an update where a person posts something redeeming about humanity and captions it by saying it has "restored their faith in humanity."
This is wildly condescending. And unproductive. To shift blame on others and to belabor the "downfall of humanity" by way of any number of things misses a crucial part of this picture: that you are humanity, too. And we are all responsible for the shape of our planet and the state of our world. To point fingers and blame others is to rid yourself of responsibility.
And, truly, this is an epidemic: that people believe it is other people's responsibility to prove to them that humanity is good while never taking a look in the mirror to determine if they are being that proof to someone else today. If you are tired of meaningless celebrity culture, stop consuming it. If you are tired of art that is void of quality, start making the damn art you want to see in the world. If you walk around believing that the way it is is the way it will always be, then you've already lost the game. If you are exhausted by irredeemable people, be redeeming to someone else today.
It is not someone else's responsibility to give you permission to be a kind, compassionate, and loving person today, right now, or ever.
Change starts in you -- and if all you do is spend your time focusing on what everyone else is doing wrong, you are contributing to the problem. Just because someone is rude to you doesn't give you permission to pay that unkindness forward. Just because everyone else -- in your eyes -- is vapid or vain or devoid of substance doesn't mean that you shouldn't stand tall in your own substance, that you shouldn't think long and hard about how you can shift something, anything in this world so that it better reflects what kind of place you want to live in.
Whether we want to believe it or not, we are part of this whole system, each one of us. To blame is to ultimately usurp your own power to make a change, to have an impact, and to create even a tiny revolution of your own doing. By letting other people dictate who you are or what you are capable of is to give them more power than they already have. Take it back and take onto your back the responsibility of creating a better world for yourself and for generations to come. The more of us who feel infinitely and intimately responsible for what progress humanity makes, the better off we will all be.
If you've lost faith in humanity, others have, and that means even more so that we need to make compassion, kindness, and love the priority in every interaction. It starts with you. It always has.
Stop giving other people your power. Rein it back in. And ultimately, be the damn change.
Related