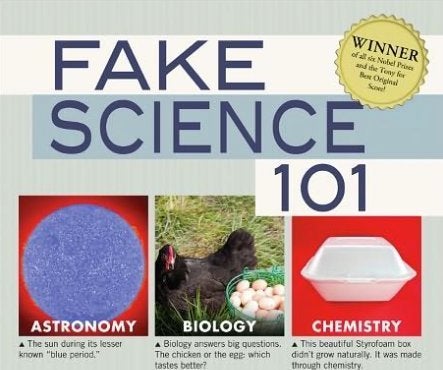 "Fake Science" boasts over 46,000 Facebook fans, but an HISD administrator is not one of them.
In a memo sent to the district's teachers, one educator's request to use the textbook is denied on the basis that it would compromise the district's integrity and have an adverse effect on students:
I received one such request for an alternative textbook "Fake Science 101." I am aware how it would be used, but we are concerned it will reflect poorly on the district. A book like that may be intended humorously, but it is mocking the quality of education in our district.

We cannot have our district ridiculed as a non-scientific one (see many Westinghouse/Intel awardees). This book is not permissable for you to distribute or your students to have. Our textbooks are not "fake" and no textbook should give that impression. It would negatively impact students.
A spokesperson for the district told Hair Balls he could not locate said memo, but that he agreed with the sentiment: "[W]e would agree that spending taxpayer funds on what you've described as a 'spoof' publication with little or no educational value would be difficult to defend at a time when schools are losing state funding."
Edwards himself has weighed in on the matter, pointing out, "Lessons from the blog have been used by teachers to introduce scientific concepts in the past and many classrooms have enjoyed using Fake Science to start conversations. I also think satire encourages the skeptical thinking that makes science work. That thinking shouldn't be prohibited."
The author has since updated his Twitter account, proclaiming that the ban on his book should be banned, in a "double ban."
Popular in the Community