Whether in the Arab world, facing successive revolutions to oust repressive regimes, or Western countries with press freedom enshrined in their constitutions, a common thread ran through this week's IFEX General Meeting and Strategy Conference: media liberties must be preserved.
Toronto-based IFEX, short for the International Freedom of Expression Exchange, reasserted its commitment to supporting unfettered media, its defense of harassed journalists and condemnation of their killers, and, the capacity building of organizations and activists campaigning for these freedoms.
"Six years ago we launched the 'Arab spring' first mentioned by (assassinated Lebanese journalist) Samir Kassir," whose murder was followed by the brutal snuffing out of another Lebanese media figure Gebran Tueni, said Roula Mikhael, at the opening of the event.
Mikhael, who writes for the daily An-Nahar, home to both Kassir and Tueni, and who heads the Maharat Foundation that hosted the IFEX conference, was referring to the uprising by Lebanese citizens in 2005 aimed at ending 30 years of Syrian tutelage.
But the event in Beirut, Lebanon -- the first time in an Arab country -- was also marred by the absence of Maryam Al-Khawaja, an opening session speaker who heads the foreign relations department at the Bahrain Center for Human Rights.
She was barred from leaving her country.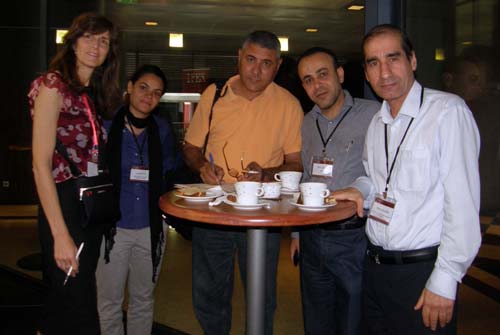 Conferees Kristina Stockwood (IFEX-Canada), Rawda Ahmed (Egypt), Gamal Eid
(Egypt), Sami Ghaleb (Yemen) and Khalid Ibrahim (Iraq) (Abu-Fadil)
Outspoken Tunisian writer Naziha Rejiba's eloquent references to old-world media and Arabic literary traditions were most poignant when she repeated the mantra from a compatriot's poem that became the Tunisian revolt's anthem: "Iza al shaabu youman arad al hayat, fa la budd an yastajeebul qadar" (loosely translated: if a people wants life, fate must comply).
She should know. Ousted Tunisian president Zine El Abdine Ben Ali had her in his crosshairs for many years but she was undeterred and fought on, noting that vestiges of his regime remained and that the struggle must continue.
Fast-forward to young Egyptians who made optimum use of social media in their quest for freedom -- initially from the Interior Ministry's abuses, and later from the regime of Hosni Mubarak, as recounted by Nora Younis.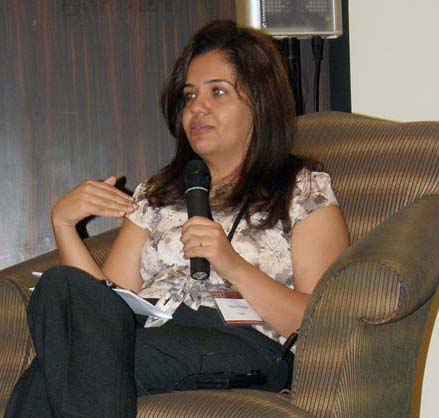 Nora Younis (Abu-Fadil)
Younis, a journalist with Al Masry Al Youm, said Egyptians feared the maligned police of abysmal human rights abuses fame may have been replaced by the Supreme Council of the Armed Forces (SCAF) that is clamping down on media freedom.
"It's new makeup but under the surface it's the same," she said.
On Thursday the New York-based Committee to Protect Journalists called on Egypt's ruling SCAF to stop its harassment of journalists who report critically on the military.
"Officers and military prosecutors have censored, harassed, or otherwise intimidated numerous critical journalists since February, and particularly in recent weeks," a CPJ statement said.
The CPJ distributed two potent publications during the conference: a special report entitled "The 10 Tools of Online oppressors" and "Getting Away With Murder," its 2011 Impunity Index featuring 13 countries where journalists were slain and their killers went free last year.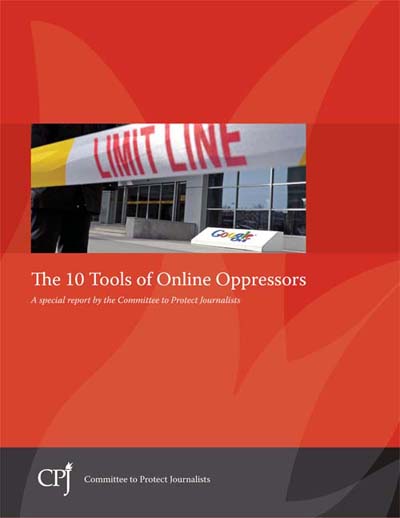 Tools of Oppression (Courtesy CPJ)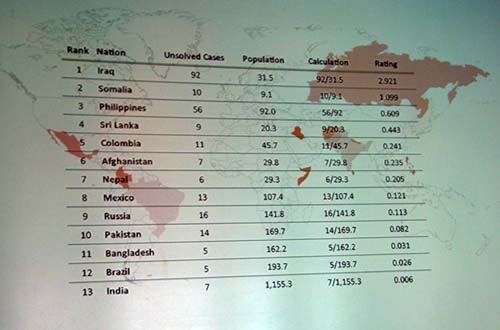 CPJ impunity index (Abu-Fadil)
A session about emerging online threats to journalists zeroed in on how repressive regimes exercise cyber censorship, surveillance and other forms of control.
Speaker Serenade Woo from the International Federation of Journalists shed light on China's chokehold on all Internet users and how Chinese journalists were acutely aware of what their red lines were.
Cutting off phone lines, online tracking Internet users and outright threats to dissidents were par for the course, she said, which meant people learned to talk in code, or to use diversionary tactics.
A workshop on "Tactics for Online Advocacy" with Ramsey George was quite instructive, with helpful hints on turning information into "info-activism," notably through digital media.
An excellent session entitled "Keeping the Faith: Ethical Journalism in a World of Conflict and Crisis" brought together Georges Sadaka of Lebanon and Khady Cisse of Senegal who lamented that journalists in developing countries were woefully underpaid and easy marks for bribery or pressure from political or business-related (often one and the same) groups.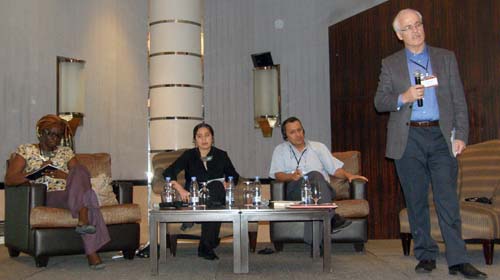 Khady Cisse (Senegal), Zuliana Otero(Peru), Georges Sadaka (Lebanon),
Aidan White (Belgium)-(Abu-Fadil)
In Lebanon, journalists were also beholden to politicians in a highly sectarian environment, which added to the lethal mix, Sadaka said.
Moreover, journalists exercise self-censorship to avoid retribution, or to appease benefactors and bosses.
"Most Lebanese media belong to politicians, so journalists become propagandists," Sadaka added.
Moderator Aidan White said free press campaigners must never let governments off the hook for the range of threats that journalists face, but that many of the ethical problems in the newsroom were also self-inflicted.
"If we want a journalism fit for democracy we will have to invest in more ethical training and more credible forms of accountability that will build public trust," he wrote in the conference blog. "That will not be easy, but we can make a start through practical cooperation."
A dynamic videoconference with participants in Ghana interacting with participants in Beirut highlighted the importance of access to information, notably the need for solid legislation guaranteeing journalists' and citizens' right to government-issued data.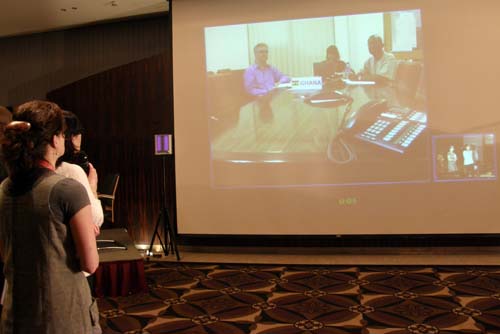 Videoconference with Ghana (Abu-Fadil)
The event grouped IFEX members, journalists, human rights activists, and press freedom fighters from all continents.
Popular in the Community