"You don't have to cook fancy or complicated masterpieces -- just good food from fresh ingredients." - Julia Child
As a food enthusiast, I almost exclusively point kitchen novices towards one of the best cookbooks I've seen this season, Freshman in the Kitchen, From Clueless Cook to Creative Chef. The pleasure of cooking, eating, and sharing no frivolous meals is at the heart of this new cookbook by the Sussman brothers: Eli & Max. The Michigan-natives serve up simple, delicious recipes that any novice cook could master and their informative, thoughtful recipes will surely build a beginner's confidence and reinforce the noble idea that a meal doesn't need to be complex to be delicious. The recipes focus on a merger of simplicity and flavor in an effort to show beginning cooks that it is indeed easy to create something delicious in the kitchen, but the book really shines when demonstrating techniques that will ensure that even novice cooks will produce spectacular results.Freshman in the Kitchen, From Clueless Cook to Creative Chef has it all: elegant page layout, legible typeface, enticing photographs, and sensible chapter headings.
As you relish this spiral-bound book combining techniques and recipes you find that Max and Eli become your very own personal cooking instructors, while adding humor to your culinary experience. They literally guide you step-by-step through each recipe with wonderful results and a bit of personal interest thrown in. Their passion for food is evident on each page. And, with the holiday season in full swing, Amazon.com is offering 24-hour shipping for those looking for that perfect last-minute holiday gift. This book is also available at Barnes & Noble, and Borders, and would be the perfect gift for the young professional or recent grad.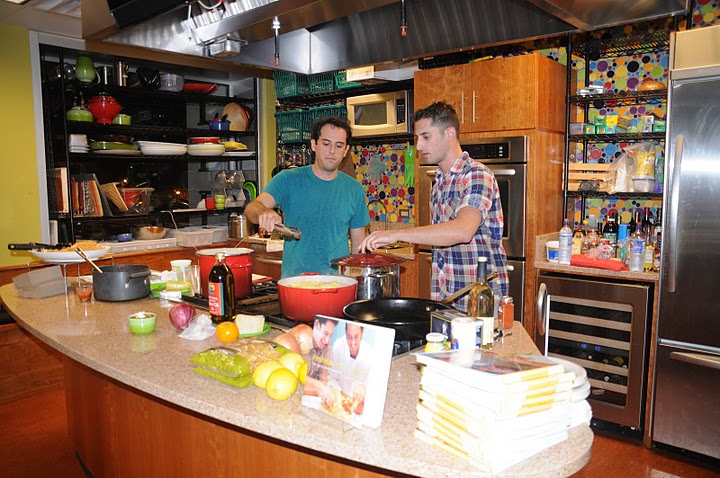 Eli and Max doing a demo at Whole Foods Chicago (photo taken by Lauren Gill)
On your popular website, Freshman in the Kitchen, you mention that neither of you received formal culinary training. What is the best piece of advice you would give to a home chef enthusiast pursuing a culinary journey of becoming a professional chef?
Eli: You have to be patient and understand that mistakes will be made and a lot of getting better at cooking is figuring out why something did not rise, why a dish is too salty or too mushy and establishing how it can be improved upon next time. Just the other day I made a sauce and it just was not working. So I referred back to a cookbook to see what I may be doing wrong. I will never get to a point where cookbooks aren't immensely helpful.
Max: The most important thing is to just jump in and start cooking without fear. If you mess something up, that is part of the learning process. So as long as you know what you did wrong and how to avoid it next time, you're going to be that much better. Also, don't try to make 5 different things at once when you first get started.
Eli: That's why recipes are a fantastic jumping off point until you feel comfortable enough to make things up yourself and then diverge from the recipe. When you go to the grocery store to shop and see dishes forming, then you are on your way there. Max and I simply started working in kitchens and restaurants at a young age, which provided a framework to continually get better.
Which celebrity chef influences your creations in the kitchen? And, what are your opinions of food trends?
Eli: I had the honor of working for Chef Ludo Lefebvre at his LA based pop-up restaurant LudoBites. His flavor combinations and plating inspired me to push myself to attempt new techniques way out of my comfort zone. I mean I ran out and started messing with pulled sugars, gelatin and used some proteins I had never worked with before. It was less about trying to recreate what I had seen and more about pushing myself to think of food in a more playful manner of mixing unconventional flavors with a new surprising presentation style...sometimes with greater success than others. It's a really cool feeling to try a new technique and think to yourself "2 hours ago that seemed like an impossible thing for me to execute."
In terms of trends, if a food trend pushes people to try a new dish that they would ordinarily avoid or is a challenge the chef wants to take on to push his or her creativity, then I think it's fantastic and should be embraced.
People seem to have gone crazy integrating bacon this year which is fine because bacon is delicious in nearly every form and function, but if it doesn't serve some purpose on the plate sometimes it can be overdone or over thought. Sometimes the best dish is the one with a few wonderful components with a simple preparation technique and the dish that has a sauce made out of 45 crazy items and utilizes all these molecular gastronomy techniques is just too much for me. Basically I'd prefer the flavor of the actual dish to blow my mind than have my mind blown by the description on the menu.
Max: I've learned the most from my chef for the last 3 years, Eve Aronoff. I started off 3 years ago working the line at Eve Restaurant in Ann Arbor, MI where Eve is the Executive Chef and Owner. As I moved through the different stations, I received an amazing culinary education. I watched the other cooks and learned some of the most important lessons in restaurant cooking like consistency, how to properly season food, and how to cook meat and fish. From Eve, I learned about balancing flavors against one another to create a harmonious whole. I learned how different flavors can come together to create something that is delicious yet not immediately identifiable. Eventually I was promoted to Sous Chef where I was responsible for managing the entire kitchen staff and all the cooking that goes on. Since then I began to work even harder to make sure that all the cooks were prepping, cooking and plating with the same level of perfection and precision, day in and day out.
Eli: That every person is fully capable of going in the kitchen and learning everything from the basics like boiling pasta and dicing vegetables all the way up to cooking a multi-course dinner. The cookbook starts off incredibly simple and gets gradually more difficult with each chapter and recipe. So the novice should start at the very beginning and learn how to set up his or her kitchen and to grocery shop efficiently. Then they should move along through the chapters and get their confidence up.
Max: By the end of our cookbook, the reader should have a repertoire of dishes they enjoy cooking and hopefully they have moved away from fast and frozen foods and embraced a more fresh environmentally friendly approach and posses a more diverse palate. In FITK the focus is on relatively simple food that you can make at home. And anyone who's tried our mac and cheese knows that you don't need anything too fancy to make something from scratch that tastes great.
What is the most valuable lesson you learned in the process of creating your first cookbook?
Eli: We learned that Max and I are capable of doing anything together without killing each other. We have a cooking worth ethic where we just want to keep getting better. We are a phenomenal team and we both brought very unique traits, skills and culinary ideas to the book. We wrote it partly during college balancing cooking jobs and school and then finished it while I was living in LA working for a catering company and Max was living in Chile working as a chef at a remote fishing lodge with the only Internet access a 30 min walk away. I'm a let's do this right now type personality and Max can be very laid back. So I would be frantically emailing Max about measurements, temps, and flavors for a dish and he'd email me 2 days later saying, "Dude, the Internet is STILL a 30 min walk away."

Max: As a professional chef I found that the process of writing recipes was really valuable. To work in a restaurant and take the same rigor that we applied to writing the cookbook and apply it to the recipes and processes we have in a restaurant, was something that writing the cookbook was great training for. Basically, you are writing a code that people can follow to achieve a similar result anywhere they are. And, once you know the process inside and out, you can start to customize it to your own liking and that's when it becomes really fun.

Eli: It took well over a year to write which is a ridiculously long time to be working on a project with another person, let alone a relative (smiles). And if we argued at times, it was over who's idea or addition was better for a dish, never anything dumb or petty. We went days where it'd be 20 emails and 10 phone calls talking about a dish, which to us is just awesome. We can talk about food all day. Sometimes we'd actually have to stop ourselves and remind each other we were writing a real cookbook together, that was actually getting published. That's how cool the experience was for us. We set out to write a book that would be the perfect introductory cookbook for the novice cook but also applicable to any newbie chef of any age. To write a cookbook with my brother, become closer, and then on top of that actually achieve success because of it, has been the best thing that's ever happened in my life.
Are there any ingredients that define your cooking?
Eli: I am a carnivore through and through and I do love a great rare piece of meat with potatoes.
Max: I will put garlic in anything and everything.
Eli: I tend to cook primarily with Italian, Middle Eastern and Asian flavor profiles and I'd say my favorite protein right now is lamb so I have been experimenting with it in a variety of dishes. I also tend to use a lot of potatoes. Purples, fingerlings, sweet potatoes,redskins. Thinly sliced on the mandoline or mashed, and I tend to make oven baked fries to go with sandwiches. Lately I've been into roasting delicata and butternut squash, carrots, parsnips, and beets.
Max: I've been cooking a lot of pork lately. Dry rubs...that sort of thing.
What are the 5 must-have appliances in Eli & Max's kitchen?
1. A heavy bottomed saute pan or non-stick skillet is perfect for cooking just about anything.
2. An 8-inch stainless steel chef's knife (Eli uses a Global, Max uses a Mac). This is your most important tool so get a good knife and treat it well.
3. Stainless Steel tongs. Tongs become your hands in the kitchen. Not only can they grab food, but you can pick up hot objects like lids, move around things in the oven and switch dishes on the burner. Any chef has a pair glued to their hand.
4. Kosher salt. Do yourself a favor and put some in a small bowl by your stove. Use it to season meat, fish, and adjust sauces. The coarseness means that you have greater control and actually using your hands to measure will get you closer to your ingredients.
5. A food processor or immersion blender (or both). Use it to shred, puree, or make sauces. Infinite amount of applications for these.
Last question, in what direction do you see yourselves going? Can readers expect another cookbook in the future?
Max: We are always developing recipes in our heads and testing things out on friends so another cookbook is a definite possibility.
Eli: I am part of a supper club in Los Angeles with a bunch of friends where I make up dishes to try out to see how well they go over. We would love to put out another cookbook that is as easy and user friendly as Freshman in the Kitchen but reflects our increased skills and greater appreciation for new techniques and flavor combinations to showcase. Or maybe a brothers' road trip cookbook?
Max: We hope our cookbook readers can grow their skill along with us. I am moving to NYC in January to pursue a new cooking venture there.
Eli: In addition to the cookbook we are going to Las Vegas in January for a live food demo at the National Association of Television Program Executives (NATPE) Conference. We definitely feel that as just two normal guys we can show young people and novice cooks that there's a lot more they can be eating than fast food and microwavable frozen dinners. Who wouldn't want to watch 2 brothers who they can totally relate to cook and bicker their way across the country, cooking simple food from scratch?
Related