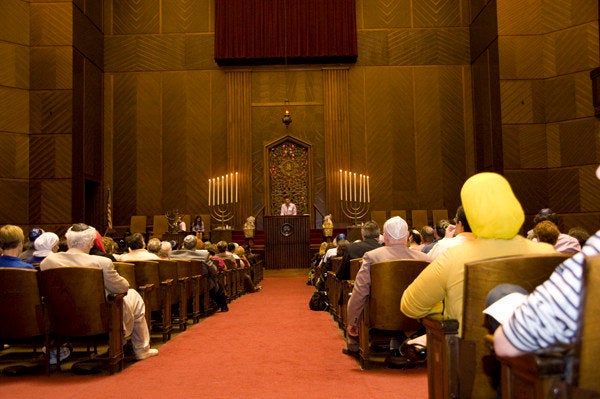 CHICAGO -- When a Palestinian woman named Nazira saw people covered in soot and blood running onto the train during her commute in New York City on Sept. 11, 2001, her immediate reaction was to help. She held one shocked woman in her arms and stroked her head, trying to calm her. When she heard a rising chorus of "Kill Muslims! Kill Arabs!" she worried that she, too, could be in danger and held the woman closer.
As the threat of Islamophobic violence increased, so too did the commitment of some Americans to peace. When anti-Muslim violence threatened Nazira's Brooklyn neighborhood, people began escorting their Muslim friends to and from the train.
Rabbi Shoshanah Conover, who had met Nazira during her studies in Jerusalem, recounted her friend's story at an interfaith religious service in August that sought to refocus the dialogue around the 9/11 attacks, nurturing the unifying attitude demonstrated by those Brooklyn neighbors. The cross-cultural ceremony was hosted by the Jewish-Muslim Community Building Initiative (JMCBI), an outreach program founded by the Jewish Council on Urban Affairs (JCUA) on Sept. 12, 2001.
"Right after [the 9/11 terrorist attacks] happened, we knew there would be an enormous backlash of Islamophobia, and as Jews, we know how anti-Semitism feels," said Pamela Klier-Weidner, the development director of the JCUA. "How could we not stand up against that?"
For 10 years, the JMCBI has worked to bridge the gap between Chicago's Muslim and Jewish communities, which together represent more than a half-million residents. Run by a board of volunteers from various cultural backgrounds and both faiths, the group hosts educational exchanges and social events to bring Chicago Jews and Muslims together to "learn from each other, without the filters of any outside opinions, by interacting directly," said Lindsey Lurie, an elementary school assistant principal on a JMCBI planning committee.
Aside from music and arts showcases, teen workshops and social justice efforts, the group's biggest annual event is "Iftar in the Synagogue," a cross-cultural gathering scheduled around the Muslim holy month of Ramadan and the Jewish festival of Sukkot. For the first iftar -- the breaking of the daily fast during Ramadan -- in 2007, the days of the Muslim and Jewish observances overlapped, but they do not every year. Since then, the JMCBI has worked with temples and mosques across the city to host their congregations at an iftar held in a synagogue sometime in late summer or early fall.
On Aug. 18 this year, Temple Sholom on Lake Shore Drive was packed with tables that would overflow with food after sundown signaled the end of the day's Ramadan fast. In the meantime, they were covered with blue cards printed with questions meant to inspire conversation: "Where are you coming from? What brought you here? What is something you have learned this evening?" A projector flashed facts about the two faiths, their languages and their texts, highlighting similarities. For example, Muslims and Jews both consider themselves descended from Abraham.
Guests, who were randomly assigned colors at the door to help integrate table seating, chatted before the services began. A Jewish man named David explained Tisha B'Av, a Jewish fast day that had just passed, to Tahrer, a woman in a headscarf. She corrected his pronunciation of the greeting "Ramadan Mubarak" until it was perfect.
"At the London Holocaust gallery in Waterloo, the late Rabbi Hugo Gryn is quoted saying he doesn't remember one person of another religion in his community who did anything to help the Jews," he explained to Tahrer, who nodded solemnly. "Isn't that terrible? We need to make connections with people we don't know, not with people we do know."
At the center of the JMCBI is Asaf Bar-Tura, the initiative coordinator. He joined the JCUA less than a year after graduating from Ben-Gurion University in Israel. For the past two years, he's been at the helm of "Iftar in the Synagogue," leading a committee of volunteers who've been planning the 2011 event since April. He said all faiths have a duty to use the terrorist attacks of 2001 as a launchpad for community outreach and improvement.
"Ever since 9/11, American society has asked ourselves, 'How do we move forward? How do we create a society that unifies us as Americans while celebrating diverse cultures and experiences?'" Bar-Tura said. "We need to make a commitment to a common future. It happened to all of us, and we have to move forward together."
Reaching across religious divides is imperative for all Americans, but especially for Jews and Muslims, whose religious principles call on them to connect across communities and learn from one another in peace, Bar-Tura said. It's also in the best interest of these minority faiths to work together -- for many of their believers share immigrant experiences, and all "know what it's like to be demonized, marginalized for their religious, cultural and ethnic identities."
"When we see an injustice, it's in our own self-interest to find the alliances and solidarity to rectify it," Bar-Tura said.
The JMCBI itself is a model of the kind of cross-cultural community building it hopes to inspire on a larger scale. Consisting of about 10 volunteers from Muslim and Jewish backgrounds, the committee meets once or twice a month to plan events like "Iftar in the Synagogue."
"To me, one of the successes of the event is the process we go through to make it happen," Bar-Tura said.
And the impact of this small-scale union is significant. Bar-Tura discussed one example, a Palestinian man on the committee who has become close friends with a Jewish man "four decades older than him." The Palestinian man flew home to visit his family immediately after the iftar they'd been planning for months. But he called in at 3 a.m. to be "there" for the planning committee's after party.
On Aug. 18, the pitas and kosher chicken shawarma were hidden from the fasting crowd until after the interfaith ceremony and prayer, though the event didn't begin until sunset was already under way. Leaders of both faiths spoke of the unity of Judaism and Islam, both abstractly and, as Imam Senad Agic pointed out, literally based on Muslim tenets.
"I would like to congratulate the organizer of this event," Agic said, "because according to Islamic teachings, one who prepares an iftar meal for a fasting Muslim will also get his reward."
Rabbi Conover opened her remarks with "Shalom" and "Salaam." She spoke fondly of the Muslim friends she made while studying in Jerusalem and how knowing them made the volatile post-9/11 atmosphere a much more palpable danger for her. She feared for her friend Nazira, threatened first by the terrorist attacks that September morning and later by the threats of violence from some within the United States.
"As a Jew, I know well the threat of baseless hatred. As a people we have experienced this hatred without and within -- in Hebrew we call it sinat chinam," Conover said. "So great is the sin of sinat chinam, it is described in the Torah as worse than the three worst sins combined."
Before the crowd split into different rooms offering Reform and Orthodox Jewish prayer and Muslim prayer, to which any and all were welcomed, Conover called on the attendees of "Iftar in the Synogogue" to commit to "ahava chinam -- baseless love."
"Tonight offers us such an opportunity," she said. "Shalom aleichem. As-Salamu Alaykum. Peace be with you."
See "Iftar in the Synagogue" in photos: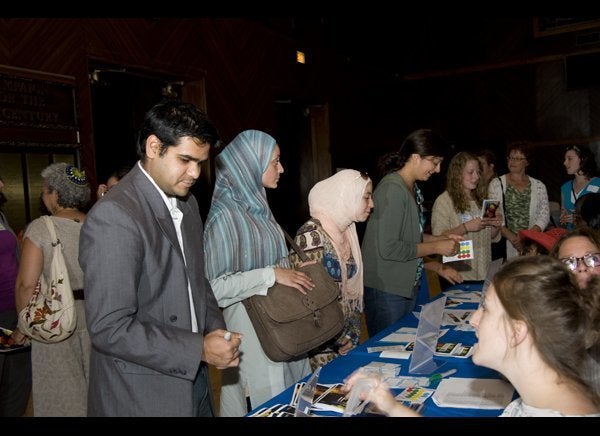 At 'Iftar In The Synagogue,' Chicago Jews And Muslims Commemorate 10 Years Of Interfaith Community
Popular in the Community