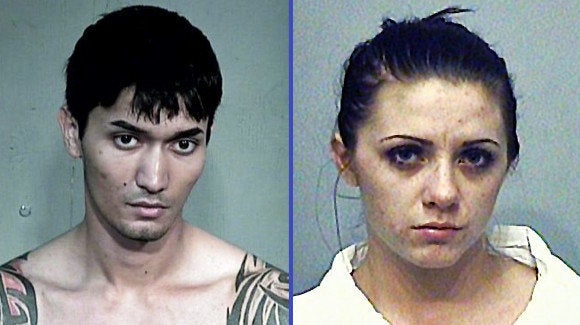 Two suspected murderers got married behind bars today, reports the OC Register. The bride is 20 year-old Marissa Star Bilotti and the groom is 26 year-old Iftekhar Murtaza.
The whirlwind romance began in January, when the couple began writing letters to each other. By the second month they were in love, despite having never physically met each other, and by April they were engaged.
Bilotti's lawyer won a court order for the couple to marry earlier in June, but the motion was blocked by the OC sheriff's department. Officials eventually yielded last week, and today the happy couple exchanged vows on the phone in the jail's waiting room. They were physically separated by a wall and and communicated via telephone. KTLA called it a "bizarre jailhouse wedding."
Bilotti is charged with first-degree murder, burglary, and robbery. She faces 32 years to life in prison for helping a friend, Derek Christopher Adams, murder a man in 2010. According to the OC District Attorney, Bilotti is said to have concealed a folded knife in her vagina while waiting in a getaway car. When Adams shot his target, she helped him flee but the pair were pulled over a short time later. Police found a firearm in the car.
Murtaza, along with friends Vitaliy Krasnoperov and Charles Anthony Murphy Jr., is charged with two counts of murder and one count of attempted murder, reports the OC Register. The three men are accused of killing the father and sister of Murtaza's ex-girlfriend and setting their bodies on fire in 2007. During the attack Murtaza also slit the throat of his ex-girlfriend's mother, but she survived. Murtaza could face the death penalty if convicted of the murders.
Jailhouse weddings are rare, but those in which both spouses are incarcerated are even rarer. In 2004, a San Diego couple married just after being sentenced to two years each for grand theft, reports Sign On San Diego. A year earlier, a Texas man and woman who had never met were married by proxy while the two were in separate prisons, according to Corrections.com. More recently, in 2007, a lesbian couple wed in a Florida jail. The prison guards who facilitated the ceremony were disciplined, reports Fox News.