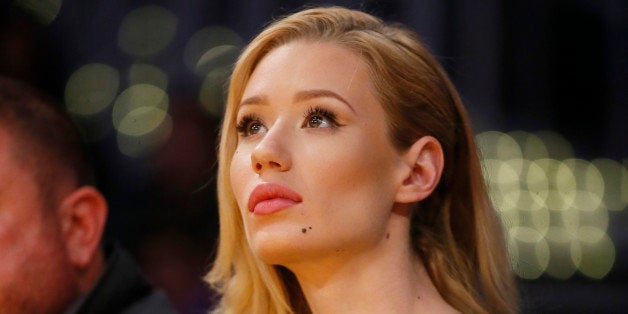 Eight years ago a young white girl from the rural northern-Australian town of Mullumbimby moved to Miami. Only 16 years of age, she refashioned herself as a rapper by the name of Iggy Azalea with a black Southern accent and achieved notoriety when her sexually explicit songs went viral on YouTube. After being heavily promoted by a well-known Atlanta-based rapper and releasing her debut album with a major label this past summer, she went on to become the female rapper with the longest-running Billboard Hot 100 number-one single.
Last week Iggy Azalea was in the spotlight for a different reason. After protesters around the country condemned the non-indictment of the white police officer who killed an unarmed black man, Eric Garner, in Staten Island, following closely on the heels of a non-indictment in the case of the killing of another unarmed black man, Michael Brown, by a white police officer, black female emcee Azealia Banks called out Iggy Azalea on Twitter with a moniker for the star that went viral:
The nickname "Igloo Australia" inspired numerous other parodies of the artist on social media and beyond.
The white appropriation of black culture is not new or uncommon, especially today. Azalea is a symptom of the hypercommercialization of rap culture. All the way down to her manufactured Southern accent, she is a successful creation of the multibillion-dollar hip-hop music industry.
But the problem with the Eliza Doolittle-like makeover of Iggy Azalea from rural, white Australian teen to a black-sounding female rapper dominating the charts in America is that her musical persona has no history. Eminem, another white hip-hop artist, could rap about the black Detroit neighborhood where he grew up and honed his rhyming skills. In a genre that has drawn its power from personal storytelling, these histories are an integral part of the artist, even leading some artists to make up stories about themselves. But in cases like that of Azalea, the making of a persona means becoming historyless. Who would be interested in a debut rap album by a rural white girl from down under who used to hypnotize chickens?
Banks was essentially asking Azalea to take a stance in defense of black people. In other interviews too Azalea has been asked to speak about the struggles of Aboriginal people in Australia. But how can we expect public figures such as Azalea to take such a stance when their only connection to black communities is in profiting from appropriating their music? Banks' move was of course a shrewd one that revealed the hollowness of music-industry creations. Yet it also raises the greater question of who we are without the histories that make us.
One of the reasons that rap culture spread rapidly around the globe in the 1980s and 1990s is that it was a vehicle for storytelling. Not every kid could feel the pain of the black American underclass that was chronicled in the rap narratives. It resonated because rap music gave young people the tools to tell their own stories of pain, disempowerment, and exclusion. From black youth in the townships outside Cape Town to barrio youth in Medellín, global rap culture exploded with a cacophony of stories. Those stories were often representative of a broader condition and identified with a particular community experience.
Even rappers who were not part of an oppressed minority, like the many middle-class rappers across the globe who embraced the form, still found a way to bring their own personal experiences into the music. The white Chicago rapper Mike Treese, from the group Mass Hysteria, found that rapping about his struggle with depression was a way to connect with diverse hip-hop fans in his hometown and beyond. In short, people want to hear what is real, whether that is pain, triumph, or resistance, and they want to hear it in a lyrical way.
People have their stories, and movements have their stories as well. I grew up as part of the multiracial migrant, white, and Aboriginal hip-hop generation in Sydney, and the story of the hip-hop movement in Australia was one of ditching the mimicry of black American accents and learning how to convey our own stories in our own idioms and voices. With Iggy Azalea it seems that we have come full-circle.
Despite all the disfigurations of rap culture today, it still remains a point of reference at a time of anger and political mobilizations to defend black lives. Artists like Questlove, the drummer for the hip-hop band The Roots, has put out a call for artists and musicians to be a voice of the times that we live in. That doesn't mean more remakes of militant anthems like Public Enemy's "Fight the Power" but, he says, more stories, more narratives. Through stories, art tells the truth about our human condition. Our stories are the truth about who we are, as individuals, as communities, as representatives of something. And if you don't have a story, you can't be expected to represent.
Popular in the Community