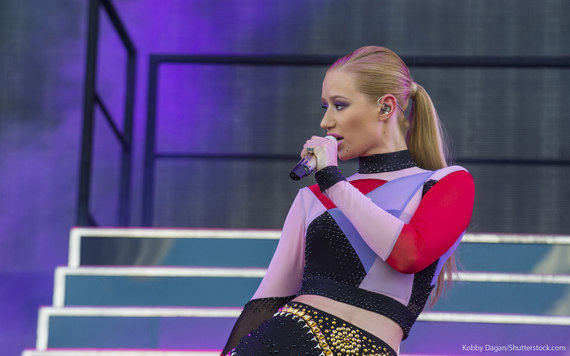 After getting engaged in June 2015, rapper Iggy Azalea and fiancé Nick Young of the Los Angeles Lakers have run into a hiccup in their relationship. Fellow Laker D'Angelo Russell allegedly filmed Nick Young talking about dating or sleeping with other women while engaged to Azalea.
Since releasing the video, Russell has been shunned by the Lakers. Find out what went wrong in Iggy Azalea and Nick Young's engagement and how the video could affect their net worths.
Iggy Azalea Net Worth: $10 Million
Iggy Azalea's net worth is $10 million, while Nick Young's net worth is $8 million, according to Celebrity Net Worth, a celebrity finance outlet.
An Australian by birth, Azalea arrived in the United States in 2006, signing with independent record label Wine-O Music in 2010. The singer rose to popularity when two of her songs, "Pussy" and "Two Times," went viral on YouTube.
Her debut studio album, "The New Classic," released April 2014 and debuted at No. 3 on the Billboard 200, selling 52,000 copies its opening weekend. Her newest album, "Digital Distortion," is slated for release in June 2016.
Iggy Azalea Reacts to D'Angelo Russell Video
Lakers players D'Angelo Russell reportedly recorded and released an incriminating video of Nick Young taken in a hotel room. In the video, Young talks about other women he's been with while engaged to Azalea.
"What about Amber Rose," Russell asks in the video, referring to celebrity Amber Levonchuck. "No, she knows my girl," Young responds. Russell also asks Young about another woman Young met at a nightclub: "You was 30 and she was 19?"
D'Angelo Russell's video of Nick Young has since gone viral, putting him at odds with the Lakers. ESPN reported that at a breakfast meeting, no Laker would sit with Russell. Iggy Azalea, on the other, applauded Russell, tweeting:
Iggy Azalea-Nick Young Engagement Video
Despite Russell's video, Iggy Azalea and Nick Young had already postponed their wedding earlier in the year due to scheduling conflicts with the singer's upcoming tour. She made the announcement on March 18 on Ryan Seacrest's KIIS-FM radio show "On-Air With Ryan Seacrest."
Here's a look at Iggy Azalea and Nick Young's engagement video:
More from GOBankingRates:
Calling all HuffPost superfans!
Sign up for membership to become a founding member and help shape HuffPost's next chapter