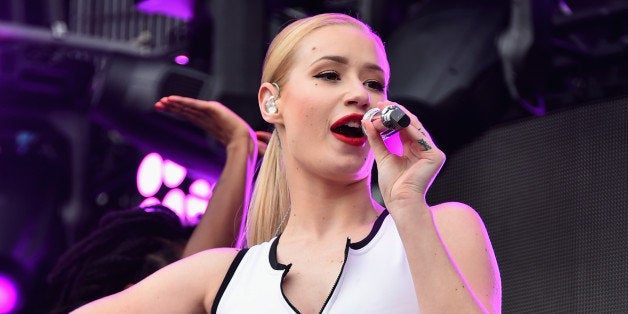 "A dope MC, is a dope MC." -KRS One
It seems like every day there is a new headline about up-and-coming artist, Iggy Azalea. It was announced recently that she is nominated for several VMAs, will host MTV's House of Style, and has a role in Fast & Furious 7. When an artist sits atop the charts (as Iggy has all summer), making headlines comes with the territory.
It was another headline though -- that Iggy had broken Lil' Kim's record for longest running #1 song by a female rapper -- that left me cold. How can a woman best-known for pop hits be the new hip-hop record holder?
Pardon me, but I grew up listening to female emcees like Monie Love, Queen Latifah, Yo-Yo, and MC Lyte. There was Lil' Kim, Foxy Brown and Lauryn Hill. Eve, Left Eye and Da Brat. I memorized their lyrics -- not necessarily because I related to all of them -- but because these ladies were skilled. Each possessed her own unique style of cadence and delivery. Their flows did more than just rhyme. They also made sense. They were witty, raunchy, and their bars rivaled those of their male counterparts. Their lyrics resonated because of their authenticity. And it was empowering to hear a woman stepping into her truth and owning it like that.
The song "Fancy," which dethroned Lil' Kim as rap's reigning Billboard queen, doesn't evoke those same feelings. The lyrics are catchy but there is a lack of authenticity. Iggy begins her "Fancy" flow with "first things first, I'm the realest." An interesting declaration from an Australian woman who intentionally raps in an American accent. In another line she claims to be "bringing '88 back"? Bringing it back from where, I wonder? Iggy was born in 1990 so she's "reminiscing" about a time when she wasn't even born. Is that an era she is partial to? Does she have a thing for the number 8? Or is she just mimicking the sentiments of older, more established emcees?
"Fancy" attempts to emulate certain elements of American hip-hop. In addition to Iggy's performance accent, there are the common hip-hop motifs of getting paper and being the baddest chick. It sounds so familiar and so cliché. I would love to hear Iggy speak from her own unique perspective, instead of formulaically adopting someone else's.
Pop artists have been manufactured by record execs throughout the history of contemporary popular music (think boy bands!) -- but this is not a defining characteristic of the hip-hop genre. At its purest, hip-hop chronicled the pain of injustice, poverty, racism, as well as the fervent desire for wealth, success and power. Initially, it was its honesty and fearlessness that turned hip-hop into a movement. A movement that female emcees advanced by sharing their own personal narratives.
Contrary to her debut album title The New Classic, so far, Iggy isn't saying anything new. She's not exposing hip-hop fans to a new reality -- one that is uniquely her own. Instead, she's mimicking what has already been proven to sell. And that's something that pop stars do very well. Iggy wants to be considered a hip-hop artist but not all rap is created equal. In an era where even established hip-hop artists enjoy massive crossover success, some rap has become more diluted -- and barely recognizable. It's fluffy, it's light-hearted, it's catchy. It's pop. And so far, that is the void that Iggy has filled. Is "Fancy" this summer's "Call Me Maybe"? Probably. Is she this generation's answer to Britney Spears (sans the elaborate choreography and nude body suit)? Possibly. But she's no MC Lyte. She's no Lauryn. She's no Eve.
The song that previously held the female rap record was the superstar ensemble hit, "Lady Marmalade" from the Moulin Rouge! movie soundtrack -- arguably Lil Kim's most pop-like track. It is, however, an outlier in Queen Bee's arsenal of fierce flows ("No Time," "Big Momma Thang," and her legendary verses on "Get Money" and "Quiet Storm," to name a few). Forget about earning the title of female rapper -- she helped to define it. Lil' Kim enjoyed crossover success with a pop hit, but the bulk of her discography showcases the slick, gritty Brooklyn-bred rhymes that are her calling card.
I'm not saying that every so-called emcee embodies the unadulterated realness that made hip-hop so potent initially. But if Iggy is going down in history as a hip-hop record-breaker, she should expect a heightened level of scrutiny. Referring to oneself as "the realest" (when you don't even speak with the same accent that you rap with), and discussing the "unifying" nature of hip-hop in interviews (while allegedly calling well-known rappers your "ni99a's" on social media) is indicative of the troubling contradiction that is Iggy Azalea. There is an inconsistency between her words and her art. This is often the case where there is a lack of authenticity: you can duplicate a formula, but you can never replicate heart.
When MTV nominated her twice in the Best Pop Video category, I breathed a definitive sigh of relief. Whew.
If characterized as a pop hit by a pop artist, I like Iggy's song, "Fancy." It's fun. It's catchy as hell. But it is not "Ladies First." It is not "Crush on You" or "U.N.I.T.Y." It's not "Lost Ones." Even as a full-length song, it's not Nicki's verse on "Monster." It is soul-less summer fluff. Nothing in the song (or in Iggy's other hits so far) makes me respect her talent or her mental acuity. That is what truly great lyricists -- rap, rock or country -- do. They move you. They make you think. They make you laugh. They make you go hmmm...
But how can she make her listeners think if she is not thinking for herself? Read a few books about the culture you want so much to emulate, Iggy. Understand the heartbeat that permeates and lives within it. Let it inspire you to write from a deeper place within yourself. Stop denying your own unique history; instead, utilize it! Tell us who you really are -- give us something we can feel. And then get in the booth. I dare you to prove you're more than just a style-biter or a record label construct. I dare you to prove that in addition to having the incredible gift of impersonation, you are also capable of ideation and originality. Don't waste your platform on thoughtless social media gestures and vapid lyrical content. Do put in some work and contribute to your chosen genre, instead of draining it with your self-seeking withdrawals.
I'm always rooting for a smart lady emcee with a sharp wit. If that's the real you, Iggy -- please stand up.
Popular in the Community