Nothing makes for a happier press moment than being in the same room with Iggy Pop and Jim Jarmusch, here at Cannes to launch Jarmusch's Gimme Danger, a documentary about the band The Stooges. Iggy Pop's great laugh--and spontaneous wit--warmed the room. A journalist asked Iggy Pop to speak on "the greatest challenges facing humanity" and Iggy Poppy burst into a grin:
Then he went on to earnestly speak about how we are "too wired up" and "over-stimulated" and "need to disconnect"--as well as pollution and the culture of money--and finished with the heartfelt exclamation: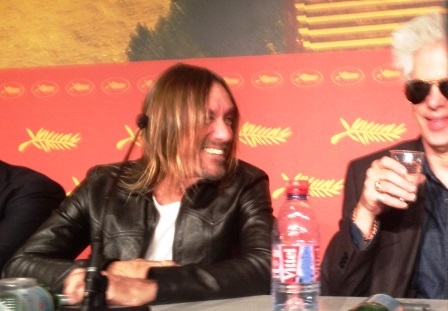 Jarmusch, throughout, smiled with affection and admiration at the rock star next to him. He and Iggy Pop are great friends, which is why eight years ago the rock star said it had to be Jim, and nobody else, who made the documentary about him. "The Stooges, The Velvet Underground and MC5 were the three bands that "blew [his] mind," said the director, when he "was a teenager in Ohio."
The documentary Gimme Shelter is a meticulous collage of clips not only of the Stooges' performances and interviews with the remaining live members of the band (giving homage to those departed), but of 1960s and 1970s culture: the context of Iggy Pop's youthful exuberant rise to fame. This historical context is what makes the documentary particularly fascinating to watch, even for someone--like myself---who comes to the film ignorant about the Stooges. Iggy Pop tells stories of the rise and fall of his band while sitting in his huge wooden armchair, next to a mounted gold skull, with wild color-streaked paintings in the background, and each story inspires the film director to insert a video clip to illustrate the story. It could be a scene from a Lucille Ball film or a clip of David Bowie in concert, or an animated re-play. Particularly entertaining is the repeated footage of Iggy Pop throwing himself off the stage into the audience.
The wealth of archival material brings to life an era past--and reveals Jarmusch's own erudite mania for artifacts of lore. "We tracked down a lot of archival material, that no one has seen before," the director noted. "Our film has things from TV commercials to odd industrial footage that Fonzi (Alfonso Goncalves) discovered and shaped."
How did it feel, I asked the charismatic Iggy, to watch his own life unfold in its historical context?
"I saw the film for the first time last night," the rock star earnestly confided. "It really hit me. Oh Christ am I a product of those times!"
"At the time, you think oh God this is what is fucking going on. It comes with my age, I know what today is and I don't accept it, but now I know it is fleeting. I saw the footage of John Sinclair, and the way people dressed and the bongs and the naked bathing. All that stuff! Even the old clip of Rod and Ronnie. Those were times. It was a BFD for me."
JJ: "Iggy made a decision not to go to the [1968] National Democratic Convention which erupted in incredible violence. I remember being a teenager at the time and watching it on TV and just starting to cry because I also had the same beliefs and wanted to run out and be a street fighter, because of the Vietnam War and the creeping corporatization that is now everywhere on this planet."

IP: Our band did not belong at that convention because we were not idealistic guys about that. We were idealistic about something else.

JJ. I love the MC5 and their overt politics. But I realize historically that the Stooges by avoiding being directly political or didactic have a stronger political effect by not being so pointed. Their primal unleashing in the end has a political cultural consequence which was very important to me and certainly to millions who are Stooges fans. [Similarly]: the Velvet Underground avoided being directly political, but they are artistic revolutionaries.

IP: The Stooges remained amorphous. We were like an amoeba that got into your house.
Another journalist asked Iggy Pop about his attitude towards drugs.
"Drugs!" he said. "Everyone should just drop that shit. For me, the best is a very good wine with dinner. Look what happens with drugs: okay a little wine, why not some weed, hey why not some mushrooms, and wait I got this mescaline! Personally, I don't drug up anymore. I have wine with dinner."
As for Iggy Pop's inspirations in music, he enthusiastically rattled off a list: one that he was sure was incomplete, he said, saying he would remember more names when back home that night in his hotel. On that list was: MC5 "for their turbo industrial brawn, the Velvets for the gloomy, soft porn sad weird nihilism," and musicians like Frank Zappa and the Mothers of Invention, Chuck Berry, Harry Partch, Berlioz, Stockhausen, and John Cage.
There was also a cellist named Charlotte Moorman, "a hot chick" who in the 1950s, a time "limited by the male structure", once "played the cello nude while bound."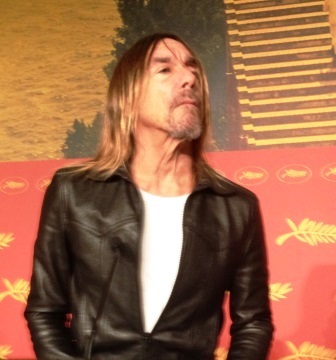 "And tonight will you wear a shirt on the red carpet?"
The rock star--notorious for his lithe shirt-less performances --quipped. "Okay, if you like--no shirt!"
Then he added: "But I did bring a shirt. I did! My manager thinks I should wear a shirt."
When I left the conference--for another interview---the press room was still alive in laughter.
REAL LIFE. REAL NEWS. REAL VOICES.
Help us tell more of the stories that matter from voices that too often remain unheard.