Iggy Pop. Public Enemy. Belle and Sebastian. And that was just night one of Iceland's three-day ATP Music Festival, which proves that the greats became legends for a reason.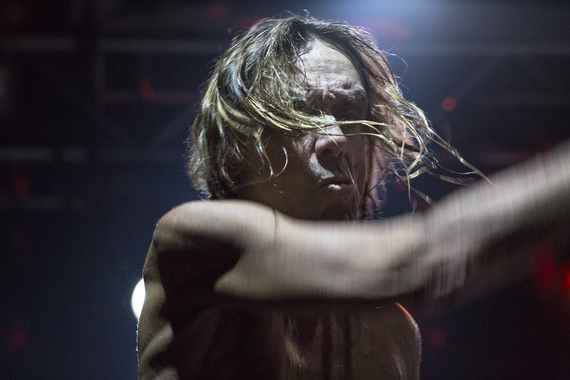 The name is brash -- ATP, or "All Tomorrow's Parties." It promises sweat and sound and bodies pressed together, but as I enter the former U.S. naval base aircraft hangar at Keflavik, I'm a bit skeptical.
After my brush with main stage mediocrity at the Secret Solstice Festival in Reykjavik two few weeks ago, I'm leery of big names. And some iconic acts -- Iggy Pop foremost in my mind -- are taking the stage tonight. I wrangle down my fanboy impulses and keep my expectations low, but I know that once I see 68-year-old Iggy whip his shirt off, I'm gonna lose it.
Spoiler alert: He does. And I totally do.
I arrived at ATP to the sounds of Public Enemy beating the hell out of the stage. In a good way. Grapevine's Gabriel Benjamin, explains why Public Enemy drops the beat from time to time:
Years ago I heard in an interview how Public Enemy purposefully misses a beat every once in a while. They explain that this act of making their music ugly -- and not catchy -- is done to focus listeners on the message of fighting racism and systematic discrimination. That's exactly what my experience from ATP was, ugly, but on point.
And as I listened I was reminded why Public Enemy is still at the top of the game. Even Flavor Flav, a shorthand for reality show satire, was... kind of amazing. I forgot he's like... a good rapper. Halfway through the set, he whipped his hat into the crowd and let his dreads swing, and gosh darn it if I didn't get a little misty-eyed. Public Enemy still kicks ass, and the hyped Icelandic crowd agreed.
Iggy Pop -- What can I say? Sixty-eight years of Lust For Life shows on his shirtless form as he limps and swaggers his way across the stage, but he's still got it. No, screw that; he invented it.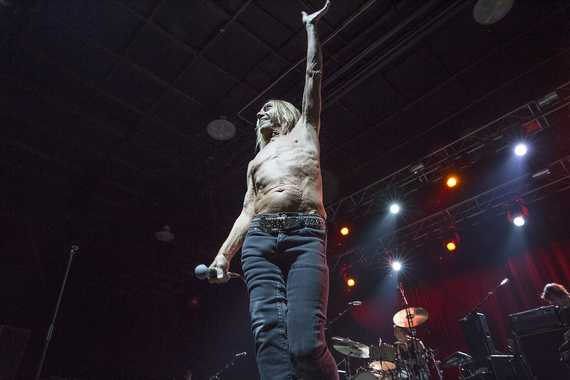 The shirtless swagger. The spitting. The water. The sweat. The unbridled enthusiasm. I shudder to think what he was like 45 years ago. Seriously. People must have lost their minds.
But what most comes through while watching Iggy play hits like "Real Wild Child," "Sex Machine," and "I'm Bored" was his gratitude. Much like veteran soul singer Charles Bradley, Iggy wailed, stormed, and did his thing, but as much as he loves what he does, you couldn't help but feel that the whole set was done for our benefit.
Between swaggering, spitting, and warning his band that they, "Better be ready!" before launching into his next hit, Iggy paused to wave. At individual fans. He pointed. He smiled. He gave thumbs up. Heck, when he threw his battered mic stand off the stage and hit a hulking Viking security guard, he even stopped to shrug and apologize. What a guy.
The point is that ATP managed to do something that's rare; book legendary talent that still entertains.
Big names sell concert tickets, but often their lackluster performances disappoint rabid fans. Not so at ATP, Keflavik. Not only did every big name bring the hits, but the promoters frontloaded the three-day festival with stars to sate our appetites from the word go.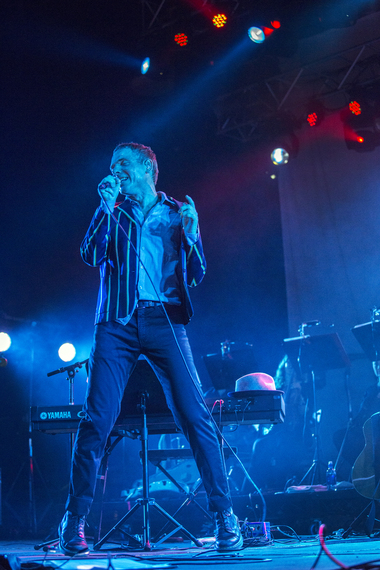 Public Enemy opened for Iggy Pop, followed by Belle and Sebastian, ending with thumping rap duo Run the Jewels. If it sounds like the Ritalin-addled mixtape you made for your college ex, you're right. The line-up was off balance and eclectic. It jarred.
And hot damn, it was fantastic.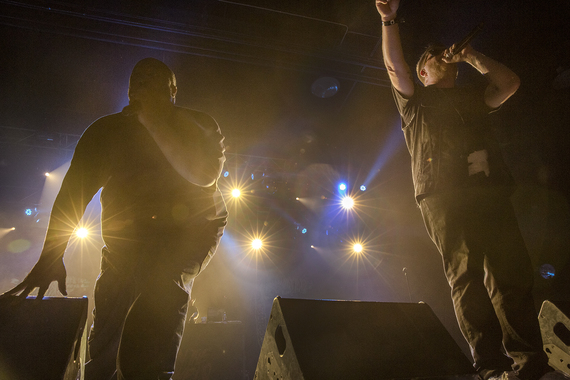 Buy tickets to the next ATP Festival near you (they're everywhere), but make sure you leave your assumptions at the door.
And if you're lucky, Iggy Pop might even spit on you. Then give you a thumbs up.
Calling all HuffPost superfans!
Sign up for membership to become a founding member and help shape HuffPost's next chapter