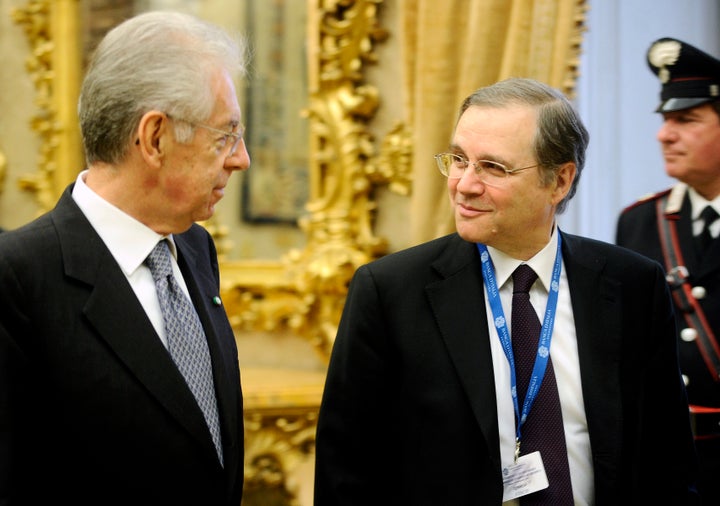 MILAN (Reuters) - European Central Bank Governing Council Member Ignazio Visco said in a newspaper interview on Saturday that the bank will be attentive to the economic cycle when setting monetary policy, suggesting rates could fall more if the euro zone economy worsens.
The ECB has cut interest rates for two months in a row and this month unveiled a raft of measures to support Europe's cash-starved banks to counter a forecast recession brought on by widespread austerity measures.
"Monetary policy will be attentive to the (economic) cycle. It is thus that we defend monetary stability in the medium-term," the governor of the Bank of Italy, said in the interview in Italian business daily Il Sole 24 Ore.
Visco also said the upward trend in Italian bond yields has been stopped and turned around, even if financial markets remain very volatile.
On Friday, the yield on the 10-year Italian government bond rose above 7 percent, the highest since December 16, and the spread over the equivalent German Bund was more than 500 basis points on worries about the euro zone in 2012.
"All the same the trend for higher yields is stopped and turned around, and today we are well below the highs registered in the last few months," Visco said in the interview in Italian business daily Il Sole 24 Ore.
"Certainly there is a lot of volatility, but we know that confidence on the markets is lost quickly and regained only slowly and with a constant and continuous commitment," said Visco, who is also governor of the Bank of Italy.
Visco said that the Italian government's 33 billion euro ($43 billion) austerity package, approved definitively by the Senate on Thursday, was "indispensable," but he added that structural measures to boost growth and create jobs and wealth should be accelerated.
"It is with policies that sustain growth in a credible way that it will be possible to convince the rest of the world that - as our analyses clearly confirm - our public debt is sustainable," he said.
In an interview on Friday, Standard & Poor's top executives said the first quarter of 2012 will be a test for Italy because of the huge amount of sovereign debt it has to refinance.
The record-high yields Italy has paid at recent sales have led to concerns the euro zone's third-largest economy may have trouble refinancing the more than 150 billion euros of debt coming due between February and April next year.
The spread between the 10-year Italian bond and the equivalent Bund can fall if the growth capacity of national economies is judged favourably, on prospects for political integration in the euro zone, and international cooperation, he said.
Asked about growth and the problem of the economic cycle, Visco said: "This is the reason for which, with the last decisions of the governing board, we have made monetary policy still more accommodating than it was already before."
He added that the ECB does not only respond to short-term inflation trends when setting policy.
A year of complete stagnation awaits the euro zone economy in 2012, according to a recent Reuters poll of economists, who said a recession has already started that will last until the second quarter of next year.
European banks gobbled up nearly 490 billion euros in three-year cut-price loans from the ECB on Wednesday, easing immediate fears of a credit crunch but leaving unresolved how much will flow to needy euro zone economies.
More than a dozen Italian banks, including top lenders UniCredit and Intesa Sanpaolo , tapped 116 billion euros ($143.5 billion) of the three-year loans - about a quarter of the total.
"Bank liquidity is suffering strong pressure because of the difficulty in renewing wholesale funding, which is determined by the strong increase in sovereign risks in the euro zone," Visco said in the paper.
Visco said the European Banking Authority's demand for higher capital buffers, which has come under fire in Italy, is a one-off exercise and is not aimed at deleveraging or reducing lending to the economy.
"I understand that (raising capital on the market) is not easy, but we are not talking about extraordinary figures," he said, adding that other options include cutting dividends and bonuses, and selling non-strategic assets.
(Writing by Nigel Tutt and Philip Pullella)
REAL LIFE. REAL NEWS. REAL VOICES.
Help us tell more of the stories that matter from voices that too often remain unheard.
BEFORE YOU GO