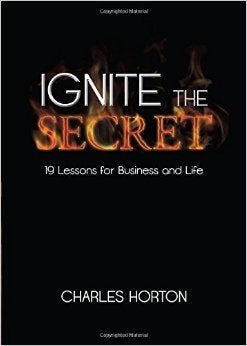 Charles Horton, a millionaire by the age of 30 has mastered what he refers to as the secret to business and life and he's written about it in a book he calls 'Ignite the Secret: 19 Lessons for Business and Life.' What makes this book so interesting is how the lessons are built around firewalking. In case you aren't familiar with the practice, here is a visual. Picture it, a line of hot coals, just like the ones you would put on the grill for a barbeque, yes those! Now in firewalking the coals are hot and it's your goal to cross the hot coals from one side to the other. On the sleeve of Horton's book he asks, "Are you afraid to walk through the fires in your life?" The line captured me because there's an old saying, "nothing in life come easy," and I happen to agree. With that said, Horton has taken his life experiences and in 176 pages laid out an outline on how you can master everything you want in business and life just by following his 19 lessons.
Horton starts the book by telling readers to take action and he weaves in other nuances like making sure the details of you vision are in order and later surrounding yourself with success. In my reading of the book two chapters that stood out to me were lessons 8 and 10, which are overcome adversity and focus on the positive. After the reading the book I spoke with Horton about his message, "I wrote this book because I enjoy watching others grow and teaching others to reach their goals is a passion for me," he says.
When Horton isn't overseeing his companies, which include business ventures in payday loans and of course firewalking he is traveling the country headlining seminars on his 19 lessons, "Firewalking is a way to get people to conquer their fears and we work with people to build on their passions and goals," says Horton. Conquer the fear also happens to be lesson number 13. Horton ask questions like, "What do you do when you're scared?" and "Do you give in to that emotion or do you stay focused and overcome it?" Horton success is based on several principals but in my talk with him he says distractions can be all around you so pivoting back to lesson 8 and 10 that I mentioned earlier he says, "If you listen to all of the people and noise around you who say that you can't do things in life then you won't take action."
As you read the book you start to understand how overcoming fear plays a crucial part in success. If Horton hadn't done that firewalk, which he admits took him more than a dozen time to actually complete, he wouldn't have a solid foundation of principals to share with the world. Horton brings a wealth of knowledge and insight to people who might be afraid to face their fears. In short, I think anyone who was able to have the wherewithal to secure their first million by the age of 30 can definitely help other master the art of living up to your full potential in both business and life. The move for Horton now is that he is retooling his life to be a billionaire by the age of 50 and he says it is extremely possible that it will happen. 'Ignite the Secret: 19 Lessons for Business and Life' is a great read for someone who might be sitting home contemplating a career change or for someone who wants business and life balance. Horton expands on the experiences of his own failures and successes to produce the outline to help others as lesson 19 says step forward and master the lessons.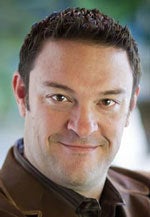 Calling all HuffPost superfans!
Sign up for membership to become a founding member and help shape HuffPost's next chapter
This post was published on the now-closed HuffPost Contributor platform. Contributors control their own work and posted freely to our site. If you need to flag this entry as abusive,
send us an email
.