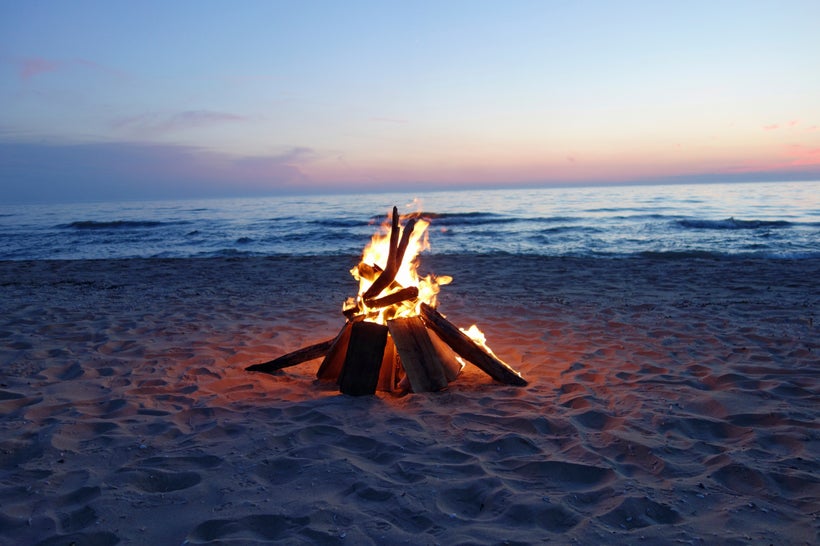 May 1st is the start of Beltane (pronounced bell'tane) and the start of summer in the Celtic calendar.  Actually, summer began at sundown April 30th. Six months ago, I described Samhain (pronounced sow'en) and the celebration of thin time at the change of season. When you live with an illness, our sense of time and space is altered in particular ways – making thin spaces and times more frequent in our lives. A thin time is when we are closer to the realms of the souls. (Learn more here, including a wonderful description of thin places.)
And as Halloween is a reflection in our own time of this ancient holy lineage, so too do May day celebrations and May pole dances today celebrate the traditional start of summer. In Celtic fairy tales, actual fairies move among us. It was a time to be guarded against fairy mischief. The rituals are emblematic of the primal and mystical nature of Celtic traditions. The mood is of celebration and anticipation.
At twilight this evening, May Eve, the great festival of Beltane begins, a great communal celebration that excludes no one from its embrace. Ancient Celtic celebrations involved the kindling of bonfires at this time – indeed the name of the festival derives from "bright fire."  (1)
The fire signifies the beginning of new light. Beltane means the fire of Bel, who was a Celtic god believed to be associated with farming and fertility. The Gauls called this god Belenos, meaning the "Shining One."  Or Beltane could mean simply the "fortunate fire."
Historians discovered that the wood of the Beltane fire had to be of nine different kinds. And the wood had to be gathered by men who wore no metal, because the metal adversely affected the fairies and deterred their desired presence. Once lit by 9 teams of 9 married first-born men, the dance around the fire went in the direction of the sun. As the fire dwindled, the community moved farm animals through it to promote the animals' fertility. And the embers were taken from the communal fire back home to each individual home fire.
In honor of this season, I offer a checklist with nine ways you can kindle your courage to live brightly even if you're sick in bed ::
1 / Ignite 
You can embody joy no matter the condition of your body. Make a list of 9 things that bring you immediate delight so you can turn to your list as a ready resource. Mine include – blowing bubbles, a bubble bath, Last Week Tonight, fresh flowers, playlist of college music, phone call with friend, a historical novel, a Love Rub, and knitting.
2 / Dance
I can not dance like I used to be able.  Still, even if we dance like the characters in Gregory's Girl, we can move in rhythm to music and enjoy dancing. Be fearless, spontaneous and silly. Move in whatever way you physically can to express your connection to the earth.
3 / Invite
This thin time is a time to set work aside and celebrate. We gather to laugh and cultivate joy. So invite your friends over, the people who love you and really make you laugh. Break out of that isolation that your illness tends to create and reach out.
4 / Dream
This season is a time of hope. I know it can be hard to dream, when day to day we don't know how we are going to feel and what we can do. But don't completely forsake your aspirations. Dream differently. Look for heroes and heroines who inspire and light your pathway. Who are the people that make you come alive and how can you emulate them?
5 / Grow
Grow something. Grow anything. You could water a house plant. Or take care of a pet. Also, ask yourself – where do you need to allow growth in your life or in yourself?  What can you unfold and open yourself to?  What's broken in your life and needs mending? What feeds and fertilizes you? Go get more of that. For me, it's my girlfriends, music and meditation.
6 / Nurture
Nurture yourself with self-care. Where are you overextended? Are you getting enough rest? Do you honor recreation time? Or do you, like me, feel like you don't really have any because if you feel well and able, you focus exclusively on your overwhelming to-do list. Set aside time to play and have fun, regardless of how your body is. Adapt as necessary. Don't use that time to slay your to-do list though! If you are having a good day on that day, go enjoy some activity you love that you've not been able to do because of your illness.
7 / Breath
Create space with your breath. Because of the breath's connection to the nervous system, we can modify our breath to help us calm down, alter our moods, and ride out intense emotions. Sometimes, quieting ourselves with our breath can shift our perspectives and provide insights. Breath also connects us to the source of life within each of us, so honor your breath to celebrate life at the start of summer. Find a guided meditation or a meditation app or enjoy our's here.
8 / Lite
Lite a fire. Or a candle. Or some incense. Or sage. Honor the fire within you that keeps you going despite everything. Because the fact that you're still here is a big deal! You are the keeper of the flame, and the courage it takes to keep going is immense. Honor that. Light something special and honor you. Also, the sun is a ball of fire. As the sun returns to us in warmth and reach, the symbolism of fire can remind us of our own creativity. What can you bring alive and create in this season? How can you be more alive?
9 / Spark
 Revive your motivation. What gives you purpose? Investigate how you offer meaning to others. So long as we lift the burden of another, even if it's as simple as being quiet to listen or bearing witness, we have purpose. How can you connect your spirit to others? Find that spark that still gets you excited. Examine the gift of your life. How can you make it even more meaningful?
Explore ways to blend the fire of summer into your every day life. The start of summer is a perfect time to celebrate and embody our creative fire and to give oxygen to our delight so that the fire can burn brighter and higher.
Cassandra Marcella Metzger, JD, MA, RYT is the creator and founder of Wellspring Stones ― the online oasis for those living with illness. After she struggled to find accessible and applicable help on how to live well with illness, she decided to prove that living well while ill wasn't an oxymoron. A yoga and meditation teacher for over fifteen years, she creates space for change so that those living with illness can feel alive, dynamic, valued, engaged and connected. She advocates to give voice to the shame and suffering of those who are chronically ill and struggling without help, without resources and without attention. To read her other Huffington Post posts click on her profile above.
REAL LIFE. REAL NEWS. REAL VOICES.
Help us tell more of the stories that matter from voices that too often remain unheard.
This post was published on the now-closed HuffPost Contributor platform. Contributors control their own work and posted freely to our site. If you need to flag this entry as abusive,
send us an email
.