Co-Author Nsedu Obot-Witherspoon, MPH, Executive Director, Children's Environmental Health Network
It seems like school children trying to learn in Detroit and Flint, MI can't catch a break, nor can they in Hoosick Falls, NY, and hundreds of other communities. We read daily about polluted drinking water; then, about schools with black mold, failing heating systems, roaches and rats where children, by law, must spend their days. And behave. And take tests.
We also know that it's unfair to single out schools in Detroit, a city that has come to represent the post-industrial collapse of manufacturing centers. Detroit simply is not the only city with mushrooms growing out of damp school building walls. In New York, the state education department cut staff responsible for addressing school facilities by half and has failed to improve school design standards. California and other states have suspended or slashed school construction funds. We also hear from parents and teachers about these conditions. For example - Healthy Schools Network was contacted by a parent whose son was healthy in elementary school, but became ill when he moved up to middle school. The parent learned there was a high carbon-monoxide level. But nothing was ever done. "Now that he has moved up, he is healthy again," the parent says. "But there are still kids sick at the middle school."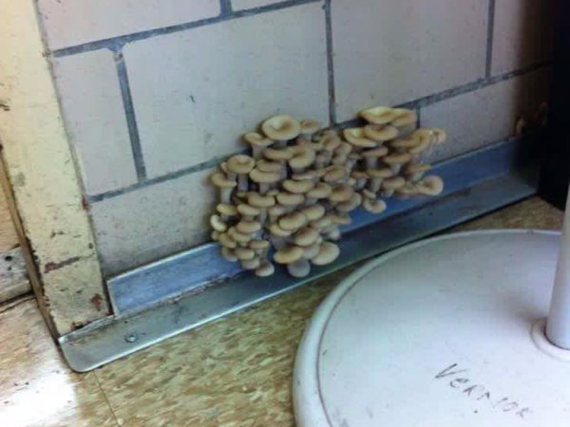 Fungus growing in a Detroit public school.
Ideally, child care and PK-12 school facilities are providing safe, healthy, nurturing, and academically challenging environments for all children. But too often, that is not the case. Lack of regulation and enforcement are big problems, so is no money for maintenance and repairs, but the really big one is no help for kids in harm's way. "Why is it," a New York parent asked Healthy Schools Network, "that teachers can get help from [state-funded] occupational health clinics but children....have no help from public agencies?"
Why indeed: where is public health?
In fact, many officials have a hard time understanding that children's risks and exposures at school and child care facilities are public health issues that require public health solutions. Meeting in November in Washington, D.C., at a national workshop on children's environmental health in schools and child care, convened by Healthy Schools, professionals from across the country agreed that government agency and NGO leaders need to plan for a range of preventive measures to keep children healthier and safer.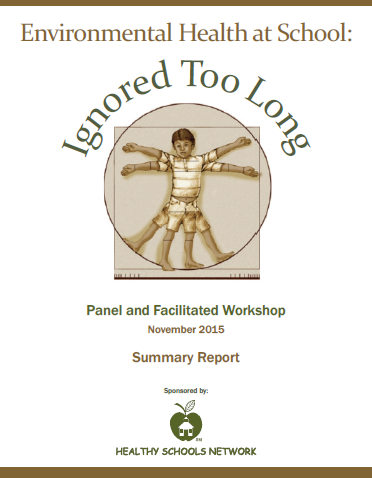 Report compiled by Healthy Schools Network
In fact, federal regulatory agencies lack the authority to respond to child or parent complaints. For example, the US Department of Labor's Occupational Safety & Health Administration (OSHA), the federal agency responsible for setting and enforcing federal workplace safety regulations for adults, has no responsibility for child-protective regulations. The National Institute of Occupational Safety and Health (NIOSH), within the Centers for Disease Control and Prevention, is responsible for research, onsite health hazard evaluations, and guidance to protect employees from hazards in their workplaces. But it lacks the statutory authority to assist children and parents enduring the identical exposures and potentially more devastating effects.
A Tennessee parent told the workshop how it took years to get her child's school to stop spraying hospital-grade disinfectants around children eating lunch. Instead of addressing the misuse of a toxic product, the parent was banned from entering the school. An Oklahoma parent outlined her daughters' long-term illnesses due to exposures to dusts and fumes from an uncontrolled school renovation, then listed all the agencies which had declined to help.
The US Environmental Protection Agency provides volumes of voluntary guidance but, with budget cuts, has almost no funds to move guidance on indoor air quality, integrated pest management, building design, and siting. But in many districts, the "culture of local control" translates into opposing oversight, with the resulting increases in environmental health risks.
The workshop report, Environmental Health at School: Ignored Too Long, features a new call for Environmental Health action. Recommendations include demonstration programs, establishing a National Healthy Children, Healthy Schools Commission, beefing up access laws, and developing tools and mechanisms for identifying and protecting at-risk children. And the report calls for creating training, education, and guidance programs for parents/guardians, teachers and principals, health care providers, and public health professionals. This report also expands on recommendations highlighted in the Blueprint for Protecting Children's Environmental Health: An Urgent Call to Action, a resource for the field of child health protection, developed by the Children's Environmental Health Network.
It takes money to fix crumbling schools and some reforms cost money upfront. But in the long run, preventing illness saves money. No one profits when schoolhouses collapse; no one profits when children are disabled by avoidable exposures; and no one profits if a child can't think because the air and surfaces are thick with molds, or when the dilapidated gym is closed and the drinking water contaminated by lead. Respecting children and respecting the importance of education means maintaining clean, dry, quiet educational facilities with healthful indoor air.
And if states like Michigan, New York, California, Tennessee, and Oklahoma continue to fail to help children at risk and continue to fail to provide adequate learning environments, they and the nation will be far poorer in the future.
Popular in the Community