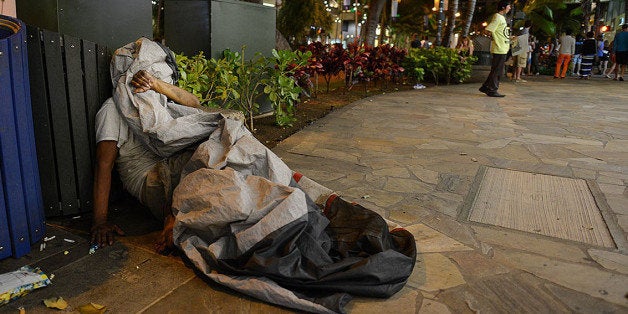 One nonprofit is working to change the way we treat homeless people on private property, and they're starting one security guard at a time.
The Institute for Human Services (IHS), a nonprofit shelter and aid organization in Hawaii, has partnered with the Outrigger Hotel and Resorts security department to train security guards as brand ambassadors for homeless shelters.
"It's a very simple thing," Jerry Dolak, Outrigger security director, told The Huffington Post. "Instead of being the bad guy and just saying, 'Get out of here,' now, it's more like, 'You can't stay here, but here is some help if you need it, if you're even aware of it.'"
When Outrigger security guards come across homeless people sleeping or loitering on one of Outrigger's 10 Waikiki properties, they now engage these individuals, instead of simply kicking them off the property. The security guards give them information about IHS, direct them to the agency's free shuttle bus to a shelter for a hot meal and a shower, or offer to call an outreach specialist to come out and help the individual.
Even with a more compassionate approach, it's not always easy.
Some homeless people simply refuse the security guards' offers for help or more information, Dolak says.
When that happens, Outrigger security guards take photos of the individual and send notes about the person's behavior to IHS's outreach staff. IHS then uses that information to design a personalized, humane intervention strategy, and sends a professional case manager to reach out to the individual.
"It's valuable information for us [to have] before we even encounter the client," Kimo Carvalho, IHS director of community relations, told HuffPost.
With the information provided by the security guards, the IHS staff can better understand the individual and their needs before the outreach team meets them in person. For example, IHS staff can determine whether or not the individual is a chronic homeless person, or if that individual would require assistance from a psychiatrist.
Simple And More Efficient
It has only been two weeks since the pilot program launched, but Carvalho says that there have been at least 10 individuals placed in shelters so far because of the security guards' referrals.
"We actually can manage our resources and be a lot more cost effective by designing a strategy before we even touch the client," he added.
The program also gives security guards an added sense of purpose.
"The guards feel like they can do something to help the Waikiki area just by helping them get housing," Dolak said. "It's a win-win for everybody. It feels like you're accomplishing something."
The pilot program is part of a bigger IHS initiative to help the homeless that will be taking place throughout next year.
"We're hoping that these tools that we're piloting in Waikiki can be replicable for other communities throughout Hawaii eventually," Carvalho said. "Something like this is a great tool for other commercial properties."
According to Carvalho, more hotels have expressed interest in joining IHS' program, but with the current caseload, he says they don't have the funding and resources to respond to the influx of potential cases.
REAL LIFE. REAL NEWS. REAL VOICES.
Help us tell more of the stories that matter from voices that too often remain unheard.
BEFORE YOU GO
PHOTO GALLERY
Haunting Photos Of Vets On The Street Underscores Homelessness Issue