Rebuilding the Meadow Studio at Ragdale, home of an artists' community in Lake Forest, turned out to be a classic Ragdale experience for a dozen Illinois Institute of Technology fourth and fifth year graduate architecture students.
Their time invested at Ragdale could be career changing in the same way it is for writers, composers and artists who are awarded residencies there. It is a place to produce important new work. They did just that.
The student architects labored over the studio design and construction. Everyone involved was aware that the team members were about the same age as the young Arts and Crafts architect Howard Van Doren Shaw when he built the main Ragdale House in 1897 as a summer home. He went on to design many Chicago homes and institutions, including Market Square in Lake Forest.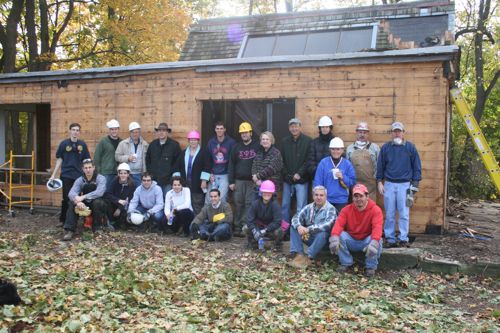 Van Doren Shaw lived there with his family--including daughter Sylvia Shaw Judson , a sculptor best known for her works "Bird Girl", "Cats" and "Summer." Judson worked in the original Meadow Studio, designed by her brother-in-law John Lord King for more than 30 years. Her daughter, Alice Hayes, established Ragdale Foundation in 1976 and gifted five acres and the main building on the estate to the City of Lake Forest . She also gave a large portion of Shaw Prairie to the Lake Forest Open Lands Association .
With inspiration and standards from the work of Van Doren Shaw, Judson and King, the IIT students of Frank Flury, associate professor, were challenged to build a new studio on the original footprint--just over 1,000 square feet with materials harmonious to the site for year-round daytime use.
They got their hands dirty and had their hearts stolen by the project that married prairie to building, produced work space for artists and forged a strong sense of the place.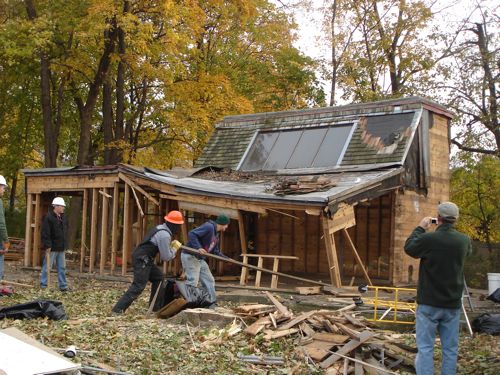 They built it for approximately 15-20 visual artists who will take turns each year finding sanctuary there and stretching their talents in the natural light, along the massive south wall or near the west-facing porch. There are enough conveniences to nurture productivity along with strategic green touches to inspire simplicity.
In order to construct the new studio, the students dismantled the original Meadow Studio which was not in use for the last five years because of its diminished condition. They had hoped to reuse some materials but little was salvageable.
"Taking the structure apart is the same as building--except the other way around," said Flury. That was key to learning the flaws of the first structure along with its finest details.
"This was a very physically-involved project, which to me is the most valuable part. The students have been part of every process, from measuring the old studio and then taking it down, to constructing the new and improved studio. The physical work involves everything from cutting plywood to sheath (envelope) the building to welding steel columns. Without constructing a building one designs, I don't believe that he or she can truly understand their design."
Flury trained in Germany as an architect and carpenter. There he restored houses--some more than 1,000-years-old.
"Construction work is hard physical labor. Most people don't do that any more. It is completely different from hiking or biking. It is amazing to me that they (the students) are unskilled and that in a month or two, they're skilled. The quality of construction is high."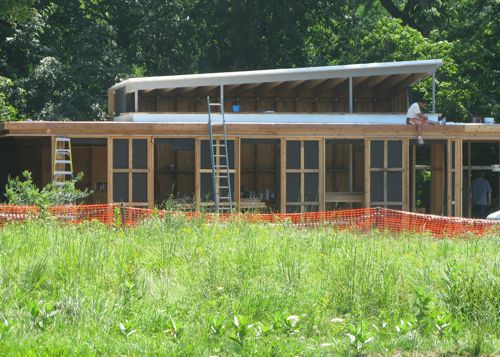 Ragdale Board Member Roland Kulla concurs. He started his affiliation with Ragdale when he was chosen for visual art residencies in 2000 and 2001 and worked in the original Meadow Studio.
"They were seminal events for me as an emerging artist. North light, high ceilings, solitude. I have been on a quest to replicate that experience ever since then.

"I helped with the 'disassembly' of the original studio in October 2007 and went out at least once a week during the summer to help Frank and the students. I've hammered, nailed, dug drainage ditches, whatever it takes.

"I love the light, openness and dynamism of the new space. It's an inside/outside building--providing shelter, but also opening the artists to the outside as well."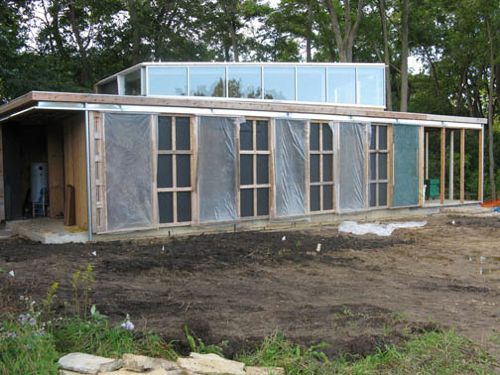 "We've reclaimed such a treasure," said Susan Page Tillett, Ragdale Foundation Executive Director about Meadow Studio. She frequently walked the public path in the area and rescued parts of a wood sculpture that watched over the studio for decades.
"The angel sculpture was a real favorite of mine and I have many photos of her before she fell to sawdust. I think that is why I saved the wings, they kind of represent the essence of her and that place, and thank goodness they were more protected from the elements. We jokingly call ours 'the office wing' and the one in the living room 'the residents' wing' and say that it takes both to make Ragdale fly!"
That cherub was among 15 Sanctuary Angels made by Italian woodcarvers in New York for the construction of the Fourth Presbyterian Church on Michigan Avenue in Chicago. Van Doren Shaw was the architect. He brought her home to Ragdale as the "extra" never needed.

Flury sees something special, too, when he talks about Ragdale's spirit:
"Now, for more than a year, it's like being in heaven. You are not in forest but not out of the forest either."
He happily anticipates how fast nature will embrace the studio with prairie grasses.
Related
Popular in the Community