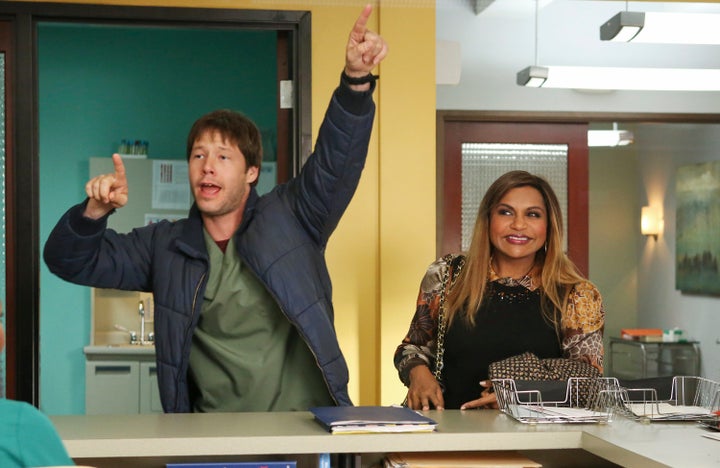 As a writer on "The Mindy Project" and the actor who portrays Nurse Morgan Tookers, Ike Barinholtz unsurprisingly has a lot of thoughts on his TV alter ego. After five seasons (with a sixth and final one coming this fall), Morgan has become one of the most memorable doofuses in sitcom history.
The hapless nurse ― an ex-felon with an apartment full of rescue dogs, an ever-mutating set of stomach-churning medical conditions, and a tendency to always say the exact wrong thing ― functions as protagonist Mindy Lahiri's biggest fan, aspirational best friend, and most frequent target of her mockery. Somehow, it's one of the most vibrant and endearing relationships the show has ever depicted
HuffPost recently asked Barinholtz to talk about his character, and he offered a few key takeaways:
His relationship with Mindy is kind of dark...
"I always think of their relationship as a little like in 'Sunset Boulevard'... where he was her husband and now he's her butler and kind of her caretaker. I was just watching this episode last night where Mindy and Morgan are kind of in a fight, and she's like, 'He's the one who reminds me to take my birth control ― oh right, it's time for my cheese.' He's clearly stuffed her birth control in cheese so it's more palatable."
... but also irreplaceable.
"There's this subservient, sycophantic nature to their relationship, which is... just funny, but also if you're Mindy, to have a character like Morgan is really sort of invaluable, because it's someone you can always count on. There's an episode recently that messes with the concept of 'Groundhog Day,' which is one of my favorite movies. Mindy's reliving 'Groundhog Day,' and after she realizes she goes to Morgan, and she's like, 'I think I'm stuck in a 'Groundhog Day.'' And I'm like, 'OK, what can I do? How can I help?' To have a character who's on board right away with whatever plan you're doing, no matter how bad ― it saves you time. You don't have to convince him. Or if he does put up a fight, where he's like, 'Ah, I can't help you,' you can always, like, offer him fifty cents, and he's like, 'Ohh, thank you!' To have someone like that really helps you get along with the story.
In the end, he's just kind of a loser ― which makes him super fun to play.
"He's such a loser. I was watching last week's episode last night with my wife and I kept filming scenes and sending them to Mindy and [show writers and producers] Dave Stassen and Chris Schleiger. I was like, I am maybe the biggest loser ever on TV. Because Mindy is cool and inspirational, but she's also kind of a loser, she's always falling down and, like, eating garbage, and my character thinks she's like Barack Obama. I think she's the coolest person ever. And that makes me the biggest sad loser ever on the show. I love it. I'll never get to play a character that fun again."
You can support the ACLU right away. Text POWER to 20222 to give $10 to the ACLU. The ACLU will call you to explain other actions you can take to help. Visit www.hmgf.org/t for terms. #StandForRights2017
REAL LIFE. REAL NEWS. REAL VOICES.
Help us tell more of the stories that matter from voices that too often remain unheard.
BEFORE YOU GO
PHOTO GALLERY
The Ten TV Shows America Couldn't Get Enough Of In 2016