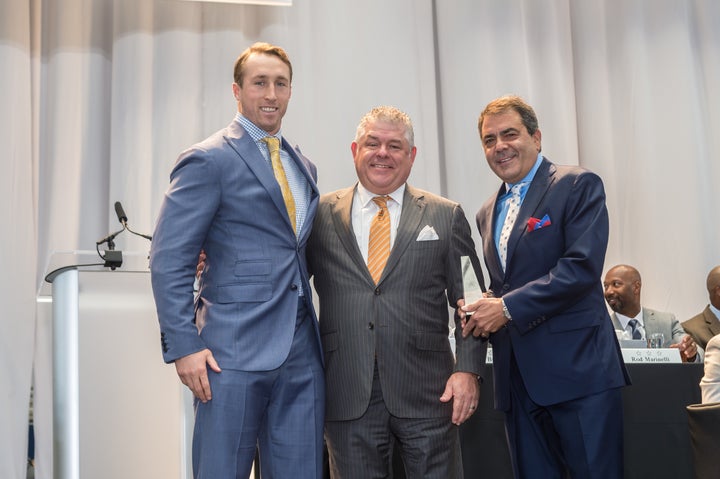 When Dallas Cowboys head coach Jason Garrett took center stage at AT&T Stadium for the Dallas Cowboys Annual Kickoff Luncheon, his tone was assured and stern. He spoke of the importance of having "the right stuff" and pumped up the team and the audience looking onward to a positive and ambitious season ahead for the Cowboys.
His look was as assured and polished as his demeanor, dressed in a custom grey blue window pain with a Jazy custom slack. Yet within the last five years, Garrett's become more comfortable in being expressive and stylish, largely due to the fact that he's being dressed by Ike Behar.
"These guys have really raised my game. I listen to them and they get me right, and I follow their lead," Garrett said. "They're trying to educate me and get me to be a little more aggressive without losing that old school, traditional approach."
Ike Behar, the American clothing brand that launched in New York in the 1960s by Cuba-American Isaac Behar, has been dressing Jason Garrett year-round for the last five years. The relationship began when Ike Behar started dressing the Dallas Cowboys players for this annual kickoff luncheon in support of Happy Hill Farm, a non-profit that helps children reach their potential with a world-class, college-preparatory education at North Central Texas Academy (NCTA).
The brand managed to secure this relationship with America's team after the team had trouble finding the right supplier that could dress to fit the players' different body types and sizes. That is, until they were introduced to Ike Behar.
"[This opportunity] shows the diversity of our brand," Alan Behar, Ike's son and the current company co-owner and CEO of the brand, explained. "A lot of football players have very big personalities and are very opinioned in what they wear and we were able to be successful to get them to wear Behar."
While they dress Coach Garrett year-round, Behar also provides pocket squares and ties for all of the players at the annual kickoff luncheon and designs custom suits for the offensive, defensive, and special teams MVPs who are awarded during the event. This year's winners included Dak Prescott and Ezekial Elliott (Offensive MVP), Sean Lee (Defensive MVP), and Chris Jones (Special Teams MVP).
"It's been incredible working with these guys," linebacker Sean Lee said. "I can't dress myself, and these guys showed me the way. They take a combination of what's your style and personality and they also open you up to things you might not know you like. I was excited to know I was getting another Ike Behar suit this year."
While they maintain a classic appeal, Ike Behar has undergone some rebranding within the last five years and has developed a more modern collection – which the team feels makes them a consistently evolving brand.
"We have a cooler fit and the fabrics are incredible, with a great luxury touch to them," stylist Fred Jabber explained. "I think the biggest misconception is that it's a more classic brand. I wish [customers] knew how we could help transition people from a younger stage to an older stage in their life, all in one brand.
Alan Behar would describe the perfect Ike Behar customer as one who "wants to look good."
"Our target market is really people who like fashion and are willing to be fashionable, not just safe," he said. "Our brand has a lot more color in it, a lot more pattern and more excitement."
For someone like tight-end Jason Witten, who describes his style as very clean and businesslike, Ike Behar clothing has helped him upgrade his look.
"It's very professional yet it's got a little bit of swag to it," Witten explained. "I think all young athletes probably want that. You don't want it to be too loud and I think [Ike Behar] has done a great job at understanding that and implementing it into their clothing. We appreciate their support on days like today going into the season."
In addition to dressing the honorees and teammates, Ike Behar was a sponsor of this year's Defensive MVP Award and looks forward to continuing to dress the Cowboys and supporting the annual kickoff luncheon in the years that follow. Coach Garrett shares similar feelings on what he considers to be a really special day.
"The relationship between the Cowboys and Happy Hill Farm goes back a long way. Happy Hill Farm has done amazing things to help change people's lives," Garrett explained. "The fact that Ike Behar is behind [the cause] and so supportive of our team makes the event even more meaningful."
You can see the latest Ike Behar collection for yourself at IkeBehar.com.
Learn more about the Annual Cowboys Kickoff Luncheon and Happy Hill Farm here, where this year's proceeds west toward the students, families, and alumni that were affected by Hurricane Harvey.
Related
Popular in the Community