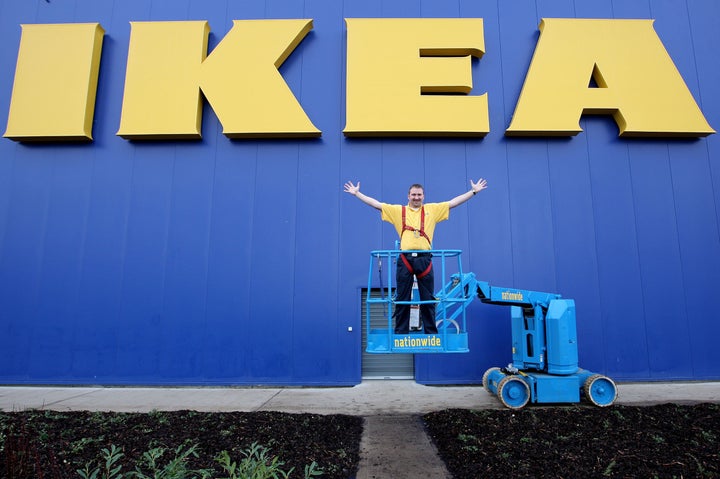 Ikea. Land of cubist bookshelves, affordable throw pillows and ... daycare for men?
We are all familiar with the childcare services Ikea offers: drop off your children in Smaland, where they can play with their peers in a giant ball pit under the watchful eye of paid staffers as you shop. Just make sure you keep that Smaland buzzer on you at all times so you know when to pick them up.
The company calls this sanctum -- what else? -- "Manland."
Women are given a buzzer that goes off after thirty minutes to remind them to pick up their partners in Manland -- "or else, you know, we may have to call the authorities," a sales associate joked to a local Australian newscaster. That newscaster called the concept, "basically a creche [the Australian term for a daycare] for husbands and boyfriends with short retail attention spans, a place to hang out while their wives and girlfriends run the aisles of Ikea."
Unfortunately for the men out there thrilled by this development, the installation is not permanent -- it was created for Father's Day in Australia (down under, it's the first Sunday of September) -- but will men the world over join Kris Matheson in his proposed petition to make Manland a staple at Ikea locations worldwide?
Not if Jezebel's Irin Carmon has anything to say about it:
"The problem with the men-as-children meme is that it's self-fulfilling, particularly in conjunction with the idea that men are no good at household tasks and only women can do stuff like laundry. Some men may prefer playing video games to buying a couch or cleaning the kitchen, but women probably would rather do a lot of other things too."
I agree with Carmon -- let's give men a little more credit. Implying that half the population needs and wants to be kept occupied while the other half makes decisions about their shared living space is sad (as is the concept that all it takes to make a man happy are hot dogs and a foosball table) and in many cases, untrue.
Popular in the Community