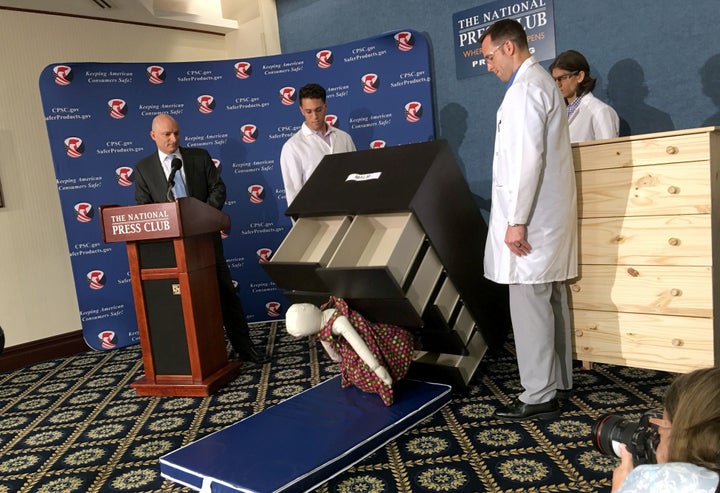 Shortly after Jozef Dudek went down for a nap last May, his father, Craig, peeked in his bedroom to make sure the 2-year-old was asleep. Instead, to his horror, Craig found his toddler crushed by a three-drawer Ikea dresser. Jozef was dead.
Jozef was not the first young child trapped and killed by a unit from Ikea's popular Malm line, or even the second. By the time the Swedish furniture chain launched a recall of more than 17 million potentially deadly chests and drawers last fall — its second recall for the furniture, initiated by Jozef's death — eight children had been killed by the units. Like Jozef — who was described in his obituary as a happy boy who loved raisins and giving his mother sloppy kisses — all were toddlers.
Those tragedies have generated significant media attention, and yet it is possible that millions of Malm dressers remain in the homes of families who are still unaware of the risk. Indeed, Jozef died after Ikea first recalled the dressers in 2016.
It isn't just an Ikea problem. In this country, a child is injured about every 30 minutes from a TV or furniture tip-over. On average, one child dies every 10 days as a result of such accidents. Safety experts say furniture manufacturers and regulators have not done enough to protect American kids from dresser tip-overs that could take their lives.
"It's unacceptable that we know unsafe dressers are going to go in young children's bedrooms."
"These are horrific deaths," said Dr. Gary Smith, founder and director of the Center for Injury Research and Policy, part of The Research Institute at Nationwide Children's Hospital in Columbus, Ohio.
"It's unacceptable that we know unsafe dressers are going to go in young children's bedrooms," Smith said. "They see these as climbing opportunities. We need to design products that go into bedrooms and homes that don't topple over, products that are safe."
The Malm Problem
None of the recalled chests and drawers met the safety standards set forth by the regulatory group ASTM International (previously known as the American Society for Testing and Materials) for clothing storage units. A chest or dresser that is over 30 inches high should be able to stay upright when a 50-pound weight — basically, the equivalent of a small child — hangs from an open drawer.
But that standard is a voluntary one, meaning no law compelled Ikea to comply with it.
"Most products sold in the United States are not subject to mandatory standards. Automobiles, drugs and medical devices, and some other products are, but the vast, vast majority of products are covered by voluntary standards," said Philadelphia-based attorney Alan Feldman, who has been retained by Jozef Dudek's parents.
"For reasons that I think Ikea would have to explain, even though there has been an ASTM standard in effect for the safety and stability of dressers since the year 2000, Ikea did not make furniture that met the standard," continued Feldman, who added that unlike furniture manufacturers who sell their wares to big-box stores that typically insist products meet safety standards, Ikea does not rely on an outside retailer picking up their products in order to make a profit.
In 2016, Feldman won a $50 million settlement for the family of three boys killed by Ikea dressers. As part of that settlement, Ikea agreed to sell only chests or drawers that meet the longstanding voluntary standard within Canada and the U.S.
"The updated Ikea chests of drawers have been adapted in different ways in order to ensure compliance on all Ikea markets," a spokesperson for Ikea said in an emailed statement to HuffPost. "Some chests have reduced drawer extension and on some chests the protective plastic feet have been moved forward. However, all chests of drawers still need to be anchored to the wall according the instructions, in order to be safe."
That last sentiment is the basis of what Ikea calls its "Secure It!" campaign, which urges customers to anchor furniture to the wall using restraints included with the packaging. "Regardless of design and construction, a dresser is only safe when attached to the wall properly," the company reiterated in a statement.
But experts worry that is just a way of passing the buck onto consumers. "They know very well that the majority of consumers don't anchor these things to the wall," Feldman said.
"The safety of a dresser should not be dependent upon the ability of the consumer to go out and buy tools or hire a carpenter to affix something to a wall," he continued. "They should be safe and stable on their own."
Feldman added that while the deaths were concentrated in toddlers, injuries have also been reported in older individuals. According to the U.S. Consumer Product Safety Commission, Ikea has received 186 reports of tip-overs with the Malm, 91 of which resulted in injuries to children. It has also received reports of 113 tip-overs with other recalled Ikea dressers, 53 of which led to injuries in kids.
Perhaps more unsettling, it is likely that millions of recalled dressers remain in families' homes. In general, return rates after recalls of consumer goods are low, anywhere between 10 and 54 percent according to various estimates.
"There is really no accurate count of how many recalled dressers are in homes today," Ikea said in an email to HuffPost. "In the last two years, we have done extensive outreach to consumers to communicate the recall including television ads, social, digital and print advertising, and emails to more than 13 million consumers — which in turn, has resulted in Ikea providing service or refunding more than one million dressers."
That might sound like a big number, but it represents only part of the 17 million units included in the latest Ikea recall ― or the 29 million dressers recalled in 2016, including roughly 8 million Malm dressers.
A Matter Of Public Health
Smith of the Center for Injury Research and Policy believes that tip-overs need to be treated as a genuine public health problem, addressed not just by furniture manufacturers but also regulators who can craft stricter standards and penalize companies that do not meet them.
"The idea of putting this off on parents, of saying it's their fault if they don't secure it to the wall? I would say it's unacceptable," Smith said. "It is a problem that must be designed out of existence."
A sweeping report from Consumer Reports last month echoed the sentiment, arguing that the current voluntary industry safety standard for dressers is inadequate. Going beyond the standards of the ASTM, the media outlet proposed requiring dressers to remain upright if 60 pounds are hung off an open drawer and argued that dressers under 30 inches should be subject to the standard as well. Notably, Consumer Reports found it is entirely possible for companies to meet those standards — pointing to models from popular companies like Pottery Barn that met all three of its safety tests.
Anne Marie Buerkle, acting chairman of the Consumer Product Safety Commission, said the agency had begun the process of determining whether a mandatory regulation to prevent dresser tip-overs is necessary.
"Sadly, Jozef's death was completely avoidable, had Ikea adhered to safe design standards," Feldman said in a press release last October announcing he would represent the Dudek family.
"What makes this death more heartbreaking is the fact that [the 2016] so-called recall was poorly publicized by Ikea and ineffective in getting these defective and unstable dressers out of children's bedrooms," Feldman said at the time. "It's terrifying that there are millions more of these dressers in homes across the country, which may cause more harm and anguish in the future."
Related
Popular in the Community